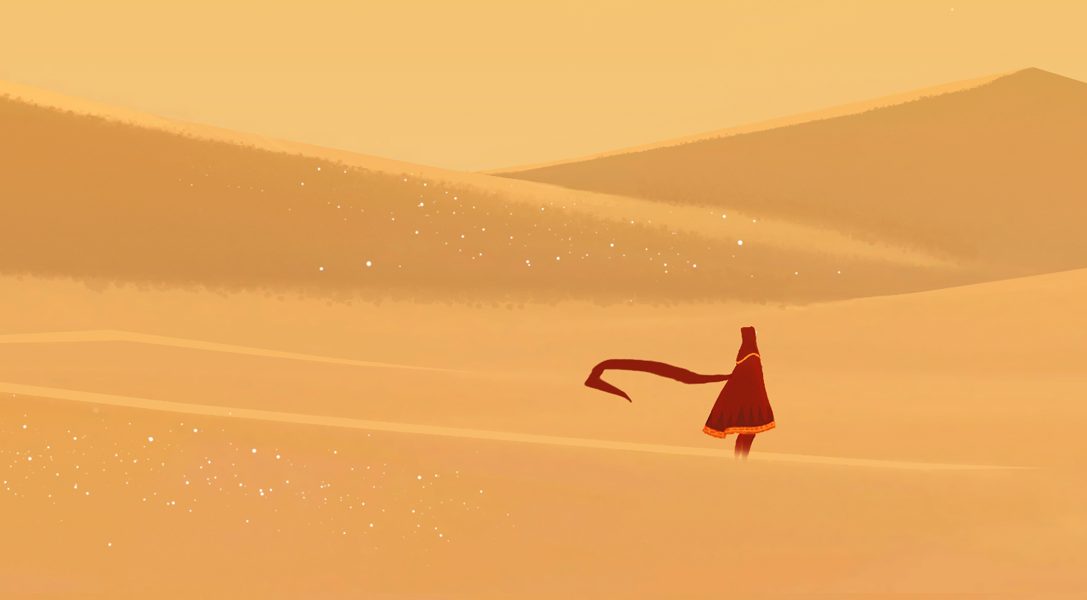 Plus, pick up a new dynamic theme for thatgamecompany's classic

"St. Augustine wrote: 'People will venture to the heights of the mountains to seek wonder. They will stand and stare at the widths of the oceans to be filled with wonder. Yet they will pass each another in the street and feel nothing.' Every individual is a miracle. Journey is a reminder of the wonders we find in each other. – Jenova Chen, Creative Director, Journey
In partnership with original creator's thatgamecompany and developer Tricky Pixels, today we are proud to release the award-winning Journey on PlayStation 4 on PSN. Journey for PlayStation 4 supports cross-buy, meaning if you have digitally purchased it already for PS3, you can download it free for PS4, and vice-versa.


As an exclusive deal for the PlayStation European store, if you purchase Journey for PlayStation 4 in the first week of launch, you'll receive this beautiful Journey static theme for free. PlayStation Plus members also get a 20% off discount.

Additionally, we are also releasing a very elegant Journey dynamic theme to bring your PlayStation 4 dashboard to the ruins and sands of this beautiful universe.

Two weeks ago we launched #OurJourney at journey.playstation.com, and asked "What Did Your Journey Experience Mean To You?" Today we continue #OurJourney, and encourage everyone who has ascended the mountain on PS3 or right now on PlayStation 4, to share your video testimonial on YouTube & Twitter. Please tag it with the hashtag #OurJourney and visit journey.playstation.com to see if we feature it, and include it in our upcoming testimonial reel.
Here are a few incredible #OurJourney testimonials that may inspire you:
Journey Remote Play
With Remote Play, you can effortlessly stream your PS4™ games over Wi-Fi and play them on the PS Vita system's crystal-clear touchscreen. So whether you're deep into a single player story mode or hooked on online multiplayer missions, your PS Vita gives you the freedom to play PS4™ games whenever you want, regardless of who is in charge of the TV remote control.
Here you can see how you can enjoy Journey and it's stunning visuals on PS Vita's crystal-clear 5″ screen on Remote Play.
the transition is seamless and easy – you never have to stop playing. Enjoy!
Journey Collector's Edition PS4 release
The PS4 Collector's Edition of Journey, featuring thatgamecompany's two equally original titles Flower & flOw, will also be available to purchase digitally from the PlayStation Store or on blu-ray disc from September 30th.