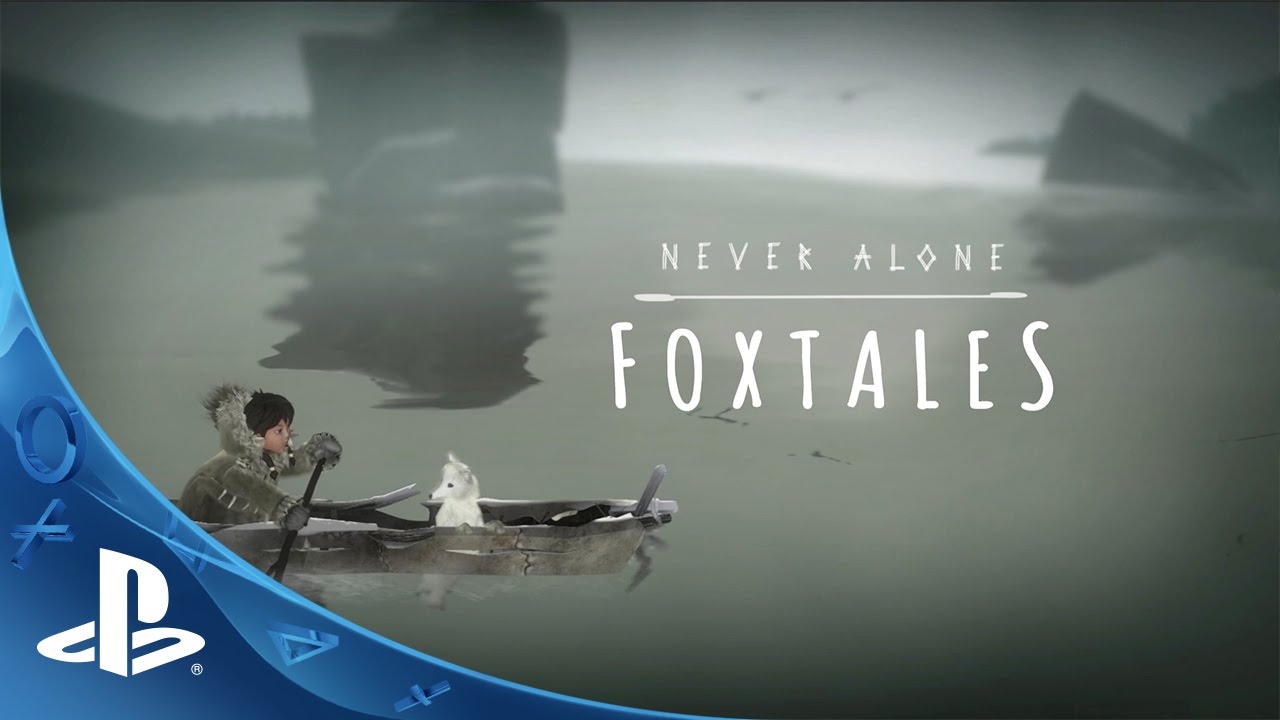 Foxtales introduces new abilities and new environments
Since we launched on PS4 in November 2014, our team has been delighted at the audience Never Alone has found on PlayStation. We've received wonderful and supportive feedback from players, including many who felt a personal connection with the themes of the game, which was developed inclusively with members of the Alaska Native community.
We were a PS Plus free game for the month of April, and seeing the PS4 community embrace the game was both exhilarating and a little overwhelming. All of this makes it especially exciting to talk about two upcoming Never Alone releases for PlayStation: Never Alone: Foxtales, our first DLC, and Never Alone for PS3 and PS Vita.
Never Alone: Foxtales
Throughout the development of the original Never Alone (Kisima Ingitchuna), we immersed ourselves in hundreds of Alaska Native stories before deciding to base the game on the tale of Kunuuksaayuka. Never Alone: Foxtales features three new levels, inspired by another of these amazing stories.
Working on Foxtales has given our team a chance to build on the elements of the original game that players really responded to with more complex and varied puzzles, new abilities for each of the characters and new environments.
We decided to base Foxtales on the story of 'The Two Coastal Brothers,' as told by Willie Panik Goodwin, Sr. The interdependence between the two brothers in this traditional tale was really compelling because in many ways it reflected the interdependence between Nuna and Fox. One brother is an excellent hunter and fighter. The other is a strong swimmer. To defeat the main antagonist, they must work together, each of their unique talents supporting the other and ultimately proving crucial to their success.


This idea of interdependence is not only an important theme in many Alaska Native tales, it also creates opportunities for fun gameplay. We found that players of the original game responded best to puzzles that required them to use the special abilities of the two player-controlled characters in unexpected ways. We were able to create more interesting and varied puzzles in Foxtales by embracing this approach, casting Nuna and Fox (the main characters of the original game) as the two characters from the traditional story and giving each character new abilities. Nuna, for example, can row and steer an umiaq (a sealskin canoe) and Fox can interact with spirits to change the flow of underwater currents.
As all this talk about canoes and currents implies, Foxtales is set in a different (and decidedly more nautical) environment than the original game: the waters and coasts of Northwest Alaska. At the risk of stating the obvious, Alaska is a pretty big place and is home to a diverse set of terrain and environments. Those environments also change with the seasons, so things aren't as uniformly snowy as in the original game (which did involve finding the source of an endless blizzard, after all).
We made a decision early in our design process to set Foxtales not only in a different location but also in a different season: the Arctic spring. This not only let us include new game mechanics, but also let us develop art and level designs that depict the beauty of Alaskan environments that couldn't have appeared in the original game – like an arctic prairie with the first blooms of spring peaking through the snowpack, the rapids and waterfalls of a river fed by melting snow or the subterranean lair of an unexpected new villain.
Never Alone for PS3 and PS Vita
One of our hopes for Never Alone is that the game introduces Alaska Native culture to audiences that may not have been exposed to it before. To that end, our team has started work on bringing Never Alone to two additional PlayStation platforms: PS3 and PS Vita. Our progress has been encouraging, and we expect the game to be available for both platforms this Autumn.
The original Never Alone (Kisima Ingitchuna) is available now via PlayStation Store for PS4. Never Alone: Foxtales will be available as DLC for the original game on PS4 through PlayStation Store on 28th July, 2015. Have questions about Never Alone and Foxtales? Let us know in the comments!