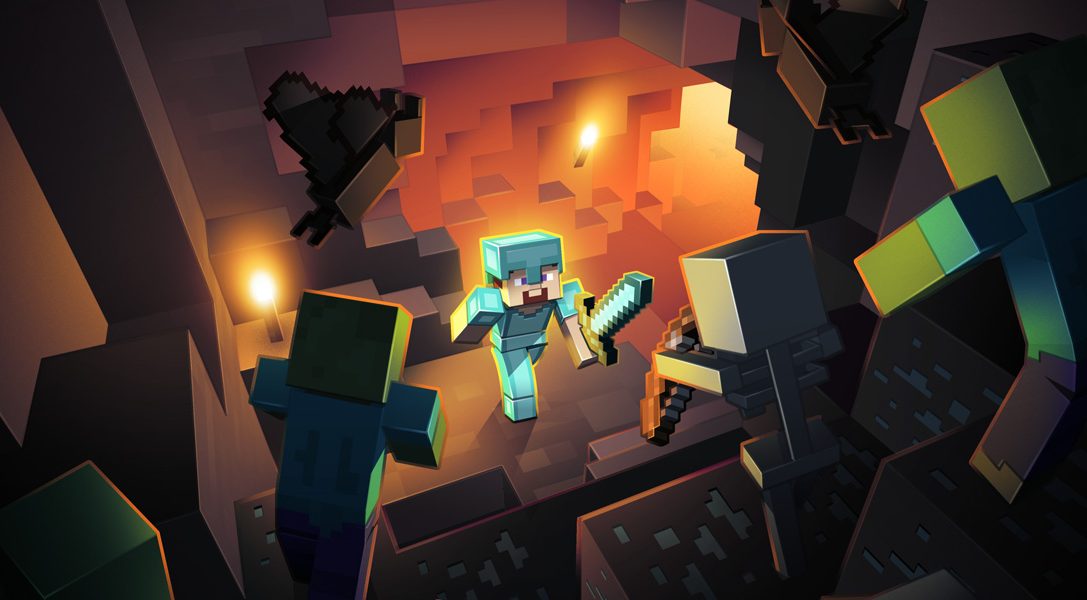 Heaps of new content incoming for Mojang's DIY world-builder
Hello! I bring DLC news for PlayStation players and a whole heap of extra updates – read on!
LittleBigPlanet meets Minecraft!
Good news for LittleBigPlanet fans! A brand-new mash-up pack featuring Sackboy, Sackgirl OddSock, Toggle, Swoop and many more, is on its way to Minecraft on PlayStation.
Mash up packs let you change the way Minecraft looks. This one lets you LittleBigPlanet-ify your Minecraft world with textures, characters and creatures from Media Molecule's adorable platformer. It even comes with a pre-build landscape and some catchy tunes taken straight from the game. What more could a LittleBigMinecrafter possibly want?
The LittleBigPlanet Mash-up pack will be available to download from 1st July. It'll cost £3.29/€3.99.
The Minecon 2015 Skin Pack
Even more DLC news for y'all! To celebrate the awesomeness that is this week's Minecon 2015, we're releasing a free bundle of skins. This pack is extra-special because it features Alex and Steve wearing a selection of smart capes.
The Minecon 2015 pack will be available just until 15th July, so grab it quickly from PlayStation Store! You've got nothing to lose but your bandwidth!
Minecraft getting flatter, woodier, more optionier!
That's not all though, we've also got some free updates for you! Everyone love those, right?
From tomorrow, Minecraft on PlayStation will be updated to version 1.17, bringing a heap of exciting tweaks and additions. Here are a few highlights:
Offended by mountains and caverns? Worry not, strange crafter, because now you have the option to customise your super flat worlds so they're only as vertical as you desire.
New blocks! Oak, Spruce, Birch, and Jungle wood types. Fences, Gates, and Doors! Create the log cabin of your dreams with 1.17.
A heap of new game options! Change the game mode, difficulty, time, player spawn position, ambient cave sounds, and weather without leaving your game session. Very handy.
Classic crafting! Now console players get to craft items just like their PC buddies on Java Minecraft. Some players find this style of creation more satisfying. Check it out.
New stuff! Iron Trapdoors, Inverted Daylight Sensors, Book & Quills, and Stained Glass have arrived. Use them wisely, and for good, please.
Phew, that's a lot to get stuck in to. Download and be merry!