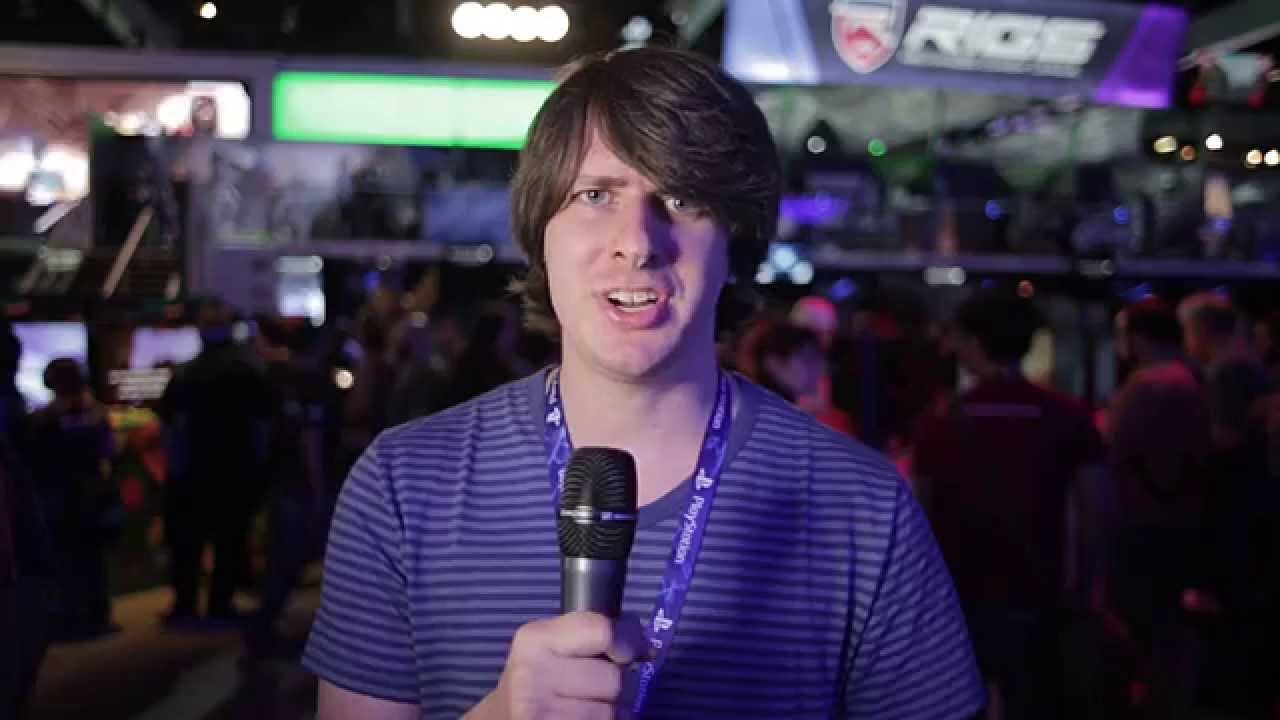 Watch our video for the lowdown on some of the indie highlights from the show floor
While it's easy to be dazzled by the huge blockbuster announcements coming from the press conference stages at E3 2015, there were a wealth of quirky, oddball riches on show elsewhere at this year's event.
Patrolling the show floor, we saw some of the most imaginative, unique and downright insane games ever to hit E3 from the maverick indie developers that we love here at PlayStation. Take a look at our video to hear from some of the creators themselves, then read on for our round-up of what you may have missed from this year's show…
1. Shadow Warrior 2
Lu Wang is back with more weapons, more foul mouthed wise-cracks and an even wider world to carve up demons in. This time there's drop-in drop-out online co-op to lend a helping sword… gun… flaming arrow, or any of the other '70-plus weapons at your disposal.
2. SNOW
It may be over 30 degrees outside in LA, but on the show floor, SNOW was wowing spectators with its superbly detailed winter sports open world. Grabbing your skis and hurtling down the side of a mountain feels exhilaratingly realistic, and it promises a range of events to challenge your friends on PS4 – best of all, it's going to be free-to-play.
3. Mother Russia Bleeds
Inspired by classic side-scrolling beat 'em ups like Streets of Rage II and Final Fight, this dark and twisted alternate version of Russia is packed with violent freaks, drug barons and gang bosses to slug your way through. Four player local co-op, friendly fire and drug-fuelled overdrive frenzy attacks make this blood-curdling bone-cruncher a lot of fun.
4. I Am Bread
Possibly taking the crown for the most out-there concept in gaming this year, I Am Bread is the world's first bread simulator, putting you in control of an intrepid slice on his way to fulfil his destiny and become toast. Not only that, but you can smash up your house as an angry baguette or take a bagel racing amongst other baked antics.
5. Nuclear Throne
This all-action roguelike from the developers of last year's super-addictive Luftrausers thrusts you into a post-apocalyptic world where freaky mutants are all battling to control the Nuclear Throne. Over-the-top weapons, waves of relentless enemies and hilariously weird characters are all coming to PS3, PS4 and PS Vita soon.
6. Crossing Souls
Beautifully nostalgic with its VHS-styled cartoon cut-scenes and pixel gameplay, Crossing Souls is jam-packed with 80s references – including a mean, high-kicking version of Prince, an E.T inspired bike chase, nods to The Goonies and many more. You'll switch between five friends- including one who happens to be ghost – each with their own special abilities as you explore a wonderfully detailed action-adventure-RPG world and fight to save their parents from dastardly kidnappers.
7. GNOG
Alongside those good folks at Double Fine, developer Ko-Op have created a world of colourful, house-sized monsters and puzzles to explore on PS4 and Project Morpheus. Quirky art styles and lovable creatures with giant 'gnoggins' are everywhere in a 3D world packed with personality.
8. EITR
Norse mythology, real-time combat, randomly generated loot and brutally challenging enemies inhabit the mystical world of EITR. Fighting demonic mobs with your sword, shield, arrows and more is all about timing, precision and learning their attack patterns, giving this indie-RPG a flavour of Dark Souls and Diablo that those who love a challenge will enjoy.
9. Rocket League
Down on the show floor, awards were stacking up against Rocket League's booth, and rightly so – this arena based motorised football multiplayer is ridiculously fun and will be bringing the competition to PS4 soon.
10. Hatoful Boyfriend Holiday Star
If one episodic story-driven pigeon dating simulator isn't enough for you, then fear not! Hot on the wings of Hatoful Boyfriend (coming to PS4 and PS Vita soon) is this follow-up instalment, Holiday Star. The world is under threat from an arrogant, golden-plumed pheasant with destructive powers at his command, and only feathery Anghel and his Hatoful friends can stop him.
11. Enter the Gungeon
A procedurally generated labyrinth? Relentless bullet hell? A gun that can kill the past? You'll find it all in the Gungeon. It may sound violent, but this dungeon crawler from Dodgeroll Games is packed with personality, humour and most importantly, fun. Oh, and a gun that fires fish.