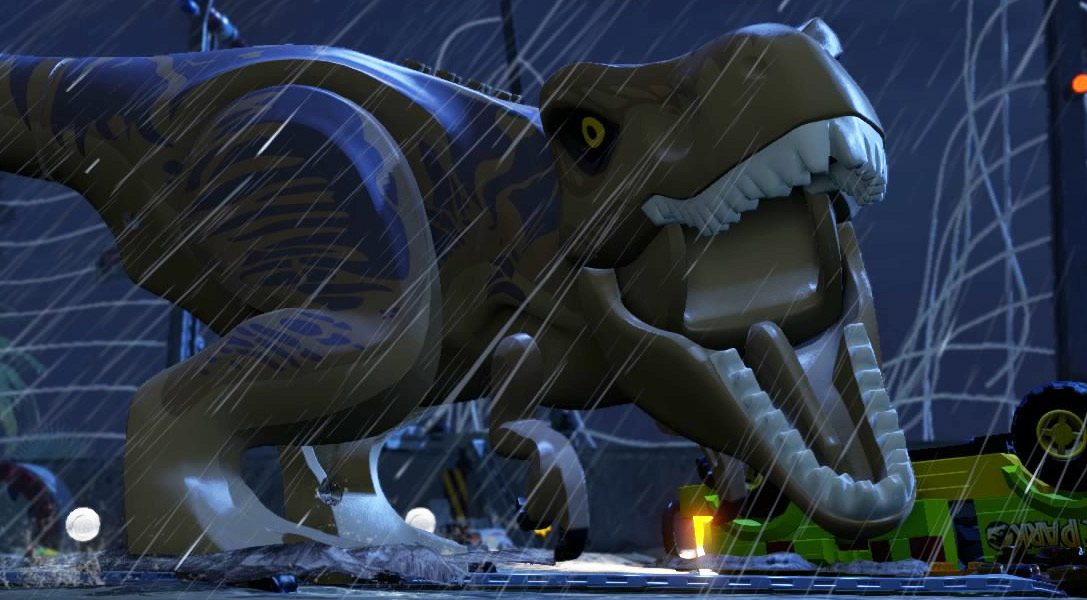 And heaps of new discounts for PS Plus members
First up this week, relive the experience of the Jurassic movies, including the all new Jurassic World, in bricktacular LEGO form. Key scenes from the great first movie (and the sequels) are yours to enjoy, and you'll even be able to play LEGO dinosaurs, too, all amounting to a roaring good time.
Elsewhere, the award-winning fantasy role-playing series, The Elder Scrolls series goes online. Explore dangerous caves and dungeons in Skyrim, or craft quality goods to sell in the city of Daggerfall. Embark upon adventurous quests across Tamriel and engage in massive player versus player battles, or spend your days at the nearest fishing hole or reading one of many books of lore.
And to complete the week; discounts come in the shape and form of games, games and more games. If you're a PS Plus member you can grab double the discounts in the PS Plus Double Discounts offers featuring the spectacular The Last of Us, inFamous Second Son and Bastion.
Meanwhile on PS3 there's GTA V, Bioshock, Diablo III and more all at reduced prices, alongside Freedom Wars and Uncharted: Golden Abyss for PS Vita. More digital treats are on offer, too, including Hotline Miami 2, which is cross-buy. Discounts of all shapes and sizes wait for you at PlayStation Store.
Out this week



The Jackbox Party Pack
(Not available Bahrain, Bulgaria, Cyprus, India, Israel, Kuwait, Oman, Qatar, Russia, Saudi Arabia, Turkey, Ukraine, UAE)
£21.99/€26.99/AU$40.95

LEGO Jurassic World
Out 12 June (17 June for Australia, New Zealand)
£30.99/€49.99/AU$79.95

Zen Studios CastleStorm Super Bundle
£11.99/€14.99/AU$22.95

PSP

Angus hates Aliens
Not available in Bahrain, Bulgaria, Cyprus, Denmark, Findland, Iceland, Kuwait, Lebanon, Malta, Netherlands, Norway, Oman, Poland, Portugal, Qatar, Romania, Saudi Arabia, Slovakia, Sweden, Turkey, UAE
£4.99/€5.99/AU$8.95
PS4 DLC
Dragon Age: Inquisition


 

Spoils of the Avvar




£3.99/€4.99/AU$7.55
Dragon Ball Xenoverse


 

Dragon Ball Z: Resurrection of < F > Pack




£7.99/€9.99/AU$14.95
Dynasty Warriors 8 Empires


 

Castle and Scenario Pack 3




£1.69/€1.99/AU$2.95

Castle and Scenario Pack 4




£3.29/€3.99/AU$5.95
The Elder Scrolls Online


 

ESO Plus




£9.99/€12.99/AU$19.45
Evolve


 

Medic Night Hunter Skin Pack




£3.99/€4.99/AU$7.55

Wraith Jellyfish Skin




£2.49/€2.99/AU$4.55

Val Night Hunter Skin




£1.69/€1.99/AU$2.95

Lazarus Night Hunter Skin




£1.69/€1.99/AU$2.95

Caira Night Hunter Skin




£1.69/€1.99/AU$2.95
LEGO Jurassic World (out 12 June)


 

Jurassic Park Trilogy Pack 1




£0.79/€0.99/AU$1.45

Jurassic Park Trilogy Pack 2




£0.79/€0.99/AU$1.45

Jurassic World Pack




£1.69/€1.99/AU$2.95
LittleBigPlanet 3


 

Bloodborne Costume




£1.69/€1.99/AU$2.95
Mortal Kombat X


 

Tanya Bundle




£6.49/€7.99/AU$11.95
Project CARS


 

Racing Icons Car Pack




£2.89/€3.49/AU$5.25

Limited Edition Upgrade




£3.99/€4.99/AU$7.55
Resogun


 

Human Pack 3




£0.79/€0.99/AU$1.45

Human Pack 4




£0.79/€0.99/AU$1.45

Human Pack 5




£0.79/€0.99/AU$1.45

WipEout Ship Bundle




£3.29/€3.99/AU$5.95
Rocksmith


 

Rock This Town – Brian Setzer




£2.49/€2.99/AU$4.55

Crazy Little Thing Called Love ? Queen




£2.49/€2.99/AU$4.55

Blue Suede Shoes – Carl Perkins




£2.49/€2.99/AU$4.55

Be-Bop-A-Lula – Gene Vincent and His Blue Caps




£2.49/€2.99/AU$4.55

Hello Mary Lou (Goodbye Heart) – Ricky Nelson




£2.49/€2.99/AU$4.55

Rockabilly Song Pack




£5.9/€6.99/AU$10.45
Toukiden Kiwami


 

Armour – Soma and Reki Set




£1.69/€1.99/AU$2.95

Armour – Tenko Gloves




£2.49/€0.79/AU$1.45

Armour – Chthonian Fiend Mask




£2.49/€0.79/AU$1.45
The Witcher III


 

Nilfgaardian Armor Set




 Free

Elite Crossbow Set




 Free

New Quest – 'Fool's Gold' (out 11 June)




 Free

'Ballad Heroes' Neutral Gwent Card Set (out 11 June)




 Free
PS3 DLC
Dragon Age: Inquisition (out 4 June)


 

Spoils of the Avvar




£3.99/€4.99/AU$7.55
Dragon Ball Xenoverse


 

Dragon Ball Z: Resurrection of < F > Pack




£7.99/€9.99/AU$14.95
LEGO Jurassic World (out 12 June)


 

Jurassic Park Trilogy Pack 1




£0.79/€0.99/AU$1.45

Jurassic Park Trilogy Pack 2




£0.79/€0.99/AU$1.45

Jurassic World Pack




£1.69/€1.99/AU$2.95
Rocksmith


 

Rock This Town – Brian Setzer




£2.49/€2.99/AU$4.55

Crazy Little Thing Called Love ? Queen




£2.49/€2.99/AU$4.55

Blue Suede Shoes – Carl Perkins




£2.49/€2.99/AU$4.55

Be-Bop-A-Lula – Gene Vincent and His Blue Caps




£2.49/€2.99/AU$4.55

Hello Mary Lou (Goodbye Heart) – Ricky Nelson




£2.49/€2.99/AU$4.55

Rockabilly Song Pack




£5.9/€6.99/AU$10.45
MX vs ATV Supercross


 

Supercross Track Pack Bundle




£14.99/€17.99/AU$26.95