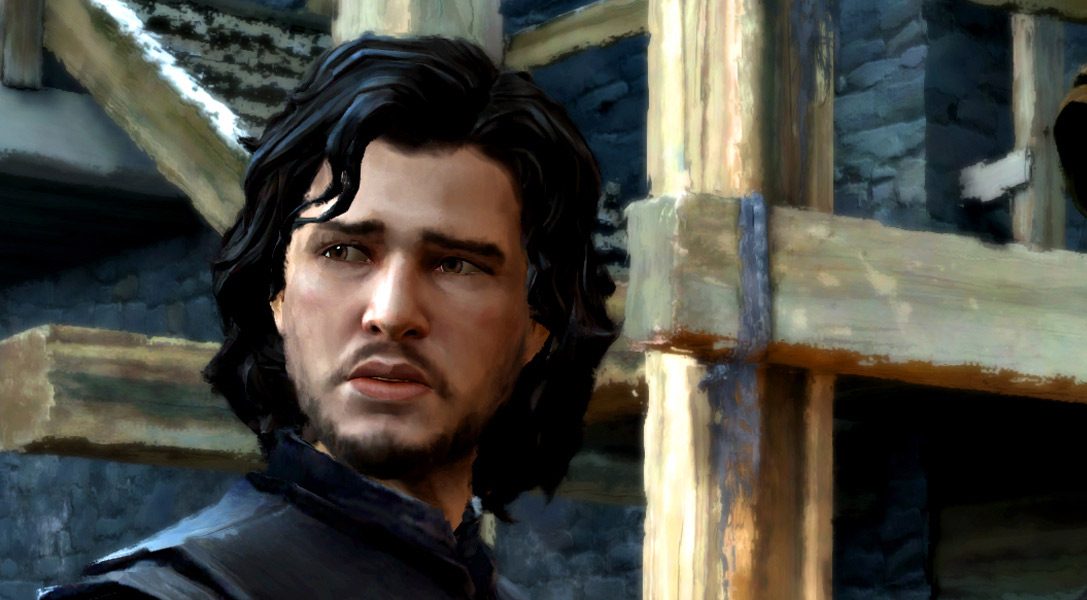 Grab some deals on The Walking Dead, The Wolf Among Us, more
Ever wanted to become president of the United States? Ever wanted to have super powers? Ever thought about both at the same time? Now you can live that very dream in our deal of the week, with Saints Row IV.
Also on offer, we've teamed up with Telltale Games to help save you some dosh on many of their acclaimed titles, including the mighty popular The Walking Dead and Back to the Future series.
See below for a full roundup of discounts, and head on over to store.playstation.com to grab them whilst they're hot.
Deal of the Week (ends 10th June 2015)
PS4
Saints Row IV: Re-Elected & Gat out of Hell
Original price £39.99/€49.99, now £21.99/€29.99
Saints Row IV: Re-Elected
Original price £24.99/€29.99, now £16.99/€20.99
Saints Row: Gat out of Hell
Original price £15.99/€19.99, now £11.49/€13.99
PS3
Saints Row IV Game of the Century Edition
Original price £19.99/€29.99, now £12.99/€15.99
Saints Row: Gat out of Hell
Original price £15.99/€19.99, now £11.49/€13.99
Telltale Games library (ends 17th June 2015)
PS4
Game of Thrones – Episode 2: The Lost Lords
25% off
Original price £3.99/€4.99
Offer price £2.99/€3.74
PS Plus price £2.59/€3.24
Game of Thrones – Episode 3: The Sword in the Darkness
25% off
Original price £3.99/€4.99
Offer price £2.99/€3.74
PS Plus price £2.59/€3.24
Game of Thrones – Season Pass
30% off
Original price £19.99/€24.99
Offer price £13.99/€17.49
PS Plus price £11.99/€14.99
Game of Thrones: Season 1, Ep1. Iron From Ice
25% off
Original price £3.99/€4.99
Offer price £2.99/€3.74
PS Plus price £2.59/€3.24
Tales from the Borderlands – Episode 2: Atlas Mugged
25% off
Original price £3.99/€4.99
Offer price £2.99/€3.74
PS Plus price £2.59/€3.24
Tales from the Borderlands – Season Pass
30% off
Original price £15.99/€19.99
Offer price £11.19/€13.99
PS Plus price £9.59/€11.99
Tales from the Borderlands, Ep1. Zer0 Sum
25% off
Original price £3.99/€4.99
Offer price £2.99/€3.74
PS Plus price £2.59/€3.24
The Telltale Games Collection
50% off
Original price £79.99/€99.99
Offer price £40.00/€50.00
PS Plus price £28.00/€35.00
The Walking Dead: Season Two
40% off
Original price £19.99/€24.99
Offer price £11.99/€14.99
PS Plus price £8.00/€10.00
The Walking Dead: The Complete First Season
40% off
Original price £19.99/€24.99
Offer price £11.99/€14.99
PS Plus price £8.00/€10.00
The Wolf Among Us
40% off
Original price £19.99/€24.99
Offer price £11.99/€14.99
PS Plus price £8.00/€10.00
PS3
Back to the Future: The Game – 5 Game Series
80% off
Original price £15.99/€19.99
Offer price £3.20/€4.00
Game of Thrones – Episode 1: Iron From Ice
25% off
Original price £3.99/€4.99
Offer price £2.99/€3.74
PS Plus price £2.59/€3.24
Game of Thrones – Episode 2: The Lost Lords
25% off
Original price £3.99/€4.99
Offer price £2.99/€3.74
PS Plus price £2.59/€3.24
Game of Thrones – Episode 3: The Sword in the Darkness
25% off
Original price £3.99/€4.99
Offer price £2.99/€3.74
PS Plus price £2.59/€3.24
Game of Thrones – Season Pass
30% off
Original price £19.99/€24.99
Offer price £13.99/€17.49
PS Plus price £11.99/€14.99
Jurassic Park: The Game
85% off
Original price £24.99/€29.99
Offer price £3.75/€4.50
Poker Night 2
60% off
Original price £3.99/€4.99
Offer price £1.60/€2.00
Puzzle Agent
70% off
Original price £7.99/€9.99
Offer price £2.40/€3.00
'Sam & Max' The Devil's Playhouse
85% off
Original price £19.99/€24.99
Offer price £3.00/€3.75
Sam & Max: Beyond Time & Space
80% off
Original price £15.99/€19.99
Offer price £3.20/€4.00
Strong Bad's Cool Game for Attractive People
80% off
Original price £11.99/€14.99
Offer price £2.40/€3.00
Tales from the Borderlands – Episode 2: Atlas Mugged
25% off
Original price £3.99/€4.99
Offer price £2.99/€3.74
PS Plus price £2.59/€3.24
Tales from the Borderlands – Season Pass
30% off
Original price £15.99/€19.99
Offer price £11.19/€13.99
PS Plus price £9.59/€11.99
Tales from the Borderlands, Ep1. Zer0 Sum
25% off
Original price £3.99/€4.99
Offer price £2.99/€3.74
PS Plus price £2.59/€3.24
Tales of Monkey Island – Full Series
80% off
Original price £15.99/€19.99
Offer price £3.20/€4.00
The Walking Dead – Episode 1: A New Day
60% off
Original price £3.99/€4.99
Offer price £1.60/€2.00
The Walking Dead – Episode 2: Starved for Help
60% off
Original price £3.99/€4.99
Offer price £1.60/€2.00
The Walking Dead – Episode 3: Long Road Ahead
60% off
Original price £3.99/€4.99
Offer price £1.60/€2.00
The Walking Dead – Episode 4: Around Every Corner
60% off
Original price £3.99/€4.99
Offer price £1.60/€2.00
The Walking Dead – Episode 5: No Time Left
60% off
Original price £3.99/€4.99
Offer price £1.60/€2.00
The Walking Dead – Season Pass
50% off
Original price £11.99/€14.99
Offer price £6.00/€7.50
The Walking Dead: 400 Days (Digital Version)
60% off
Original price £3.99/€4.99
Offer price £1.60/€2.00
The Walking Dead: Season 2 – Ep.1, All That Remains
60% off
Original price £3.99/€4.99
Offer price £1.60/€2.00
The Walking Dead: Season 2, Ep. 2, A House Divided
60% off
Original price £3.99/€4.99
Offer price £1.60/€2.00
The Walking Dead: Season 2, Ep. 3, In Harm's Way
60% off
Original price £3.99/€4.99
Offer price £1.60/€2.00
The Walking Dead: Season 2, Ep. 4, Amid the Ruins
60% off
Original price £3.99/€4.99
Offer price £1.60/€2.00
The Walking Dead: Season 2, Ep. 5, No Going Back
60% off
Original price £3.99/€4.99
Offer price £1.60/€2.00
The Walking Dead: Season Two – SEASON PASS
50% off
Original price £11.99/€14.99
Offer price £6.00/€7.50
The Wolf Among Us – Episode 1: Faith
60% off
Original price £3.99/€4.99
Offer price £1.60/€2.00
The Wolf Among Us – Episode 2: Smoke and Mirrors
60% off
Original price £3.99/€4.99
Offer price £1.60/€2.00
The Wolf Among Us – Episode 3: A Crooked Mile
60% off
Original price £3.99/€4.99
Offer price £1.60/€2.00
The Wolf Among Us – Episode 4: In Sheep's Clothing
60% off
Original price £3.99/€4.99
Offer price £1.60/€2.00
The Wolf Among Us – Episode 5: Cry Wolf
60% off
Original price £3.99/€4.99
Offer price £1.60/€2.00
The Wolf Among Us – Season Pass
60% off
Original price £11.99/€14.99
Offer price £4.80/€6.00
PS Vita
The Walking Dead: Season 2 – Ep.1, All That Remains
60% off
Original price £3.99/€4.99
Offer price £1.60/€2.00
The Walking Dead: Season 2, Ep. 2, A House Divided
60% off
Original price £3.99/€4.99
Offer price £1.60/€2.00
The Walking Dead: Season 2, Ep. 3, In Harm's Way
60% off
Original price £3.99/€4.99
Offer price £1.60/€2.00
The Walking Dead: Season 2, Ep. 4, Amid the Ruins
60% off
Original price £3.99/€4.99
Offer price £1.60/€2.00
The Walking Dead: Season 2, Ep. 5, No Going Back
60% off
Original price £3.99/€4.99
Offer price £1.60/€2.00
The Walking Dead: Season Two – SEASON PASS
60% off
Original price £15.99/€19.99
Offer price £6.40/€8.00
The Walking Dead: The Complete First Season
65% off
Original price £14.99/€19.99
Offer price £5.25/€7.00
The Wolf Among Us – The Complete First Season
70% off
Original price £19.99/€24.99
Offer price £6.00/€7.50