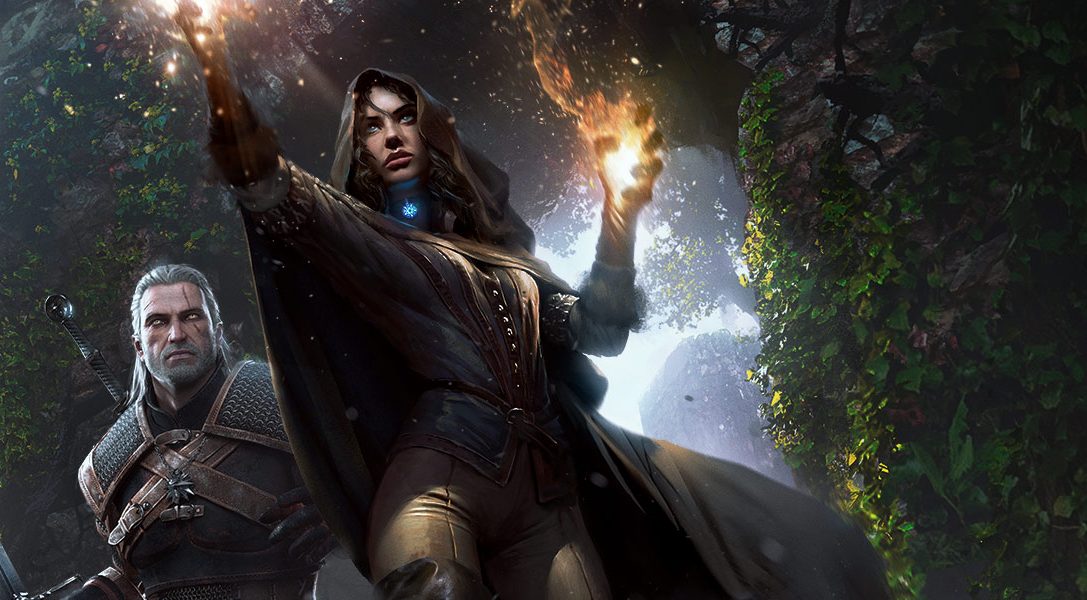 CD Projekt's unmissable open world epic goes live this week
First and foremost this week, the impossibly epic The Witcher 3: Wild Hunt. Explore a stunning fantasy world, take on a vast array of quests, engross yourself in the story and more. If you're clamouring for something rich, engrossing and immersive, The Witcher 3 will answer your prayers.
Elsewhere on PlayStation Store, it's time to get back on your tractor with Farming Simulator 15 on PS3 and PS4, and there's a brand new expansion for Destiny with new maps, new modes and new gear.
As for special offers, you'll find a range of classic portable titles to tuck into, as well as The Order 1886 as the deal of the week. See our regular PlayStation Store discounts post for a full list of savings.
PlayStation 4

Farming Simulator 15
Not available in Bahrain, Kuwait, Lebanon, Oman, Qatar, Saudi Arabia, UAE
Price: £44.99/€69.95/AU$49.99

The Witcher 3: Wild Hunt Game + Expansion Pass
Price: £67.99/€89.99/AU$129.95

The Witcher 3: Wild Hunt
Price: £49.99/€69.99/AU$99.95

Life Is Strange Episode 3
Price: £3.99/€4.99/AU$7.55
PlayStation 3

Farming Simulator 15
Not available in Bahrain, Kuwait, Lebanon, Oman, Qatar, Saudi Arabia, UAE
Price: £29.99/€39.99/AU$49.95

Life Is Strange Episode 3
Price: £3.99/€4.99/AU$7.55

Weird Park: The Final Show
Price: £11.99/€14.99/AU$22.95

Shin Megami Tensei: Lucifer's Call (PS2 Classic)
Not available Belgium, Denmark, Finland, Netherlands, Norway, Poland, Russia, Sweden, Turkey, Ukraine
Price: £6.49/€7.99/AU$11.95
PS4 DLC
Battlefield Hardline
Deluxe Upgrade
Price: £15.99/€19.99/AU$29.95
Dead or Alive 5 Last Round
Fighter Force Costume
Set Price: £17.99/€21.99/AU$32.95 (or £1.69/€1.99/AU$2.95 each)
Destiny
House of Wolves
Price: £19.99/€19.99/AU$24.95
Farming Simulator 2015
Lamborghini Nitro 120
Price: £0.79/€0.99/AU$1.45
LittleBigPlanet 3
Octodad: Dadliest Catch Costume (£1.69/€1.99/AU$2.95)
Thomas Was Alone Mini Pack (£2.49/€2.99/AU$4.55)
Mortal Kombat X
Kold War Pack
Price: £3.29/€3.99/AU$5.95
Rocksmith
Slayer Song Pack (£9.49/€11.99/AU$17.95)
Raining Blood – Slayer (£2.49/€2.99/AU$4.55)
Angel Of Death – Slayer (£2.49/€2.99/AU$4.55)
Seasons In The Abyss – Slayer (£2.49/€2.99/AU$4.55)
South Of Heaven – Slayer (£2.49/€2.99/AU$4.55)
Dead Skin Mask – Slayer (£2.49/€2.99/AU$4.55)
The Witcher 3: Wild Hunt
Expansion Pass
Price: £19.99/€24.99/AU$35.95
Toukiden
Mission Collection 3 (£1.69/€1.99/AU$2.95)
Mission Collection 4 (£0.79/€0.99/AU$1.45)
Mission Collection 5 (£0.79/€0.99/AU$1.45)
Mission Collection 6 (£0.79/€0.99/AU$1.45)
Mission Collection 7 (£1.69/€1.99/AU$2.95)
Mission Collection 8 (£0.79/€0.99/AU$1.45)
Mission Collection 9 (£0.79/€0.99/AU$1.45)
Mission Collection 10 (£0.79/€0.99/AU$1.45)
Mission Collection 11 (£1.69/€1.99/AU$2.95)
Mission Collection Set 1 (£3.29/€3.99/AU$5.95)
Mission Collection Set 2 (£3.99/€4.99/AU$7.55)
PS3 DLC
Battlefield Hardline
Deluxe Upgrade (£15.99/€19.99/AU$29.95)
Dead or Alive 5 Last Round
Fighter Force Costume Set (£17.99/€21.99/AU$32.95, or 1.69/€1.99/AU$2.95 each)
Destiny Expansion
House of Wolves (£19.99/€19.99/AU$24.95)
Farming Simulator 2015
Lamborghini Nitro 120 (£0.79/€0.99/AU$1.45)
Rocksmith
Slayer Song Pack (£9.49/€11.99/AU$17.95)
Raining Blood – Slayer (£2.49/€2.99/AU$4.55)
Angel Of Death – Slayer (£2.49/€2.99/AU$4.55)
Seasons In The Abyss – Slayer (£2.49/€2.99/AU$4.55)
South Of Heaven – Slayer (£2.49/€2.99/AU$4.55)
Dead Skin Mask – Slayer (£2.49/€2.99/AU$4.55)
Rage Against The Machine Pack 1 (£7.99/€9.99/AU$14.95)
Rage Against The Machine Pack 2 (£6.49/€7.99/AU$11.95)