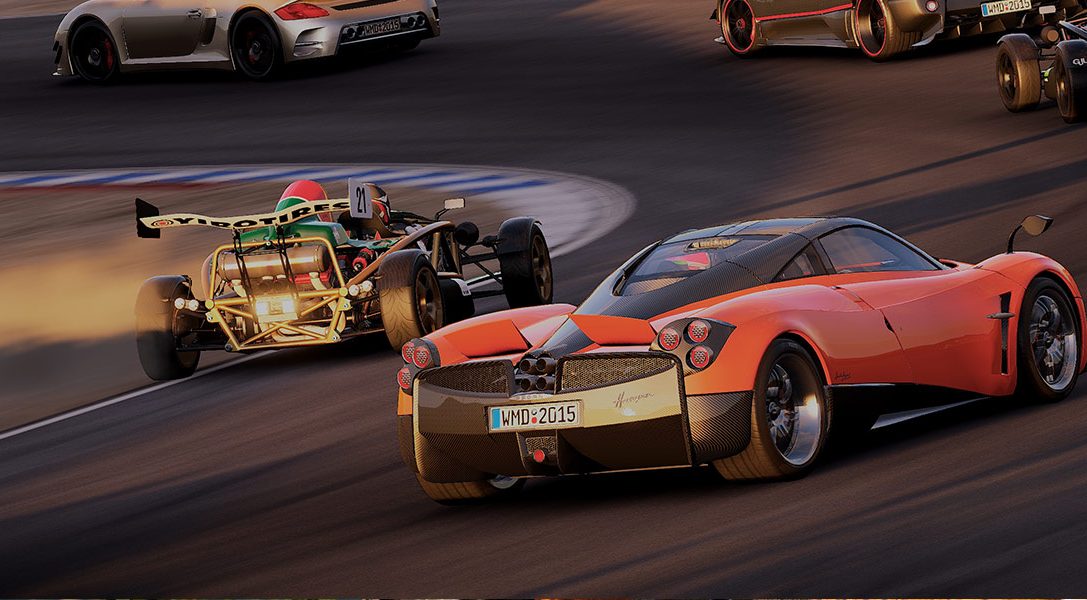 Plus, Omega Quintet, Cosmophony and new discounts
The perfect purring of the engine. The smooth contours of the design. The glorious smell of car air fresheners. Okay, so you may not be able to smell anything, but Project CARS' beautifully rendered automobiles will certainly have you feeling many emotions. Car enthusiasts can look forward to tuning their chosen beast with great depth before taking their driving expertise to the track.
Also new this week, Wolfenstein: The Old Blood is a standalone prequel to the critically acclaimed first-person action-adventure shooter, Wolfenstein: The New Order. The adventure spans eight chapters and two interconnected stories, featuring all the hallmarks of MachineGames: thrilling action, an immersive story and intense first-person combat.
Elsewhere, don't forget to pick up your May allocation of PS Plus games and, as ever, look out for loads of new discounts, including Far Cry 4 in the deal of the week slot, and a glut of PS3 and PS Vita titles available for under £8 each. Check it all out on store.playstation.com
PlayStation Plus
Grim Fandango – 30% off, ends 11th May
Guacamelee! STCE – 'Frenemies' Character Pack – 40% off, ends 3rd June
PlayStation 4

ArcaniA – The Complete Tale
Out 8th May
Price:£24.99/€29.99/$39.95

Cosmophony
Price:£3.99/€4.99/$7.55

Omega Quintet
Price:£44.99/€59.99/$84.95

Project CARS
Out 7 May
Price:£44.99/€69.99/$99.95

Wolfenstein: The Old Blood
Price:£14.99/€19.99/$39.95

Middle-earth: Shadow of Mordor-Game of the Year Edition
Out 8th May (13th May Australia and New Zealand)
Price:£54.99/€59.99/$84.95
PlayStation 3

Star Wars Jedi Starfighter (PS2)
Not available in Belgium, Denmark, Finland, France, Netherlands, Norway, Poland, Portugal, Russia, Sweden, Turkey, Ukraine
Price:£7.99/€9.99/$14.95

Star Wars Starfighter (PS2)
Not available in Belgium, Denmark, Finland, France, Netherlands, Norway, Poland, Portugal, Russia, Sweden, Turkey, Ukraine, New Zealand, Australia
Price:£7.99/€9.99/$14.95

Chariot
Price:£11.99/€14.99/$22.95

Cosmophony
Price:£3.99/€4.99/$7.55
PlayStation Vita

Cosmophony
Price:£3.99/€4.99/$7.55
PS4 DLC
Dragon Ball Xenoverse
Movie Costumes Pack (Free)
Dynasty Warriors 8 Empires
Special Edit Parts (£2.49/€2.99/$4.55)
Evolve
Assault Monarch Skin Pack (£3.99/€4.99/$7.55)

Markov Monarch Skins (£1.69/€1.99/$2.95)

Hyde Monarch Skins (£1.69/€1.99/$2.95)
Parnell Monarch Skins (£1.69/€1.99/$2.95)
Guacamelee! STCE – Out 7th May
'Frenemies' Character Pack (£2.99/€3.59/$5.45)
Mortal Kombat X
Jason Voorhees (£3.99/€4.99/$7.55)
Horror Pack (£3.29/€3.99/$5.95)
Omega Quintet
Angel Wing (£0.79/€0.99/$1.45)
Arcanium Power Pack (£0.79/€0.99/$1.45)
Arcanium Power Pack 2 (£0.79/€0.99/$1.45)
Arcanium Power Pack 3 (£0.79/€0.99/$1.45)
Avenger's Spear (£0.79/€0.99/$1.45)
Character Appreciation (£1.69/€1.99/$2.95)
Chocolate Mint Lover (£0.79/€0.99/$1.45)
Coin Power Pack (£0.79/€0.99/$1.45)
Coin Power Pack 2 (£0.79/€0.99/$1.45)
Complete MAD Encyclopedia (Free)
EP Power Pack (£0.79/€0.99/$1.45)
EP Power Pack 2 (£0.79/€0.99/$1.45)
EP Power Pack 3 (£0.79/€0.99/$1.45)
First Verse Maiden War (Free)
Flying Fists (£0.79/€0.99/$1.45)
Fourth Verse Maiden War (Free)
Full Gallery Unlocked (£1.69/€1.99/$2.95)
Happy Geisha (£0.79/€0.99/$1.45)
Lights, Camera, Action! (£0.79/€0.99/$1.45)
Marching Idol Gear (£0.79/€0.99/$1.45)
Mega Rifle (£0.79/€0.99/$1.45)
New Attachment Set (£0.79/€0.99/$1.45)
New Protector Set (£0.79/€0.99/$1.45)
Plushy Cat Paw Hammer (£0.79/€0.99/$1.45)
Rare Armor Set (£0.79/€0.99/$1.45)
Robotic Idol Gear (£0.79/€0.99/$1.45)
Second Verse Maiden War (Free)
Third Verse Maiden War (Free)
Verse Maiden Beginner Pack 1 (Free)
Verse Maiden Beginner Pack 2 (Free)
Verse Maiden Beginner Pack 3 (Free)
Wealth Pack (£0.79/€0.99/$1.45)
Wealth Pack 2 (£0.79/€0.99/$1.45)
Wealth Pack 3 (£1.69/€1.99/$2.95)
Project CARS
Liveries Pack 1 (Free)
Project CARS – Free Car 1 (Lykan Hypersport) (Free)
Rocksmith
Alter Bridge Song Pack (£7.99/€9.99/$14.95)
Bob Dylan Song Pack (£6.49/€7.99/$11.95)
A Day To Remember Song Pack (£9.49/€11.99/$17.95)
Aerosmith Song Pack (£9.49/€11.99/$17.95)
Ain't No Love In The Heart of the City – Bobby 'Blue' Bland (£2.49/€2.99/$4.55)
Be Careful With a Fool – Johnny Winter (£2.49/€2.99/$4.55)
Billy Talent Song Pack (£9.49/€11.99/$17.95)
Blues Song Pack (£9.49/€11.99/$17.95)
Boom Boom – John Lee Hooker (£2.49/€2.99/$4.55)
Duran Duran Song Pack (£6.49/€7.99/$11.95)
Foo Fighters Song Pack (£9.49/€11.99/$17.95)
'From Noon Till Dawn' – STRAIGHTENER (£2.49/€2.99/$4.55)
Godsmack Song Pack (£9.49/€11.99/$17.95)
Hideaway – Freddie King (£2.49/€2.99/$4.55)
I Keep Forgettin (Every Time You?re Near) – Michael McDonald (£2.49/€2.99/$4.55)
Incubus Song Pack (£6.49/€7.99/$11.95)
Judas Priest Song Pack (£6.49/€7.99/$11.95)
Maroon 5 Song Pack (£6.49/€7.99/$11.95)
Mastodon Song Pack (£6.49/€7.99/$11.95)
Matchbox Twenty Song Pack (£9.49/€11.99/$17.95)
Nickelback Song Pack (£6.49/€7.99/$11.95)
No Doubt Song Pack (£6.49/€7.99/$11.95)
Pantera Song Pack (£6.49/€7.99/$11.95)
Parliament – Give Up The Funk (Tear The Roof Off The Sucker) (£2.49/€2.99/$4.55)
Rocksmith The Cure – Love Song (£2.49/€2.99/$4.55)
Rush Song Pack (£9.49/€11.99/$17.95)
Rush Song Pack (£9.49/€11.99/$17.95)
Santana Song Pack (£6.49/€7.99/$11.95)
Shinedown Song Pack (£9.49/€11.99/$17.95)
Spoonful – Howlin' Wolf (£2.49/€2.99/$4.55)
Surf Rock Song Pack (£6.49/€7.99/$11.95)
The Clash Song Pack (£6.49/€7.99/$11.95)
The Strokes Song Pack (£6.49/€7.99/$11.95)
'Wrong Way' by Sublime (£2.49/€2.99/$4.55)
Toukiden
Armor Sanada and Koshosho Set (£1.69/€1.99/$2.95)
PS3 DLC
Dragon Ball Xenoverse Movie Costumes Pack (Free)
Rocksmith
Blues Song Pack (£9.49/€11.99/$17.95)
Spoonful – Howlin' Wolf (£2.49/€2.99/$4.55)
Boom Boom – John Lee Hooker (£2.49/€2.99/$4.55)
Hideaway – Freddie King (£2.49/€2.99/$4.55)
Ain't No Love In The Heart of the City – Bobby 'Blue' Bland (£2.49/€2.99/$4.55)
Be Careful With a Fool – Johnny Winter (£2.49/€2.99/$4.55)