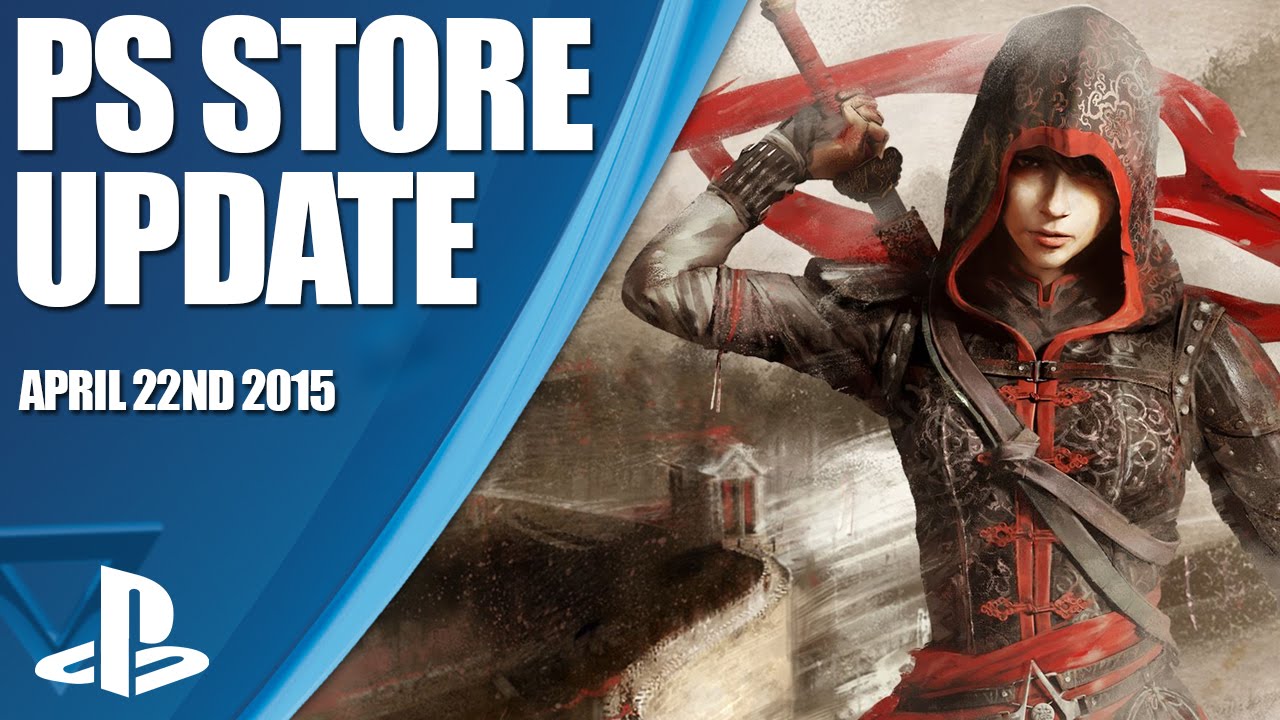 LA Cops, Infinity Runner and new The Evil Within DLC also land this week
First and foremost this week, find your lost love in brilliant platformer Shovel Knight. The Order of No Quarter has been tasked with preventing the titular hero from reaching the Enchantress. Slash away at them and dig your way through a beautiful, old school inspired setting.
Elsewhere, look out for Assassin's Creed Chronicles: China, Team17's top-down action game LA Cops, new DLC for The Evil Within, a bevy of discounts in our Arcade Greats promo and plenty more besides.
PlayStation Plus
Infinity Runner – 10% off, ends 6th May
Shovel Knight (Out 23rd April) – 10% off, ends 29th April
PlayStation 4

Assassin's Creed Chronicles: China
Price:£7.99/€9.99/$14.95

Brawl
Out 24th April
Not available in Australia, New Zealand
Price:£15.99/€19.99

Infinity Runner
Price:£7.39/€8.99/$13.45

Jamestown+ Complete
Price:£9.99/€12.99/$19.45

LA Cops
Price:£11.49/€13.99/$20.95

Shovel Knight
Out 23rd April
Price:£11.99/€14.99/$22.95

Ziggurat
Price:£14.99/€17.99/$26.95
PlayStation 3

Gradius V (PS2 classic)
Price: £7.99/€9.99/AU$14.95

Oddworld: New 'n' Tasty
Out 23rd April
Price:£14.99/€19.99/$28.95

Shovel Knight
Out 23rd April
Price:£11.99/€14.99/$22.95
PlayStation Vita

Shovel Knight
Out 23rd April
Price:£11.99/€14.99/$22.95
PS4 DLC
Dead or Alive 5: Last Round (also available for PS3)
Last Getaway Costume Set
Not available in Bahrain, Kuwait, Lebanon, Oman, Qatar, Saudi Arabia, UAE (£19.99/€24.99/$37.95)
Ninja 2015 Costume Set (£4.99/€5.99/$8.95)
Premier Sexy Costume & Movie Set (£11.99/€14.99/$22.95)
Ninja 2015 Ayane (£1.69/€1.99/$2.95)
Aloha Ayane Costume (£1.69/€1.99/$2.95)
Costume Catalog 1
Showstoppers Christie (£1.69/€1.99/$2.95)
Honoka's Private Paradise (£2.49/€2.99/$4.55)
Marie Rose's Private Paradise (£2.49/€2.99/$4.55)
Nyotengu's Private Paradise (£3.29/€3.99/$5.95)
Phase 4's Private Paradise (£2.49/€2.99/$4.55)
Ninja 2015 Hayabusa (£1.69/€1.99/$2.95)
Ninja 2015 Hayate (£1.69/€1.99/$2.95)
Showstoppers Helena (£1.69/€1.99/$2.95)
Aloha Hitomi Costume (£1.69/€1.99/$2.95)
Premier Sexy Costume Honoka (£1.69/€1.99/$2.95)
New Challengers Honoka (£1.69/€1.99/$2.95)
Ninja 2015 Kasumi (£1.69/€1.99/$2.95)
Aloha Kasumi Costume (£1.69/€1.99/$2.95)
Beach Party Kokoro (£1.69/€1.99/$2.95)
Beach Party Leifang (£1.69/€1.99/$2.95)
Showstoppers Lisa (£1.69/€1.99/$2.95)
Premier Sexy Costume Marie Rose (£1.69/€1.99/$2.95)
New Challengers Marie Rose (£1.69/€1.99/$2.95)
Aloha Mila Costume (£1.69/€1.99/$2.95)
Beach Party Momiji (£1.69/€1.99/$2.95)
Premier Sexy Costume Nyotengu (£1.69/€1.99/$2.95)
New Challengers Nyotengu (£1.69/€1.99/$2.95)
Last Getaway Pai (£1.69/€1.99/$2.95)
Premier Sexy Costume Phase 4 (£1.69/€1.99/$2.95)
New Challengers Phase 4 (£1.69/€1.99/$2.95)
Beach Party Rachel (£1.69/€1.99/$2.95)
Last Getaway Sarah (£1.69/€1.99/$2.95)
Showstoppers Tina (£1.69/€1.99/$2.95)
Dynasty Warrirors 8 Empires
Castle and Scenario Pack 2 (£4.99/€5.99/$8.95)
Edit Parts – Equipment 4 (£3.29/€3.99/$5.95)
Edit Parts – Equipment 5 (£4.99/€5.99/$8.95)
Edit Parts – Equipment Set 2 (£7.39/€8.99/$13.45)
Edit Parts – Equipment Set 2 (£7.39/€8.99/$13.45)
The Evil Within
The Consequence (£6.99/€9.99/$14.95)
Evolve
Trapper Maneater Skin Pack (£3.99/€4.99/$7.55)
Maggie Maneater Skins (£1.69/€1.99/$2.95)
Griffin Maneater Skins (£1.69/€1.99/$2.95)
Abe Maneater Skins (£1.69/€1.99/$2.95)
FIFA 15
FIFA Points 100 (£0.79/€0.99/$1.45)
FIFA Points 250 (£1.99/€2.49/$3.75)
FIFA Points 500 (£3.99/€4.99/$7.55)
FIFA Points 750 (£5.79/€6.99/$10.45)
FIFA Points 1050 (£7.99/€9.99/$14.95)
FIFA Points 1575 (£11.99/€14.99/$22.95)
FIFA Points 2200 (£15.99/€19.99/$29.95)
FIFA Points 4600 (£32.99/€39.99/$59.95)
FIFA Points 12000 (£79.99/€99.99/$150.95)
Rocksmith 2
Alt-Rock Singles (£9.49/€11.99/$17.95)
'Memeshikute' by Golden Bomber (£2.49/€2.99/$4.55)
'Earphone' by Golden Bomber (£2.49/€2.99/$4.55)
'All Signs Point to Lauderdale' by A DAY TO REMEMBER (£2.49/€2.99/$4.55)
'Black Tongue' by MASTODON (£2.49/€2.99/$4.55)
'Oblivion' by MASTODON (£2.49/€2.99/$4.55)
'Colony of Birchmen' by MASTODON (£2.49/€2.99/$4.55)
China Grove – The Doobie Brothers (£2.49/€2.99/$4.55)
Kiss On My List – Daryl Hall and John Oates (£2.49/€2.99/$4.55)
Black Chandelier – Biffy Clyro (£2.49/€2.99/$4.55)
Through Glass – Stone Sour (£2.49/€2.99/$4.55)
My Own Worst Enemy – Lit (£2.49/€2.99/$4.55)
Ocean Avenue – Yellowcard (£2.49/€2.99/$4.55)
Feel The Pain – Dinosaur Jr. (£2.49/€2.99/$4.5)
Hemorrhage (In My Hands) – Fuel (£2.49/€2.99/$4.55)
Rocksmith Vampire Weekend – Cousins (£2.49/€2.99/$4.55)
Rocksmith The Cure – The End of the World (£2.49/€2.99/$4.55)
'Atarashii Hikari' by 9mm Parabellum Bullet (£2.49/€2.99/$4.55)
'Sweet Dreams' by Roy Buchanan (£2.49/€2.99/$4.55)
Rocksmith 2014 – Mountains – Biffy Clyro (£2.49/€2.99/$4.55)
Rocksmith 2014 – Stingin' Belle – Biffy Clyro (£2.49/€2.99/$4.55)
The Crew
Raid Car Pack (£5.79/€6.99/$10.45)
Cadillac Escalade 2012 (£2.49/€2.99/$4.55)
MCLAREN F1 (£3.29/€3.99/$5.95)
VOLKSWAGEN TOUAREG NF 2011 (£1.69/€1.99/$2.95)
Zen Pinball 2
Marvel's Avengers: Age of Ultron (Unlock) (£2.49/€2.99/$4.55)
PS3 DLC
Dynasty Warrirors 8 Empires
Castle and Scenario Pack 2 (£4.99/€5.99/$8.95)
Edit Parts – Equipment 4 (£3.29/€3.99/$5.95)
Edit Parts – Equipment 5 (£4.99/€5.99/$8.95)
Edit Parts – Equipment Set 2 (£7.39/€8.99/$13.45)
Edit Parts – Equipment Set 2 (£7.39/€8.99/$13.45)
The Evil Within
The Consequence (£6.99/€9.99/$14.95)
Hatsune Miku: Project DIVA F 2nd
Ha2une Miku Module (£1.19/€1.49/$2.25)
Rocksmith 2
Alt-Rock Singles (£9.49/€11.99/$17.95)
Through Glass – Stone Sour (£2.49/€2.99/$4.55)
My Own Worst Enemy – Lit (£2.49/€2.99/$4.55)
Ocean Avenue – Yellowcard (£2.49/€2.99/$4.55)
Feel The Pain – Dinosaur Jr. (£2.49/€2.99/$4.55)
Hemorrhage (In My Hands) – Fuel (£2.49/€2.99/$4.55)
Zen Pinball 2
Zen Pinball 2 – Marvel's Avengers: Age of Ultron (Unlock) (£2.49/€2.99/$4.55)
PS Vita DLC
Hatsune Miku: Project DIVA F 2nd
Ha2une Miku Module (£1.19/€1.49/$2.25)
Zen Pinball 2
Marvel's Avengers: Age of Ultron (Unlock) (£2.49/€2.99/$4.55)