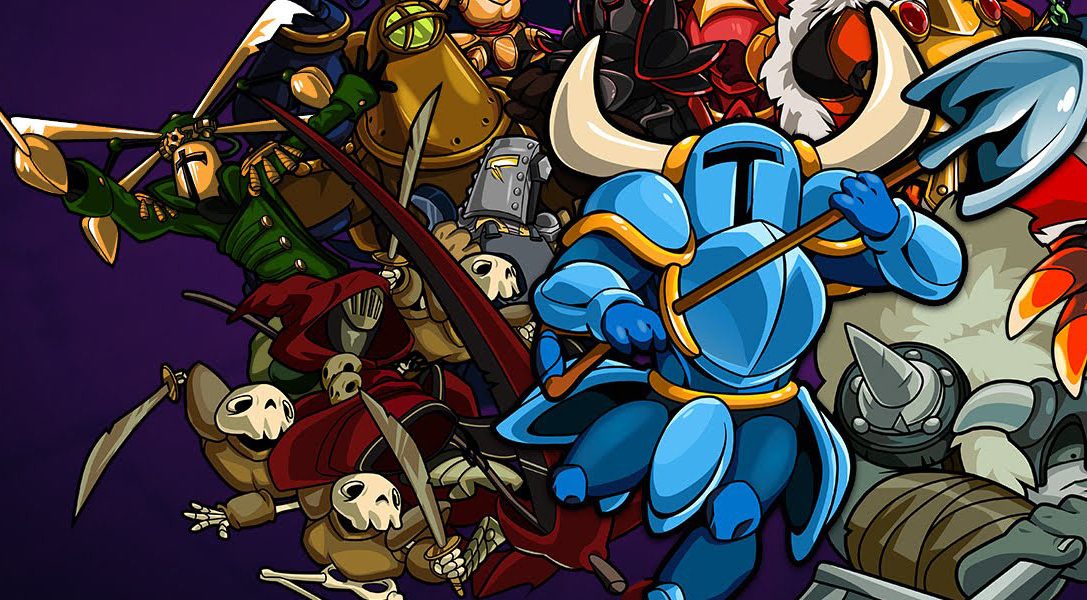 Pick up Yacht Club Games' brilliant debut from Wednesday on PS3, PS4 or PS Vita
Hey Shovelers and Shovelettes! We're Yacht Club Games – a new game studio dedicated to creating fun and challenging gameplay! We aspire to both tug at your heartstrings and delight you with levity and charm. We're very proud to announce that our debut title, Shovel Knight, will be tunnelling its way to PS4, PS3 and PS Vita this Wednesday 22nd April! We hope everyone will enjoy the game!
Here are some cool exclusive PlayStation features you might not know about:
Cross-Buy – Shovel Knight supports Cross-Buy! Buy the game on one Sony platform, and you'll get it on the rest!
Cross-Save! – That's right! At any time you can transfer your save file between PS3, PS4 and PS Vita. You can make sure you never have to do anything twice!
PS Vita back touch – A few Easter eggs are littered throughout the game. Try poking the back of your PS Vita and see what happens!
PS4 Dual Shock 4 light bar – We found some fun ways to light up your hands during Shovel Knight's most dramatic moments. Keep your eyes peeled!
Platinum Trophy! – Are you good enough to tackle Shovel Knight's toughest challenges?! Prove it and earn the Platinum!
BATTLE KRATOS!!! – Take up your Shovel Blade against Sony's legendary hero from God of War. Try to find and take him down in Shovel Knight. Maybe he'll teach you a thing or two about how to fight…
On top of all of the above, PlayStation Plus members can claim a 10% discount during launch week.
We're so excited to be part of PlayStation's comprehensive library of games. Be sure to use all of the amazing features above when playing Shovel Knight. And don't forget to hit that Share button every second, so we can celebrate your successes and failures!
Even with all of this content, there's a lot more Shovel Knight headed your way this year. Expect lots of FREE big update content!
Shovel Knight: Plague of Shadows – A new adventure starring Plague Knight, the addled alchemical master of disaster! Featuring a brand new playable character, all new relics, new systems, new boss battles, level tweaks and a brand new story to adventure through!
Two additional campaigns – Like Plague of Shadows, there will be two more campaigns featuring fan favourites, King Knight and Specter Knight!
Challenge Mode – Think you're up to the challenge? Try tackling a set all-new challenge levels that push your Shovel Knight skills to the max!
Body Swap Mode – Did you ever wish Shovel Knight was a girl, or Shield Knight was a boy? Well, now you'll be able to change them, along with the rest of the cast! Swap whatever bodies you want, with all new character designs!
Four-player Battle Mode – Challenge your friends to a four-way couch duel featuring Shovel Knight and his closest friends and greatest enemies!
And best of all, it's all FREE! Shovel Knight: Plague of Shadows is already coming soon! Check out this page for more information.
That's all we've got for today… but wasn't it quite a lot? We hope everyone will pick up the game this week, and tell us their favourite moments. Have fun!