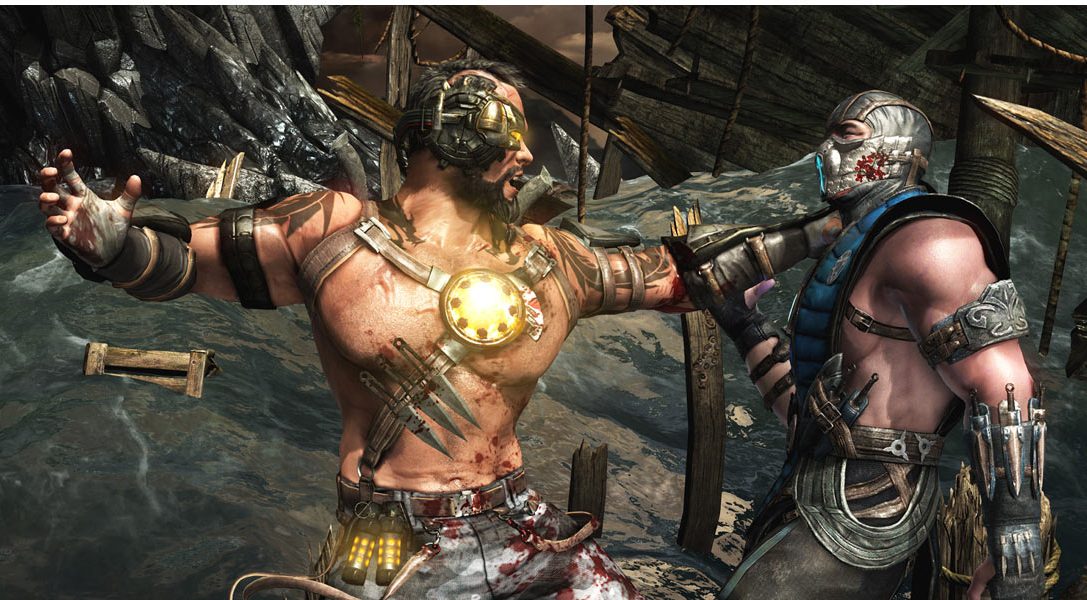 Plus, We Are Doomed, Home and brand new discounts
Crush some skulls. Tear off some limbs. Remove the insides of those who dare oppose you! Mortal Kombat X takes fatalities to another gruesome level this week on PlayStation Store.
For the younger or less gore-inclined amongst us, there are a number of other neat games to check out, from Costume Quest 2, to new indies We Are Doomed and Home.
Chris has also detailed new savings across a number of great titles going live with today's publish, so head on over to PlayStation Store for all the latest.
PlayStation Plus
Home – 50% off, ends 22nd April
We Are Doomed – 10% off, ends 22nd April
PlayStation 4

Mortal Kombat X
Not availabler in Germany
Price:£49.99/€69.99/AU$99.95

Costume Quest 2
Price:£11.99/€14.99/AU$22.95

Home – A Unique Horror Adventure
Price:£3.99/€4.99/AU$7.55

Tital Souls (cross-buy)
Price: £11.99/€14.99/AU$22.95

We Are Doomed
Not available Bahrain, Belgium, Denmark, Finland, Kuwait, Lebanon, Netherlands, Norway, Oman, Poland, Qatar, Russia, Saudi Arabia, Sweden, Turkey, Ukraine, UAE
Price:£7.99/€9.99/AU$14.95
PS4 demos
PS4 and PS3 apps
Vevo
Australia, France, Germany, Ireland, Italy, Netherlands, New Zealand, Poland, Spain, UK
PlayStation 3

Costume Quest 2
Price:£11.99/€14.99/AU$22.95

World Hunter
Not available in Austria, Bahrain, Belgium, Denmark, Finland, France, Germany, Italy, Kuwait, Lebanon, Luxembourg, Netherlands, Norway, Oman, Poland, Portugal, Qatar, Russia, Saudi Arabia, Spain, Sweden, Switzerland, Turkey, Ukraine, UAE
Price:£8.99/€10.99/AU$16.45

Alter Echo (PS2 Classic)
Price:£3.99/€4.99/AU$7.55

Red Faction II (PS2 Classic)
Not available in Germany
Price:£7.99/€9.99/AU$14.95

Summoner (PS2 Classic)
Price:£3.99/€4.99/AU$7.55
PS3 demos
PlayStation Vita

Alien Shooter
Price:£6.49/€7.99/AU$11.95

Home – A Unique Horror Adventure
Price:£3.99/€4.99/AU$7.55

Tital Souls (cross-buy)
Price: £11.99/€14.99/AU$22.95
PS4 DLC
Dynasty Warriors 8 Empires
Castle and Scenario Pack 1 (£4.99/€5.99/AU$8.95)
Edit Voice 2 (£1.69/€1.99/AU$2.95)
Weapon & Character 6 (£2.49/€2.99/AU$4.55)
Mortal Kombat X
30 Easy Fatalities (£3.99/€4.99/AU$7.55)
5 Easy Fatalities (£0.79/€0.99/AU$1.45)
Unlock all Krypt Items (£15.99/€19.99/AU$29.95)
Dead or Alive 5 Last Round
DOA5LR Ninja Clan 3 Costume Set (£11.99/€14.99/AU$22.95, or £1.69/€1.99/AU$2.95 each)
Rocksmith 2
The Black Keys Song Pack (£9.49/€11.99/AU$17.95)
Pearl Jam Song Pack (£6.49/€7.99/AU$11.95)
Kiss Song Pack (£6.49/€7.99/AU$11.95)
Cake Song Pack (£9.49/€11.99/AU$17.95)
Thin Lizzy Song Pack (£6.49/€7.99/AU$11.95)
The White Stripes Song Pack (£9.49/€11.99/AU$17.95)
Creed Song Pack (£9.49/€11.99/AU$17.95)
Boston Song Pack (£6.49/€7.99/AU$11.95)
Radiohead – Bodysnatchers (£2.49/€2.99/AU$4.55)
Tighten Up – The Black Keys (£2.49/€2.99/AU$4.55)
T. Rex – 20th Century Boy (£2.49/€2.99/AU$4.55)
Pearl Jam – Jeremy (£2.49/€2.99/AU$4.55)
The Blues Brothers – Soul Man (£2.49/€2.99/AU$4.55)
Pat Benatar – Hit Me With Your Best Shot (£2.49/€2.99/AU$4.55)
The Knack – My Sharona (£2.49/€2.99/AU$4.55)
Lamb of God – Redneck (£2.49/€2.99/AU$4.55)
'Detroit Rock City' by KISS (£2.49/€2.99/AU$4.55)
'I Was Made For Lovin' You' by KISS (£2.49/€2.99/AU$4.55)
'Heaven's On Fire' by KISS (£2.49/€2.99/AU$4.55)
What's The Frequency Kenneth-R.E.M. (£2.49/€2.99/AU$4.55)
R.E.M – Everybody Hurts (£2.49/€2.99/AU$4.55)
'The One I Love' by R.E.M. (£2.49/€2.99/AU$4.55)
'Shiny Happy People' by R.E.M. (£2.49/€2.99/AU$4.55)
'Hitch A Ride' by BOSTON (£2.49/€2.99/AU$4.55)
'Don't Look Back' by BOSTON (£2.49/€2.99/AU$4.55)
'Foreplay / Long Time' by BOSTON (£2.49/€2.99/AU$4.55)
'Make it Stop (September's Children)' by RISE AGAINST (£2.49/€2.99/AU$4.55)
'Crazy on You' by HEART (£2.49/€2.99/AU$4.55)
'Love Bites [So Do I]' by HALESTORM (£2.49/€2.99/AU$4.55)
'All Around Me' – FLYLEAF (£2.49/€2.99/AU$4.55)
'It's Complicated' by A DAY TO REMEMBER (£2.49/€2.99/AU$4.55)
'The Downfall of Us All' by A DAY TO REMEMBER (£2.49/€2.99/AU$4.55)
'All I Want' by A DAY TO REMEMBER (£2.49/€2.99/AU$4.55)
'If It Means a Lot to You' by A DAY TO REMEMBER (£2.49/€2.99/AU$4.55)
'3:00 AM' by MATCHBOX 20 (£2.49/€2.99/AU$4.55)
'Push' by MATCHBOX 20 (£2.49/€2.99/AU$4.55)
'How Far We've Come' by MATCHBOX 20 (£2.49/€2.99/AU$4.55)
'She's So Mean' by MATCHBOX 20 (£2.49/€2.99/AU$4.55)
'Unwell' by MATCHBOX 20 (£2.49/€2.99/AU$4.55)
'Totalimmortal' by AFI (£2.49/€2.99/AU$4.55)
'Girl's Not Grey' by AFI (£2.49/€2.99/AU$4.55)
'Miss Murder' by AFI (£2.49/€2.99/AU$4.55)
'Silver and Cold' by AFI (£2.49/€2.99/AU$4.55)
'Just Like a Woman' by BOB DYLAN (£2.49/€2.99/AU$4.55)
'Like a Rolling Stone' by BOB DYLAN (£2.49/€2.99/AU$4.55)
'Subterranean Homesick Blues' by BOB DYLAN (£2.49/€2.99/AU$4.55)
'Stupid Girl' by GARBAGE (£2.49/€2.99/AU$4.55)
'I Think I'm Paranoid' by GARBAGE (£2.49/€2.99/AU$4.55)
'Only Happy When It Rains' by GARBAGE (£2.49/€2.99/AU$4.55)
'Amber' by 311 (£2.49/€2.99/AU$4.55)
'Beautiful Disaster' by 311 (£2.49/€2.99/AU$4.55)
'Down' by 311 (£2.49/€2.99/AU$4.55)
'Tomorrow' by SILVERCHAIR (£2.49/€2.99/AU$4.55)
'Two Princes' by SPIN DOCTORS (£2.49/€2.99/AU$4.55)
'Rise Today' by ALTER BRIDGE (£2.49/€2.99/AU$4.55)
'Ties That Bind' by ALTER BRIDGE (£2.49/€2.99/AU$4.55)
'Blackbird' by ALTER BRIDGE (£2.49/€2.99/AU$4.55)
'Isolation' by ALTER BRIDGE (£2.49/€2.99/AU$4.55)
'Aint No Sunshine' by Bill Withers (£2.49/€2.99/AU$4.55)
'Funk 49' by James Gang (£2.49/€2.99/AU$4.55)
'Highway Star' by Deep Purple (£2.49/€2.99/AU$4.55)
'The Distance' by CAKE (£2.49/€2.99/AU$4.55)
'I Will Survive' by CAKE (£2.49/€2.99/AU$4.55)
'Never There' by CAKE (£2.49/€2.99/AU$4.55)
'Short Skirt / Long Jacket' by CAKE (£2.49/€2.99/AU$4.55)
'Stickshifts and Safetybelts' by CAKE (£2.49/€2.99/AU$4.55)
'Don't Speak' – No Doubt (£2.49/€2.99/AU$4.55)
'Ex-Girlfriend' – No Doubt (£2.49/€2.99/AU$4.55)
'Spiderwebs' – No Doubt (£2.49/€2.99/AU$4.55)
'Anastasia' by SLASH (£2.49/€2.99/AU$4.55)
'You're A Lie' by SLASH (£2.49/€2.99/AU$4.55)
'Awake' by Godsmack (£2.49/€2.99/AU$4.55)
'Cryin Like A B****' by Godsmack (£2.49/€2.99/AU$4.55)
'I Stand Alone' by Godsmack (£2.49/€2.99/AU$4.55)
'Love-Hate-Sex-Pain' by Godsmack (£2.49/€2.99/AU$4.55)
'Voodoo' by Godsmack (£2.49/€2.99/AU$4.55)
'Wipe Out' by The Surfaris (£2.49/€2.99/AU$4.55)
'Walk Don't Run' – The Ventures (£2.49/€2.99/AU$4.55)
'Misirlou' by Dick Dale and His Del-Tones (£2.49/€2.99/AU$4.55)
'Devil in a Midnight Mass' by Billy Talent (£2.49/€2.99/AU$4.55)
'Fallen Leaves' by Billy Talent (£2.49/€2.99/AU$4.55)
'Red Flag' by Billy Talent (£2.49/€2.99/AU$4.55)
'Try Honesty' by Billy Talent (£2.49/€2.99/AU$4.55)
'Viking Death March' by Billy Talent (£2.49/€2.99/AU$4.55)
Hold the Line – Toto (£2.49/€2.99/AU$4.55)
Laid to Rest – Lamb of God (£2.49/€2.99/AU$4.55)
Walk with Me in Hell – Lamb of God (£2.49/€2.99/AU$4.55)
Ghost Walking – Lamb of God (£2.49/€2.99/AU$4.55)
'Ordinary World' by Duran Duran (£2.49/€2.99/AU$4.55)
'Hungry like the Wolf' by Duran Duran (£2.49/€2.99/AU$4.55)
'Rio' by Duran Duran (£2.49/€2.99/AU$4.55)
'What I Got' by Sublime (£2.49/€2.99/AU$4.55)
'Smoke Two Joints' by Sublime (£2.49/€2.99/AU$4.55)
'Caress Me Down' by Sublime (£2.49/€2.99/AU$4.55)
'Santeria' by Sublime (£2.49/€2.99/AU$4.55)
'Simple Man' by Lynyrd Skynyrd (£2.49/€2.99/AU$4.55)
'Stranglehold' by Ted Nugent (£2.49/€2.99/AU$4.55)
With Arms Wide Open – Creed (£2.49/€2.99/AU$4.55)
One Last Breath – Creed (£2.49/€2.99/AU$4.55)
My Sacrifice – Creed (£2.49/€2.99/AU$4.55)
My Own Prison – Creed (£2.49/€2.99/AU$4.55)
Higher – Creed (£2.49/€2.99/AU$4.55)
Juke Box Hero – Foreigner (£2.49/€2.99/AU$4.55)
Hot Blooded – Foreigner (£2.49/€2.99/AU$4.55)
Double Vision – Foreigner (£2.49/€2.99/AU$4.55)
Feels Like The First Time – Foreigner (£2.49/€2.99/AU$4.55)
Cold As Ice – Foreigner (£2.49/€2.99/AU$4.55)
I Am The Highway – Audioslave (£2.49/€2.99/AU$4.55)
Be Yourself – Audioslave (£2.49/€2.99/AU$4.55)
Like a Stone – Audioslave (£2.49/€2.99/AU$4.55)
Cochise – Audioslave (£2.49/€2.99/AU$4.55)
Show Me How To Live – Audioslave (£2.49/€2.99/AU$4.55)
Seven Nation Army – The White Stripes (£2.49/€2.99/AU$4.55)
Fell in Love with a Girl – The White Stripes (£2.49/€2.99/AU$4.55)
The Hardest Button to Button – The White Stripes (£2.49/€2.99/AU$4.55)
You Don't Know What Love Is – The White Stripes (£2.49/€2.99/AU$4.55)
Blue Orchid – The White Stripes (£2.49/€2.99/AU$4.55)
The Boys Are Back In Town – Thin Lizzy (£2.49/€2.99/AU$4.55)
Jailbreak – Thin Lizzy (£2.49/€2.99/AU$4.55)
Dancing In The Moonlight – Thin Lizzy (£2.49/€2.99/AU$4.55)
The Crew
Raid Car Pack (£5.79/€6.99/AU$10.45)
Cadillac Escalade 2012 (£2.49/€2.99/AU$4.55)
MCLAREN F1 (£3.29/€3.99/AU$5.95)
VOLKSWAGEN TOUAREG NF 2011 (£1.69/€1.99/AU$2.95)
Toukiden Kiwami
Toukiden: Kiwami – Mission Collection 1 (Free)
Toukiden: Kiwami – Mission Collection 2 (Free)
PS3 DLC
Hatsune Miku: Project Diva F 2nd
Marginal (£1.99/€2.49/AU$3.75)
When First Love Ends (£1.99/€2.49/AU$3.75)
Powder Module (£1.19/€1.49/AU$2.25)
Rocksmith 2
Thin Lizzy Song Pack (£6.49/€7.99/AU$11.95)
The Boys Are Back In Town – Thin Lizzy (£2.49/€2.99/AU$4.55)
Jailbreak – Thin Lizzy (£2.49/€2.99/AU$4.55)
Dancing In The Moonlight – Thin Lizzy (£2.49/€2.99/AU$4.55)
PS Vita DLC
Alien Shooter
A Fight for Life (£3.29/€3.99/AU$5.95)
An Experiement (£3.29/€3.99/AU$5.95)
Hatsune Miku: Project Diva F 2nd
Marginal (£1.99/€2.49/AU$3.75)
When First Love Ends (£1.99/€2.49/AU$3.75)
Powder Module (£1.19/€1.49/AU$2.25)
Toukiden Kiwami
Mission Collection 1 (Free)
Mission Collection 2 (Free)
Deal of the week
Dying Light
Not available in Germany
Was €69.99/£54.99/AU$99.95, now €49.99/£39.99/AU$69.99
Additional 10% discount for PS Plus members
Middle-earth – Shadow of Mordor Legion Edition – Germany only
Was €69.99, now €34.99
Additional 10% discount for PS Plus members