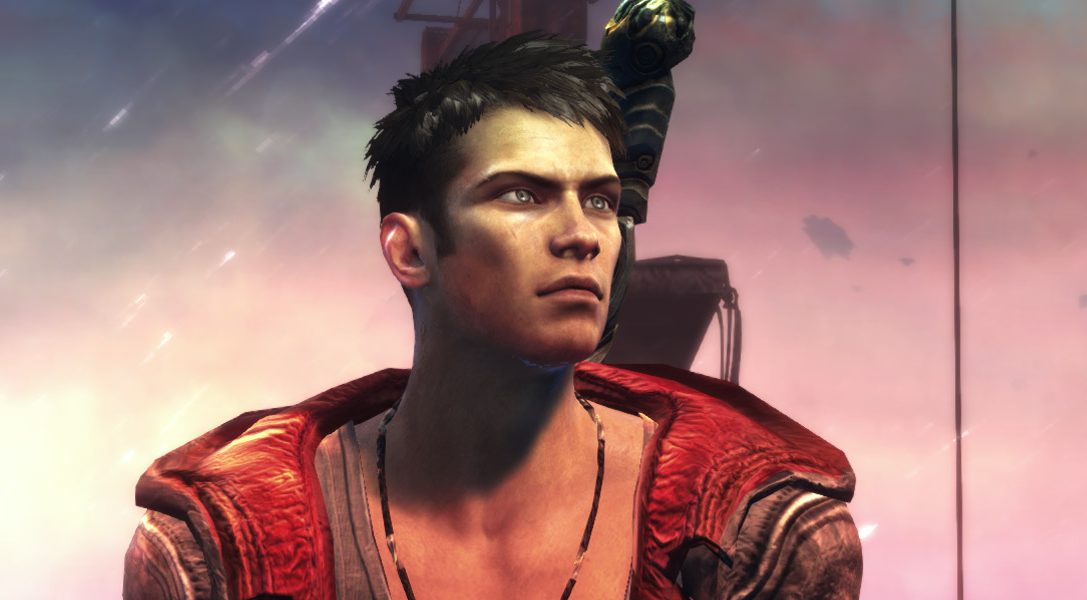 Plus, Flame Over, Shiftlings and a hefty discount on Sleeping Dogs: Definitive Edition
Hotline Miami 2: Wrong Number is finally here! Bigger, better and just as addictive, Hotline Miami 2 continues on from the first game's story, now following the paths of multiple factions. Grab a pair of good (non-leaking) headphones and enjoy the killer soundtrack as you play.
Capcom's remastered DmC Devil May Cry is also available on PS4 from this week. Building on the foundations of the original, the remaster crams in new content together with heavily reworked gameplay providing for an even better experience.
Aside from new releases, we've also got new offers on Rockstar titles, including GTAV (PS3) and a massive deal on Sleeping Dogs: Definitive Edition (PS4).
PlayStation Plus
Flame Over – 20% off, ends 18th March
Hotline Miami 2 – 10% off, ends 18th March
PlayStation 4

DmC Devil May Cry: Definitive Edition Out 10th March
Price:£34.99/€39.99/$54.95

Hotline Miami 2: Wrong Number Not available in AU/NZ
Price:£10.99/€14.99
Resident Evil Revelations 2 – Episode Three: Judgment
Price:£4.99/€5.99/$8.95

Shiftlings
Price:£11.99/€14.99/$22.95

Sniper Elite 3 ULTIMATE EDITION (Out 13th March)
Price:£34.99/€39.99/$54.95

Pillar Demo
Not available in Russia
PlayStation 3

Aabs Animals (PS Vita & PS3) Bundle
Price:£6.49/€7.99/$11.95

Atelier Shallie with Bonus
Price:£39.99/€49.99/$69.95

Wroom Wroom Bundle!
Price:£9.49/€11.99/$17.95

BLOCKBUSTER Denmark only
Price:Free

DEAD OR ALIVE 5 Last Round with Bonus
Price:£24.99/€29.99/$44.95

Hotline Miami 2: Wrong Number Not available in AU/NZ
Price:£10.99/€14.99
Resident Evil Revelations 2 – Episode Three: Judgment
Price:£4.99/€5.99/$8.95

Sniper Elite 3 ULTIMATE EDITION Out 13th March
Price:£19.99/€29.99/$39.95

Tokyo Twilight Ghost Hunters
Price:£29.99/€39.99/$49.95
PlayStation Vita

Aabs Animals (PS Vita & PS3) Bundle
Price:£6.49/€7.99/$11.95

Doodle Kingdom
Price:£4.99/€5.99/$8.95

Flame Over
Price:£7.99/€9.99/$14.95

Hotline Miami 2: Wrong Number Not available in AU/NZ
Price:£10.99/€14.99

Reel Fishing: Master's Challenge Not available Belgium, Denmark, Finland, Netherlands, Norway, Russia, Sweden, Switzerland, Turkey, Ukraine
Price:£19.99/€24.99/$37.95
PlayStation Mobile
Appli Archives G-mode BurgerTime
£2.39/€2.99/$4.95
Star Sabotage 2.1
£1.19/€1.49/$2.45
Ahhh! Asteroids
£2.19/€2.79/$4.75
One Image Viewer
£1.19/€1.49/$2.45
Snow Material
£0.79/€0.99/$1.75
RYUJIN
£0.79/€0.99/$1.75
3D Zombie survival
£3.69/€4.49/$7.75
Warfare Shooter
£4.49/€5.49/$9.25
Match
£4.49/€5.49/$9.25
25 Invisible Mazes
£1.19/€1.49/$2.45
Cube Dasher
£0.79/€0.99/$1.75
Miners Of the Sky: Battlefront
£2.19/€2.79/$4.75
Fragment's Note (ENG)
£3.19/€3.99/$6.95
PS4 DLC
Call of Duty: Advanced Warfare
CREATE A CLASS SLOTS (£1.69/€1.99/$2.95)
EXTRA ARMORY SLOTS 1 (£1.69/€1.99/$2.95)
EXTRA ARMORY SLOTS 2 (£1.69/€1.99/$2.95)
EXTRA ARMORY SLOTS 3 (£1.69/€1.99/$2.95)
EXTRA ARMORY SLOTS 4 (£1.69/€1.99/$2.95)
EXTRA ARMORY SLOTS 5 (£1.69/€1.99/$2.95)
Dead or Alive 5 Last Round
DOA5LR Season Pass (£73.99/€89.99/$135.95)
Dying Light
Ultimate Survivor Bundle (£3.99/€4.99/$7.55)
Dynasty Warriors 8 Empires
DW8Emp – Edit Parts – Equipment Set 1 (£7.99/€9.99/$14.95)
DW8Emp – Edit Parts – Equipment 1 (£3.29/€3.99/$5.95)
DW8Emp – Edit Parts – Face and Hair (£3.29/€3.99/$5.95)
DW8Emp – Edit Parts – Equipment 2 (£3.29/€3.99/$5.95)
DW8Emp – Edit Parts – Equipment 3 (£3.29/€3.99/$5.95)
Far Cry 4
Valley of the Yetis (£11.99/€14.99/$22.95)
Monopoly Family Fun Pack
MONOPOLY MY LITTLE PONY DLC (£2.49/€2.99/$4.55)
Monopoly Plus
MONOPOLY MY LITTLE PONY DLC (£2.49/€2.99/$4.55)
Rocksmith
Avenged Sevenfold Song Pack (£6.49/€7.99/$11.95)
Megadeth Song Pack (£3.29/€3.99/$5.95)
Jeff Buckley Song Pack (£6.19/€7.49/$11.25)
Hallelujah- Jeff Buckley (£2.49/€2.99/$4.55)
Grace – Jeff Buckley (£2.49/€2.99/$4.55)
Last Goodbye – Jeff Buckley (£2.49/€2.99/$4.55)
The Crew
Vintage Car Pack (£5.79/€6.99/$10.45)
The Evil Within
The Assignment (£7.99/€9.99/$14.95)
PS3 DLC
Dynasty Warriors 8 Empires
DW8Emp – Edit Parts – Equipment Set 1 (£7.99/€9.99/$14.95)
DW8Emp – Edit Parts – Equipment 1 (£3.29/€3.99/$5.95)
DW8Emp – Edit Parts – Face and Hair (£3.29/€3.99/$5.95)
DW8Emp – Edit Parts – Equipment 2 (£3.29/€3.99/$5.95)
DW8Emp – Edit Parts – Equipment 3 (£3.29/€3.99/$5.95)
Far Cry 4
Valley of the Yetis (£11.99/€14.99/$22.95)
Rocksmith
Creed Songs (£9.49/€11.99/$17.95)
Jeff Buckley Song Pack (£6.49/€7.99/$11.95)
Hallelujah- Jeff Buckley (£2.49/€2.99/$4.55)
Grace – Jeff Buckley (£2.49/€2.99/$4.55)
Last Goodbye – Jeff Buckley (£2.49/€2.99/$4.55)
The Evil Within
The Assignment (£7.99/€9.99/$14.95)
PS Vita DLC
Doodle Kingdom
10000 crystals (£3.99/€4.99/$7.55)
1000 crystals (£0.79/€0.99/$1.45)
30000 crystals (£7.99/€9.99/$14.95)
3000 crystals (£1.69/€1.99/$2.95)
Magical Beats
BLAZBLUE Music & Character Pack Vol.3 (£2.99/€3.59/$5.45)
BLAZBLUE Music & Character – Lust SIN – JIN (£0.59/€0.75/$1.15)
BLAZBLUE Music & Character – Gluttony Fang – HAZAMA (£0.59/€0.75/$1.15)
BLAZBLUE Music & Character – Queen of rose – RACHEL (£0.59/€0.75/$1.15)
BLAZBLUE Music & Character – Marionette Purple – CARL (£0.59/€0.75/$1.15)
BLAZBLUE Music & Character – Susanooh II – HAKUMEN (£0.59/€0.75/$1.15)
BLAZBLUE Music & Character – Reppu II – BANG (£0.59/€0.75/$1.15)
MONOPOLY
JUST DANCE DLC (£2.49/€2.99/$4.55)
Deal of the Week
Sleeping Dogs: Definitive Edition (PS4) – Was £39.99/€59.99, now £9.49/€11.99