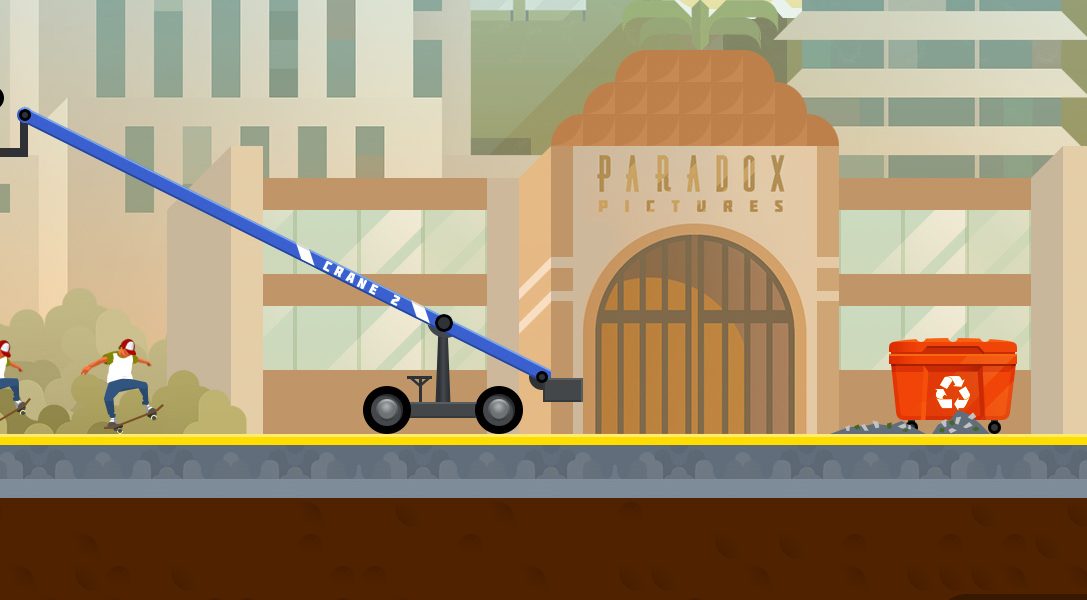 There are many new games and discounts arriving on PlayStation Store this week
A number of great indie games make their way to PS Vita, from sequel to painfully addictive skater, OlliOlli2 to La-Mulana EX, with enough death traps to frustrate even the calmest gamer. That's not all for Vita as JRPG Oreshika: Tainted Bloodlines is here to let you bring peace to your clan.
Meanwhile, we've posted about all the discounts taking place this week, too. The Last of Us Remastered, Watch_Dogs, numerous Final Fantasy games and more are money saving opportunities for your leisure.
Head on over to store.playstation.com to grab the latest.
PlayStation Plus
Oddworld: New 'n' Tasty (PS4)
Valiant Hearts (PS4)
Papo and Yo (PS3)
Sherlock Holmes: Crimes and Punishments (PS3)
OlliOlli 2: Welcome to Olliwood (PS4/PS Vita)
CounterSpy (PS4/PS3/PS Vita)
Helldivers – 20% off, ends 11th March
Starwhal – 20% off, ends 11th March
PlayStation 4

HELLDIVERS
Price:£16.99/€20.99/$31.95

OlliOlli2: Welcome to Olliwood
Price:£7.99/€9.99/$14.95
Resident Evil Revelations 2 – Episode Two: Contemplation
Price:£4.99/€5.99/$8.95

STARWHAL
Not available in Austria, Belgium, Denmark, Finland, Luxembourg, Netherlands, Norway, Poland, Portugal, Russia, Sweden, Switzerland, Turkey, Ukraine
Price:£9.49/€11.99/$17.95

White Night
Not available in Bahrain, Kuwait, Lebanon, Oman, Qatar, Saudi Arabia, UAE
Price:£13.99/€14.99/$19.75

Zombie Army Trilogy
Out 6th March
Price:£39.99/€49.99/$69.95
PS4 demos
PlayStation 3

HELLDIVERS
Price:£16.99/€20.99/$31.95
Resident Evil Revelations 2 – Episode Two: Contemplation
Price:£4.99/€5.99/$8.95

STARWHAL
Not available in Austria, Belgium, Denmark, Finland, Luxembourg, Netherlands, Norway, Poland, Portugal, Russia, Sweden, Switzerland, Turkey, Ukraine
Price:£9.49/€11.99/$17.95

Under Night In-Birth Exe:Late
Price:£29.99/€39.99/$49.95
PlayStation Vita

HELLDIVERS
Price:£16.99/€20.99/$31.95

htoLNiQ: The Firefly Diary
Price:£11.99/€14.99/$22.95

Hyperdevotion Noire: Goddess Black Heart
Not available in New Zealand
Price:£34.99/€39.99/$54.95

La-Mulana EX
Price:£11.99/€14.99/$22.95

Medieval Defenders
Price:£4.99/€5.99/$8.95

OlliOlli2: Welcome to Olliwood
Price:£7.99/€9.99/$14.95

Oreshika: Tainted Bloodlines
Price:£15.99/€19.99/$29.95
PlayStation Mobile
Cave Squid
£0.65/€0.79/$1.45
Appli Archives extreme Pairon Mobile 1
£2.39/€2.99/$4.95
The Cardboard Cat
£2.99/€3.79/$6.45
BLAST NINJA
£0.40/€0.49/$0.90
Adventures of Albanus
£1.19/€1.49/$2.45
SimpleCalcurator
£1.19/€1.49/$2.45
TS-Girlfriend Chat
£0.79/€0.99/$1.75
Photo Edit
£1.19/€1.49/$2.45
Hamster Crane
£3.69/€4.49/$7.75
Marry The Princess
£1.19/€1.49/$2.45
Insects – The Alien Invasion
£1.39/€1.79/$2.95
PS4 DLC
Alien: Isolation
The Trigger (£5.79/€6.99/$10.45)
Hustle Kings
10000 Hustle Kings Credits Pack (£1.69/€1.99/$2.95)
125000 Hustle Kings Credits Pack (£7.39/€8.99/$13.45)
5000 Hustle Kings Credits Pack (£0.99/€1.19/$1.85)
50000 Hustle Kings Credits Pack (£3.99/€4.99/$7.55)
500000 Hustle Kings Credits Pack (£15.99/€19.99/$29.95)
Hustle Kings 8-Ball Exhibition Pack (£3.99/€4.99/$7.55)
LEGO Batman 3: Beyond Gotham
The Squad Pack (£2.49/€2.99/$4.55)
Lords of the Fallen
Ancient Labyrinth (£7.39/€8.99/$13.45)
Rabbids Invasion
RABBIDS INVASION – PACK 5 SEASON ONE (£3.29/€3.99/$5.95)
Rocksmith
The Cars Song Pack (£9.49/€11.99/$17.95)
Bye Bye Love – The Cars (£2.49/€2.99/$4.55)
Good Times Roll – The Cars (£2.49/€2.99/$4.55)
Just What I Needed – The Cars (£2.49/€2.99/$4.55)
Let's Go – The Cars (£2.49/€2.99/$4.55)
You're All I've Got Tonight – The Cars (£2.49/€2.99/$4.55)
The Crew
Chevrolet Corvette C2 (£1.69/€1.99/$2.95)
Chevrolet Corvette C3 (£2.49/€2.99/$4.55)
SPYKER C8 AILERON (£3.29/€3.99/$5.95)
PS3 DLC
Ace Combat Infinity
Extra Contract & Special Supply Ticket Set C (£5.79/€6.99/$10.45)
Free Flight Ticket & Bonus Item Set (£5.79/€6.99/$10.45)
Stocked Fuel & Special Supply Ticket Set G (£5.79/€6.99/$10.45)
Stocked Fuel & Special Supply Ticket Set H (£15.99/€19.99/$29.95)
Stocked Fuel & Special Supply Ticket Set I (£28.99/€34.99/$52.95)
Alien: Isolation
The Trigger (£5.79/€6.99/$10.45)
Hatsune Miku: Project Diva 2nd
Hatsune Miku: Project DIVA F 2nd – Black Star Module (£1.19/€1.49/$2.25)
Hatsune Miku: Project DIVA F 2nd – Black Star UI Skin (Free)
Hatsune Miku: Project DIVA F 2nd – Blue Moon Module (£1.19/€1.49/$2.25)
Hatsune Miku: Project DIVA F 2nd – Blue Moon UI Skin (Free)
Hatsune Miku: Project DIVA F 2nd – Rin & Len (Buddies) UI Skin (Free)
Hatsune Miku: Project DIVA F 2nd – Rin & Len (Green Field) UI (Free)
Hatsune Miku: Project DIVA F 2nd – Solitude's End (£1.99/€2.49/$3.75)
Hatsune Miku: Project DIVA F 2nd – To the End of Infinity (£1.99/€2.49/$3.75)
LEGO Batman 3: Beyond Gotham
The Squad Pack (£2.49/€2.99/$4.55)
MX VS ATV Supercross
Honda Vehicle Bundle (£5.79/€6.99/$10.45)
Kawasaki Vehicle Bundle (£5.79/€6.99/$10.45)
Yamaha Vehicle Bundle (£5.79/€6.99/$10.45)
Rocksmith
The Cars Song Pack (£9.49/€11.99/$17.95)
Bye Bye Love – The Cars (£2.49/€2.99/$4.55)
Good Times Roll – The Cars (£2.49/€2.99/$4.55)
Just What I Needed – The Cars (£2.49/€2.99/$4.55)
Let's Go – The Cars (£2.49/€2.99/$4.55)
You're All I've Got Tonight – The Cars (£2.49/€2.99/$4.55)
PSVita DLC
Hatsune Miku: Project Diva 2nd
Hatsune Miku: Project DIVA F 2nd – Black Star Module (£1.19/€1.49/$2.25)
Hatsune Miku: Project DIVA F 2nd – Black Star UI Skin (Free)
Hatsune Miku: Project DIVA F 2nd – Blue Moon Module (£1.19/€1.49/$2.25)
Hatsune Miku: Project DIVA F 2nd – Blue Moon UI Skin (Free)
Hatsune Miku: Project DIVA F 2nd – Rin & Len (Buddies) UI Skin (Free)
Hatsune Miku: Project DIVA F 2nd – Rin & Len (Green Field) UI (Free)
Hatsune Miku: Project DIVA F 2nd – Solitude's End (£1.99/€2.49/$3.75)
Hatsune Miku: Project DIVA F 2nd – To the End of Infinity (£1.99/€2.49/$3.75)
HYPERDEVOTION NOIRE GODDESS BLACK HEART
New Party Member [Tiara] (£1.69/€1.99/$2.95)
New Party Member [IF] (£1.69/€1.99/$2.95)
New Party Member [Compa] (£1.69/€1.99/$2.95)
New Party Member [Sting] (£1.69/€1.99/$2.95)
Histoire's Trial Set (Free)
Histoire's Beginner Set (Free)
Ultimate Noire Set (£0.79/€0.99/$1.45)
Ultimate Neptune Set (£0.79/€0.99/$1.45)
Ultimate Blanc Set (£0.79/€0.99/$1.45)
Ultimate Vert Set (£0.79/€0.99/$1.45)
Ultimate Lee-Fi Set (£0.79/€0.99/$1.45)
Ultimate Lid Set (£0.79/€0.99/$1.45)
Ultimate Resta Set (£0.79/€0.99/$1.45)
Ultimate Estelle Set (£0.79/€0.99/$1.45)
Ultimate Ein Al Set (£0.79/€0.99/$1.45)
Histoire's Value Set (£0.79/€0.99/$1.45)
Ultimate Poona Set (£0.79/€0.99/$1.45)
Ultimate Moru Set (£0.79/€0.99/$1.45)
Ultimate Ai Masujima Set (£0.79/€0.99/$1.45)
Ultimate Ryuka Set (£0.79/€0.99/$1.45)
Ultimate Blossom Aizen Set (£0.79/€0.99/$1.45)
Ultimate Tsunemi Set (£0.79/€0.99/$1.45)
Ultimate Disc (£0.79/€0.99/$1.45)
Ultimate Wyn Set (£0.79/€0.99/$1.45)
Ultimate Lady Wac Set (£0.79/€0.99/$1.45)
Ultimate Generia G Set (£0.79/€0.99/$1.45)
Ultimate Saori Set (£0.79/€0.99/$1.45)
Ultimate Vio Set (£0.79/€0.99/$1.45)
Ultimate Sango Set (£0.79/€0.99/$1.45)
Ultimate Little Rain Set (£0.79/€0.99/$1.45)
Event Full Unlock (£1.69/€1.99/$2.95)
Dengeki Processor Set (Free)
Dengeki Blade (Free)
Magical Beat
XBLAZE Music & Character – Chaotic Beast – Sechs (£0.59/€0.75/$1.15)
XBLAZE Music & Character – Torrent of Emotions – Kuon (£0.59/€0.75/$1.15)
XBLAZE Music & Character Pack Vol.2 (£3.99/€4.99/$7.55)
XBLAZE Music & Character – Serenity – Elise (£0.59/€0.75/$1.15)
XBLAZE Music & Character – Amethyst Priestess – Mei (£0.59/€0.75/$1.15)
XBLAZE Music & Character – Curry Shop: Maha Raja – Ringo (£0.59/€0.75/$1.15)
XBLAZE Music & Character – Enigmatic Smile – Acht (£0.59/€0.75/$1.15)
XBLAZE Music & Character – The World Sings for You – Touya (£0.59/€0.75/$1.15)
Medieval Defenders
100 flasks (£0.79/€0.99/$1.45)
1200 flasks (£7.99/€9.99/$14.95)
3125 flasks (£15.99/€19.99/$29.95)
335 flasks (£2.49/€2.99/$4.55)
575 flasks (£3.99/€4.99/$7.55)
Episode 1 content (£0.79/€0.99/$1.45)
Episode 2 content (£0.79/€0.99/$1.45)
Episode 2 unlock (£0.79/€0.99/$1.45)
Outpost HP restore (£0.79/€0.99/$1.45)
Oreshika
Betrothal Robes Pack (£0.25/€0.29/$0.45)
Clan Colours Pack (£0.25/€0.29/$0.45)
Extra Special Clan Crest Pack (£0.25/€0.29/$0.45)
Flames of Frenzy Festival (£0.25/€0.29/$0.45)
Heal All Pack (£0.39/€0.49/$0.75)
Heirloom Name Change Pack (£0.39/€0.49/$0.75)
Heirloom Special Effects Pack (£0.59/€0.75/$1.15)
Special Clan Crest Pack (£0.25/€0.29/$0.45)
Standard Clan Crest Pack (£0.25/€0.29/$0.45)
Time Rewinder Pack (£0.39/€0.49/$0.75)
Vigour Boost Add-On (£0.39/€0.49/$0.75)
Tonkararin Pack (£0.59/€0.75/$1.15)