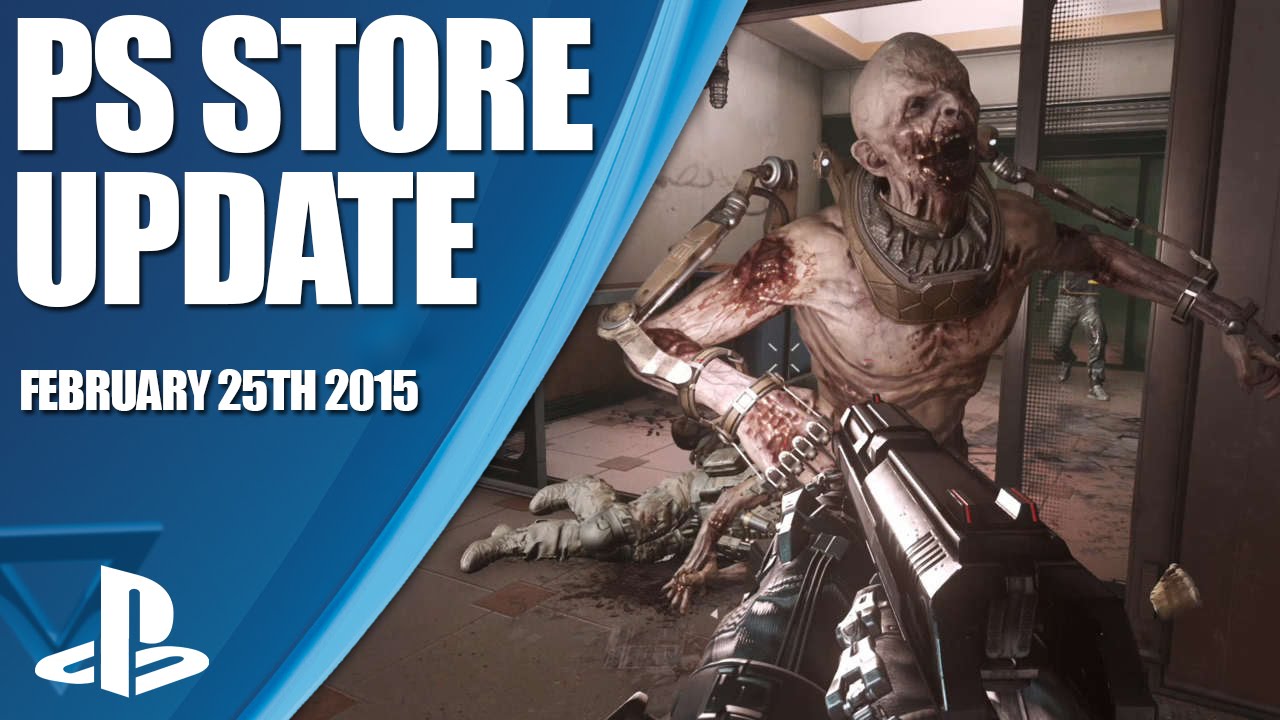 Plus, grab a hefty saving on Dragon Age: Inquisition this week
Claire Redfield returns this week in Resident Evil Revelations 2. Kidnapped, only to come to the realisation she is stuck on an island surrounded by horrifying creatures, the time is now to do what she does best and escape the horror. Grab the first episode today.
Elsewhere this week, mingle with the Dragon Ball crowd in Dragon Ball Xenoverse. Create your very own warrior, customising his or her race, abilities and importantly, the hair! After much tinkering with your personal warrior, it's then up to you to help restore order to famous events in the story, or take the battle online and show off your warrior skills.
To round up the week, there's a new DLC drop for Call of Duty: Advance Warfare featuring new maps, Dragon Age: Inquisition as deal of the week, and also Scram Kitty DX with an additional PS Plus discount thrown on top.
PlayStation Plus
Scram Kitty DX – 20% off, ends 11th March
Warframe: PS4 Renown Pack IV – 20% off
PlayStation 4

Aces of the Luftwaffe
Not available in Denmark, Finland, Norway, Poland, Portugal, Russia
Price: £3.99/€4.99/AU$7.55

Dragon Ball Xenoverse
Out 27th Feb
Not available in India
Price: £49.99/€69.99/AU$99.95
Dynasty Warriors 8 Empires with Bonus
Price: £44.99/€49.99/AU$69.95

Limbo
Price: £7.39/€8.99/AU$13.45

Resident Evil Revelations 2 – Episode One
Price: £4.99/€5.99/AU$8.95

Resident Evil Revelations 2 – Complete Season
Price: £19.99/€24.99/AU$37.95

Scram Kitty DX (Cross-Buy)
Not available in Denmark, Finland, Norway, Poland, Russia, Sweden, Turkey, Ukraine
Price: £7.99/€9.99/AU$14.95
PlayStation 3

Dragon Ball Xenoverse
Out 27th Feb
Not available in India
Price: £39.99/€59.99/AU$89.95
Dynasty Warriors 8 Empires with Bonus
Price: £29.99/€39.99/AU$49.95

Resident Evil Revelations 2 – Episode One
Price: £4.99/€5.99/AU$8.95

Resident Evil Revelations 2 – Complete Season
Price: £19.99/€24.99/AU$37.95
TableTop Cricket
Price: £9.99/€12.99/AU$19.45
PlayStation Vita
Poltergeist: A Pixelated Horror
Not available in Denmark, Finland, Netherlands, Norway, Russia, Sweden, Turkey, Ukraine
Price: £6.49/€7.99/AU$11.95

Scram Kitty DX (Cross-Buy)
Not available in Denmark, Finland, Norway, Poland, Russia, Sweden, Turkey, Ukraine
Price: £7.99/€9.99/AU$14.95
PlayStation Mobile
Appli Archives IDAC Escape Game Pack 4
£2.39/€2.99/AU$4.95
Hockey Shootout 2015
£0.99/€1.29/AU$2.25
Mussoumano Saving Latifas
Free
BAM!BAM!
£0.40/€0.49/AU$0.90
Chimp Challenge
£0.79/€0.99/AU$1.75
VoxelMaker
£3.99/€4.99/AU$8.45
Candy
£4.49/€5.49/AU$9.25
Woodland Walker
£0.40/€0.49/AU$0.90
Cave of the Golden Skulls
£0.40/€0.49/AU$0.90
PS4 DLC
Call of Duty: Advanced Warfare
Havoc DLC (£11.59/€14.49/AU$20.45)
Dragon Ball Xenoverse
Season Pass (£19.99/€24.99/AU$37.95)
Driveclub
Downforce Livery Pack (£0.59/€0.75/AU$1.15)
Midnight Livery Pack (£0.59/€0.75/AU$1.15)
Downforce Expansion Pack (£4.99/€5.99/AU$8.95)
Midnight Tour Pack (£1.69/€1.99/AU$2.95)
VUHL 05 (Free)
Monopoly Family Fun Pack
Just Dance DLC (£2.49/€2.99/AU$4.55)
My Little Pony DLC (£2.49/€2.99/AU$4.55)
Monopoly Plus
Just Dance DLC (£2.49/€2.99/AU$4.55)
My Little Pony DLC (£2.49/€2.99/AU$4.55)
Resident Evil Revelations 2
Season Pass (£15.99/€19.99/AU$29.95)
Costume Pack (£7.99/€9.99/AU$14.95)
Barry's Commandant Costume (£2.49/€2.99/AU$4.55)
Claire's Rodeo Costume (£2.49/€2.99/AU$4.55)
Moira's Urban Ninja Costume (£2.49/€2.99/AU$4.55)
Natalia's Lottie Suit Costume (£2.49/€2.99/AU$4.55)
Raid Mode Character: HUNK (£1.99/€2.49/AU$3.75)
Raid Mode Character: Albert Wesker (£1.99/€2.49/AU$3.75)
Raid Mode: Throwback Map Pack (£3.99/€4.99/AU$7.55)
Raid Mode: Life Crystals X 5 (£0.79/€0.99/AU$1.45)
Raid Mode: Life Crystals X 12 (£1.69/€1.99/AU$2.95)
Raid Mode: Life Crystals X 25 (£3.29/€3.99/AU$5.95)
Raid Mode: Parts Storage A (£1.69/€1.99/AU$2.95)
Raid Mode: Parts Storage B (£1.69/€1.99/AU$2.95)
Raid Mode: Parts Storage C (£1.69/€1.99/AU$2.95)
Raid Mode: Album Storage A (£1.69/€1.99/AU$2.95)
Raid Mode: Album Storage B (£1.69/€1.99/AU$2.95)
Raid Mode: Album Storage C (£1.69/€1.99/AU$2.95)
Raid Mode: Samurai Edge & Parts (£0.79/€0.99/AU$1.45)
Raid Mode: Shotgun TAP194 & Parts (£0.79/€0.99/AU$1.45)
Raid Mode: Chicago Typewriter & Parts (£0.79/€0.99/AU$1.45)
Raid Mode: Assault Rifle NSR47 & Parts (£0.79/€0.99/AU$1.45)
Raid Mode: Sniper Rifle SVD & Parts (£0.79/€0.99/AU$1.45)
Raid Mode: Python & Parts (£0.79/€0.99/AU$1.45)
Raid Mode: Weapon Storage A (£1.69/€1.99/AU$2.95)
Raid Mode: Weapon Storage B (£1.69/€1.99/AU$2.95)
Raid Mode: Weapon Storage C (£1.69/€1.99/AU$2.95)
Rocksmith
Papa Roach Song Pack (£6.49/€7.99/AU$11.95)
Last Resort – Papa Roach (£2.49/€2.99/AU$4.55)
Scars – Papa Roach (£2.49/€2.99/AU$4.55)
Getting Away With Murder – Papa Roach (£2.49/€2.99/AU$4.55)
Middle-earth: Shadow of Mordor
The Bright Lord (£7.99/€9.99/AU$14.95)
The Crew
Speed Car Pack (£5.79/€6.99/AU$10.45)
Trials Fusion
Trials Fusion: Fault One Zero (£3.99/€4.99/AU$7.55)
Warframe
PS4 Renown Pack IV (£7.99/€9.99/AU$14.95)
Zen Pinball 2
Iron & Steel Pack (Unlock) (£3.99/€4.99/AU$7.55)
PS3 DLC
Call of Duty: Advanced Warfare
Havoc DLC (£11.59/€14.49/AU$20.45)
Dragon Ball Xenoverse
Season Pass (£19.99/€24.99/AU$37.95)
MX VS ATV Supercross
Supercross Track Pack 2 (£6.49/€7.99/AU$11.95)
Resident Evil Revelations 2
Season Pass (£15.99/€19.99/AU$29.95)
Costume Pack (£7.99/€9.99/AU$14.95)
Barry's Commandant Costume (£2.49/€2.99/AU$4.55)
Claire's Rodeo Costume (£2.49/€2.99/AU$4.55)
Moira's Urban Ninja Costume (£2.49/€2.99/AU$4.55)
Natalia's Lottie Suit Costume (£2.49/€2.99/AU$4.55)
Raid Mode Character: HUNK (£1.99/€2.49/AU$3.75)
Raid Mode Character: Albert Wesker (£1.99/€2.49/AU$3.75)
Raid Mode: Throwback Map Pack (£3.99/€4.99/AU$7.55)
Raid Mode: Life Crystals X 5 (£0.79/€0.99/AU$1.45)
Raid Mode: Life Crystals X 12 (£1.69/€1.99/AU$2.95)
Raid Mode: Life Crystals X 25 (£3.29/€3.99/AU$5.95)
Raid Mode: Parts Storage A (£1.69/€1.99/AU$2.95)
Raid Mode: Parts Storage B (£1.69/€1.99/AU$2.95)
Raid Mode: Parts Storage C (£1.69/€1.99/AU$2.95)
Raid Mode: Album Storage A (£1.69/€1.99/AU$2.95)
Raid Mode: Album Storage B (£1.69/€1.99/AU$2.95)
Raid Mode: Album Storage C (£1.69/€1.99/AU$2.95)
Raid Mode: Samurai Edge & Parts (£0.79/€0.99/AU$1.45)
Raid Mode: Shotgun TAP194 & Parts (£0.79/€0.99/AU$1.45)
Raid Mode: Chicago Typewriter & Parts (£0.79/€0.99/AU$1.45)
Raid Mode: Assault Rifle NSR47 & Parts (£0.79/€0.99/AU$1.45)
Raid Mode: Sniper Rifle SVD & Parts (£0.79/€0.99/AU$1.45)
Raid Mode: Python & Parts (£0.79/€0.99/AU$1.45)
Raid Mode: Weapon Storage A (£1.69/€1.99/AU$2.95)
Raid Mode: Weapon Storage B (£1.69/€1.99/AU$2.95)
Raid Mode: Weapon Storage C (£1.69/€1.99/AU$2.95)
Rocksmith
Papa Roach Song Pack (£6.49/€7.99/AU$11.95)
Last Resort – Papa Roach (£2.49/€2.99/AU$4.55)
Scars – Papa Roach (£2.49/€2.99/AU$4.55)
Getting Away With Murder – Papa Roach (£2.49/€2.99/AU$4.55)
Zen Pinball 2
Iron & Steel Pack (Unlock) (£3.99/€4.99/AU$7.55)
PS Vita DLC
Hyperdevotion Noire Goddess Black Heart
New Party Member [Tiara] (£1.69/€1.99/AU$2.95)
New Party Member [IF] (£1.69/€1.99/AU$2.95)
New Party Member [Compa] (£1.69/€1.99/AU$2.95)
New Party Member [Sting] (£1.69/€1.99/AU$2.95)
Histoire's Trial Set (Free)
Histoire's Beginner Set (Free)
Ultimate Noire Set (£0.79/€0.99/AU$1.45)
Ultimate Neptune Set (£0.79/€0.99/AU$1.45)
Ultimate Blanc Set (£0.79/€0.99/AU$1.45)
Ultimate Vert Set (£0.79/€0.99/AU$1.45)
Ultimate Lee-Fi Set (£0.79/€0.99/AU$1.45)
Ultimate Lid Set (£0.79/€0.99/AU$1.45)
Ultimate Resta Set (£0.79/€0.99/AU$1.45)
Ultimate Estelle Set (£0.79/€0.99/AU$1.45)
Ultimate Ein Al Set (£0.79/€0.99/AU$1.45)
Histoire's Value Set (£0.79/€0.99/AU$1.45)
Ultimate Poona Set (£0.79/€0.99/AU$1.45)
Ultimate Moru Set (£0.79/€0.99/AU$1.45)
Ultimate Ai Masujima Set (£0.79/€0.99/AU$1.45)
Ultimate Ryuka Set (£0.79/€0.99/AU$1.45)
Ultimate Blossom Aizen Set (£0.79/€0.99/AU$1.45)
Ultimate Tsunemi Set (£0.79/€0.99/AU$1.45)
Ultimate Disc (£0.79/€0.99/AU$1.45)
Ultimate Wyn Set (£0.79/€0.99/AU$1.45)
Ultimate Lady Wac Set (£0.79/€0.99/AU$1.45)
Ultimate Generia G Set (£0.79/€0.99/AU$1.45)
Ultimate Saori Set (£0.79/€0.99/AU$1.45)
Ultimate Vio Set (£0.79/€0.99/AU$1.45)
Ultimate Sango Set (£0.79/€0.99/AU$1.45)
Ultimate Little Rain Set (£0.79/€0.99/AU$1.45)
Event Full Unlock (£1.69/€1.99/AU$2.95)
Dengeki Processor Set (Free)
Dengeki Blade (Free)
Magical Beat
Blazblue Music & Character Pack Vol.2 (£2.99/€3.59/AU$5.45)
Blazblue Music & Character – Catus Carnival – TAOKAKA (£0.59/€0.75/AU$1.15)
Blazblue Music & Character – Thin RED Line – ARAKUNE (£0.59/€0.75/AU$1.15)
Blazblue Music & Character – Active Angel – PLATINUM (£0.59/€0.75/AU$1.15)
Blazblue Music & Character – Alexandrite – MAKOTO (£0.59/€0.75/AU$1.15)
Blazblue Music & Character – White Requiem II – RACHEL (£0.59/€0.75/AU$1.15)
Blazblue Music & Character – X-Matic II – CARL (£0.59/€0.75/AU$1.15)
Zen Pinball 2
Iron & Steel Pack (Unlock) (£3.99/€4.99/AU$7.55)
Deal of the Week
Dragon Age: Inquisition (PS4) – Was £54.99/€69.99/AU$99.95, now £34.99/€39.99/AU$54.95
Dragon Age: Inquisition (PS3) – Was £59.99/€69.99/AU$99.95, now £24.99/€34.99/AU$44.95
Dragon Age: Inquisition Deluxe Edition (PS4) – Was £64.99/€79.99/AU$109.95, now £39.99/€44.99/AU$62.95
Dragon Age: Inquisition Deluxe Edition (PS3) – Was £59.99/€79.99/AU$99.95, now £29.99/€39.99/AU$49.95