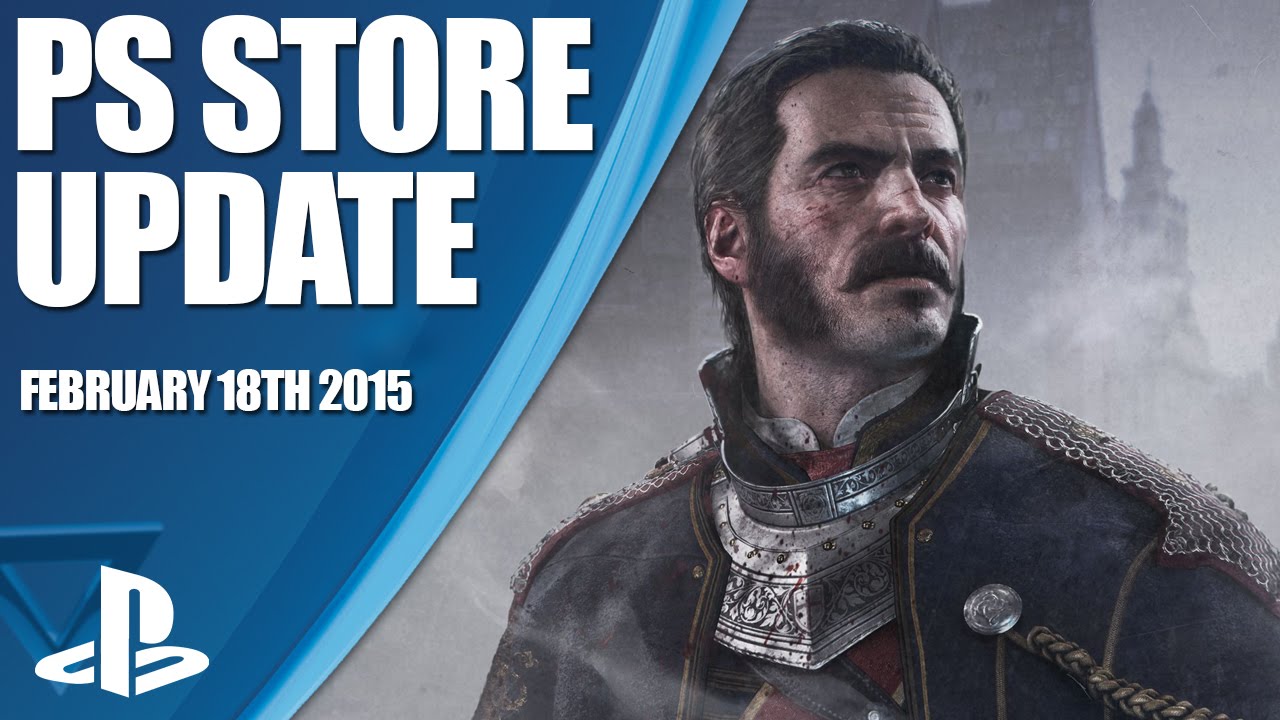 Plus, Dead or Alive 5 Last Round: Core Fighters and psychological puzzler Pillar
First up, The Order 1886 arrives this week. Galahad and his team of royal knights trek the streets of rainy London in search of inhuman nasties. Equip yourself with outlandish weaponry and tech in order to triumph in the war that has spanned centuries.
Making a comeback is Q*Bert. Some of you may be too young to have played the original (even I am, believe me), but Q*Bert Rebooted brings back pixel-perfect old-school Q*Bert in 2D, along with a re-imagined 3D version. Both require quick thinking to conquer so be glad you aren't paying per credit like in the old days.
We've also got a storm of discounts on PS Store, from amazing PS Vita titles to PS4 blockbusters such as Tomb Raider: Definitive Edition.
As we're celebrating PS Vita's birthday, we're delighted to give fans access to two themes to spice things up. There's a montage of characters featured on one theme, available for free, and there's also a special Toro and Friends theme featuring everyone's loveable cat, available for free for one week.
PlayStation Plus
Q*Bert Rebooted – 30% off
Pillar – 10% off, ends 25th Feb
PlayStation 4
Aaru's Awakening
Not available in Portugal, Sweden
Price:£9.99/€12.99/AU$19.45
Dead or Alive 5 Last Round: Core Fighters (out 20th Feb)
Germany only
Price: €2.99
Dead or Alive 5 Last Round: Core Fighters (out 20th Feb)
Price: Free
Hand of Fate
Price: £14.99/€17.99/AU$26.95
Pillar
Price: £7.39/€8.99/AU$13.45
Q*Bert: Rebooted
Not available in Russia, Ukraine
Price: £7.39/€8.99/AU$13.45
The Order: 1886 (out 20th Feb)
Price: £49.99/€59.99/AU$79.95
PlayStation 4 demos
PlayStation 3

Aaru's Awakening
Not available in Portugal, Sweden
Price: £9.99/€12.99/AU$19.45
Alawar Hidden Realms Bundle
Price: £28.99/€34.99/AU$52.95
Q*Bert: Rebooted
Not available in Russia, Ukraine
Price: £7.39/€8.99/AU$13.45
PlayStation Vita
Q*Bert: Rebooted
Not available in Russia, Ukraine
Price: £7.39/€8.99/AU$13.45
SpongeBob HeroPants (UK: out 23rd March)
Not available in Australia, France, India, New Zealand
Price: £29.99/€39.99
Birthday Special Theme
Price: Free
Toro and Friends Theme
Price: Free for one week, £1.69/€1.99
PSVita demos
PlayStation Mobile
加算器方式電卓 (Calculator)
Free
GraviBots Demo
Free
Yetin' Around – ¡Ay carámbano!
£1.59/€1.99/AU$3.45
Appli Archives TEAM RISE Vol.1
£2.39/€2.99/AU$4.95
PS4 DLC
LEGO Batman 3
Bizarro World Pack (£2.49/€2.99/AU$4.55)
LittleBigPlanet 3
Elf Costume (£0.79/€0.99/AU$1.45)
Little Toggle?s Goblin Costume (£0.79/€0.99/AU$1.45)
Big Toggle?s Minotaur Costume (£0.79/€0.99/AU$1.45)
Phoenix Costume (£0.79/€0.99/AU$1.45)
RESOGUN
Defenders Expansion Pack (£3.99/€4.99/AU$7.55)
Rocksmith
Mountain Song – Jane's Addiction (£2.49/€2.99/AU$4.55)
Been Caught Stealing – Jane's Addiction (£2.49/€2.99/AU$4.55)
Jane Says – Jane's Addiction (£2.49/€2.99/AU$4.55)
Just Because – Jane's Addiction (£2.49/€2.99/AU$4.55)
Superhero – Jane's Addiction (£2.49/€2.99/AU$4.55)
Secret Ponchos
Grit Skin 5 Pack (£3.99/€4.99/AU$7.55)
War Thunder
M3A1 Stuart Starter Pack (£3.99/€4.99/AU$7.55)
Grant I Advanced Pack (£18.99/€23.99/AU$35.95)
WWE 2K15
Hall of Pain (£7.99/€9.99/AU$14.95)
PS3 DLC
Hatsune Miku: Project Diva F 2nd
Change Me Song (£1.99/€2.49/AU$3.75)
Yellow Song (£1.99/€2.49/AU$3.75)
Kaito (Flower) UI Skin (Free)
Sweet Pudding Module (£1.19/€1.49/AU$2.25)
Lin Xiao-Mei Module (£1.19/€1.49/AU$2.25)
Yellow Module (£1.19/€1.49/AU$2.25)
Noel Rouge UI Skin (Free)
Sakine Meiko UI Skin (Free)
LEGO Batman 3
Bizarro World Pack (£2.49/€2.99/AU$4.55)
LittleBigPlanet 3
Elf Costume (£0.79/€0.99/AU$1.45)
Little Toggle?s Goblin Costume (£0.79/€0.99/AU$1.45)
Big Toggle?s Minotaur Costume (£0.79/€0.99/AU$1.45)
Phoenix Costume (£0.79/€0.99/AU$1.45)
Rocksmith
Mountain Song – Jane's Addiction (£2.49/€2.99/AU$4.55)
Been Caught Stealing – Jane's Addiction (£2.49/€2.99/AU$4.55)
Jane Says – Jane's Addiction (£2.49/€2.99/AU$4.55)
Just Because – Jane's Addiction (£2.49/€2.99/AU$4.55)
Superhero – Jane's Addiction (£2.49/€2.99/AU$4.55)
WWE 2K15
Hall of Pain (£7.99/€9.99/AU$14.95)
PS Vita DLC
Hatsune Miku: Project Diva F 2nd
Change Me Song (£1.99/€2.49/AU$3.75)
Yellow Song (£1.99/€2.49/AU$3.75)
Kaito (Flower) UI Skin (Free)
Sweet Pudding Module (£1.19/€1.49/AU$2.25)
Lin Xiao-Mei Module (£1.19/€1.49/AU$2.25)
Yellow Module (£1.19/€1.49/AU$2.25)
Noel Rouge UI Skin (Free)
Sakine Meiko UI Skin (Free)