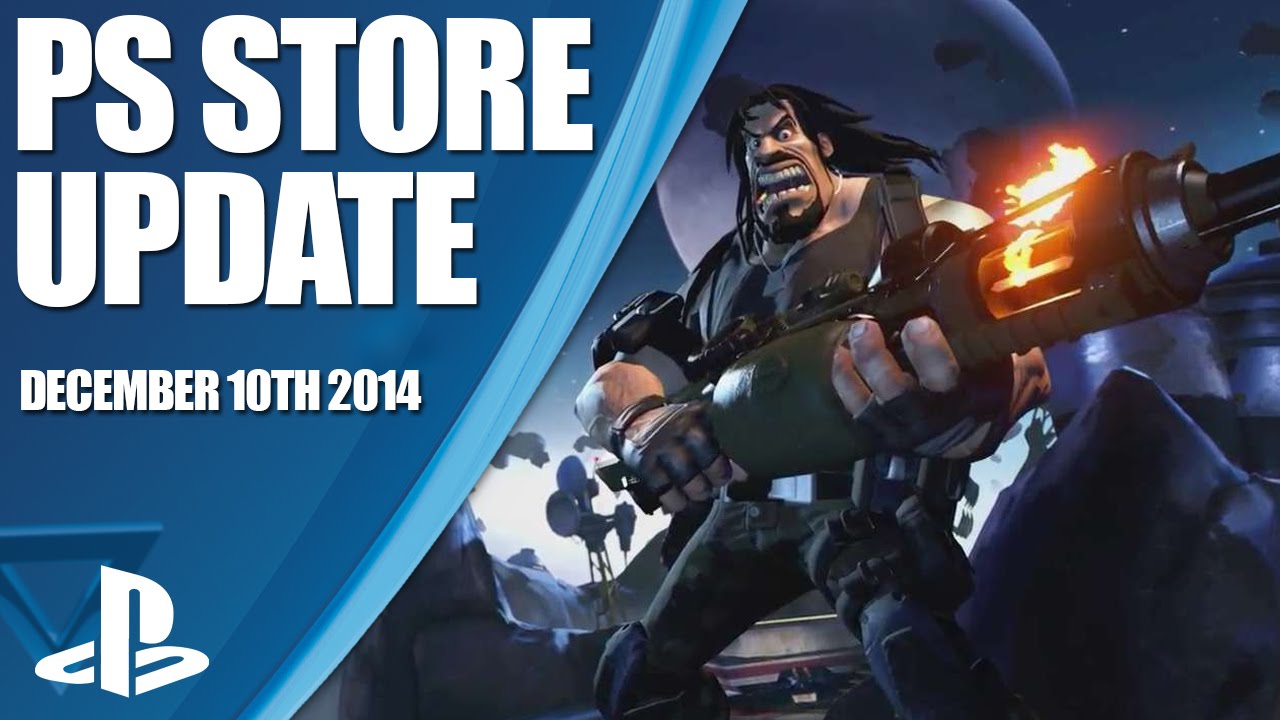 Plus, Tetris Ultimate, Trine Enchanted Edition and LittleBigPlantet 3 Frozen costume pack
Christmas might be fast approaching but we're not slowing down on PlayStation Store just yet. On the contrary – it's a busy week. On PS4, look out for free-to-play shooter Loadout, revamped puzzle classic Tetris Ultimate, picturesque platformer Trine Enchanted Edition and fast-paced racer Switch Galaxy Ultra (which is also Cross Buy on PS Vita).
On the handheld front there's the remake of Oddworld: Munch's Oddysee and Housemarque's brilliant shoot 'em up Resogun goes portable. And look out too for some tempting expansions, including new DRIVECLUB content, LittleBigPlanet 3's Frozen costume pack and a new add-on for Middle-earth: Shadow of Mordor.
As one last reminder, the 12 Deals of Christmas will be winding down this week, but naturally the deals won't end there – return to us next week for even more discounts.
PlayStation 4
Loadout
Not available in Australia, Germany
Pinball Arcade: Season 3 Bundle
Price:£24.99/€29.99/$44.95
Pinball Arcade: Season Three Pro
Price:£32.99/€39.99/$59.95
Pinball Arcade: Season Three Pro Upgrade
Price:£8.99/€10.99/$16.45
Risk
Not available in Italy
Price:£11.99/€14.99/$22.95
Switch Galaxy Ultra
Price:£11.99/€14.99/$22.95
Tad Stones and The Lost Scroll
Spain Only
Price:€39.99
Tetris Ultimate
Price:£7.99/€9.99/$14.95
Trine Bundle
Price:£19.99/€24.99/$37.95
Trine Enchanted Edition
Price:£9.99/€12.99/$19.45
PlayStation 3
3 in 1 pack Targem Holidays Bundle
Price:£9.49/€11.99/$17.95
Cosmophony
Not available Belgium, Denmark, Finland, Netherlands, Norway, Poland, Sweden, Turkey
Price:£3.29/€3.99/$5.95
Grip Games Anthology
Not available in Australia, New Zealand
Price:£15.99/€19.99
Metal Gear Solid 4: Guns of the Patriots
Price:£15.99/€19.99/$29.95
Resogun (Cross-buy PS4/PS3/PSV)
Price:£9.99/€12.99/$19.45
Treasures of Montezuma: Arena
Price:Free
PlayStation Vita
Fieldrunners 2
Price:£7.99/€9.99/$14.95
Grip Games Anthology
Not available in Australia, New Zealand
Price:£15.99/€19.99
Oddworld: Munch's Oddysee HD
Not available in Austria, Belgium, Luxembourg, Portugal, Switzerland
Price:£7.39/€8.99/$13.45
RESOGUN (Cross-buy PS4/PS3/PSV)
Price:£9.99/€12.99/$19.45
Switch Galaxy Ultra
Price:£11.99/€14.99/$22.95
Tad Stones and The Lost Scroll
Spain Only
Price:€29.99
The Grip Games PS Vita Collection
Not available in Australia, New Zealand, Portugal
Price:£11.99/€14.99
PlayStation 4 Apps
Blockbuster
Denmark only
Dailymotion
Gamereactor
Australia, Denmark, Finland, Germany, Ireland, Italy, New Zealand, Norway, Portugal, South Africa, Spain, Sweden, UK
Lightbox
New Zealand only
Videoland
Netherlands only
PlayStation Mobile
Solbrain X – Dark
£3.39/€4.29/$7.45
Santa's Salvation
£2.39/€2.99/$4.95
3D Reversi for PlayStation Mobile
£3.39/€4.29/$7.45
Pojong
£0.65/€0.79/$1.45
Appli Archives Nippon Ichi Software Duologue
£4.49/€5.49/$9.25
ETERNAL INTERCEPTOR Bit
£2.19/€2.79/$4.75
Pulling USA
£3.99/€4.99/$8.45
Appli Archives JALECO City Connection
£4.49/€5.49/$9.25
PS4 DLC
Driveclub
Redline Livery Pack (£0.59/€0.75/$1.15)
Elements Livery Pack (£0.59/€0.75/$1.15)
Redline Expansion Pack (£4.99/€5.99/$8.95)
Elements Tour Pack (£1.69/€1.99/$2.95)
Mazzanti Evantra (Free)
LEGO Batman 3
Batman of the Future Pack (£1.69/€1.99/$2.95)
LittleBigPlanet 3
Disney's Frozen Costume Pack (£4.99/€5.99/$8.95)
Anna Costume (£1.69/€1.99/$2.95)
Elsa Costume (£1.69/€1.99/$2.95)
Kristoff Costume (£1.69/€1.99/$2.95)
Sven Costume (£1.69/€1.99/$2.95)
Marshmallow Costume (£1.69/€1.99/$2.95)
Troll Doctor Costume (£1.69/€1.99/$2.95)
Winter Seasonal Creator Kit (Free)
Loadout
3,000 Spacebux (£3.99/€4.99)
7,000 Spacebux (£7.99/€9.99)
24,000 Spacebux (£23.99/€28.49)
45,000 Spacebux (£39.99/€49.99)
100,000 Spacebux (£79.99/€99.99)
Alien Wear Starter Pack (£15.99/€19.99)
SuperFan Bonus Pack (Free)
Pinball Arcade
Season Two Bundle (£24.99/€29.99/$44.95)
Season Four Pass (£24.99/€29.99/$44.95)
Season Four Pro Pass (£32.99/€39.99/$59.95)
Season Four Pro Upgrade (£7.99/€9.99/$14.95)
Phantom of the Opera? Pro Table Pack (£6.49/€7.99/$11.95)
Phantom of the Opera? Pinball Table (£3.99/€4.99/$7.55)
Phantom of the Opera? Pro Upgrade (£3.29/€3.99/$5.95)
Rocksmith 2014
Jimi Hendrix Pack 3 (£6.49/€7.99/$11.95)
Jimi Hendrix Pack 4 (£6.49/€7.99/$11.95)
Jimi Hendrix Pack 2 (£6.49/€7.99/$11.95)
Jimi Hendrix Full Song Pack (£24.99/€29.99/$44.95)
Jimi Hendrix Pack 1 (£6.49/€7.99/$11.95)
Purple Haze – Jimi Hendrix (£2.49/€2.99/$4.55)
Manic Depression – Jimi Hendrix (£2.49/€2.99/$4.55)
Foxey Lady – Jimi Hendrix (£2.49/€2.99/$4.55)
Bold As Love – Jimi Hendrix (£2.49/€2.99/$4.55)
Castles Made Of Sand – Jimi Hendrix (£2.49/€2.99/$4.55)
Little Wing – Jimi Hendrix (£2.49/€2.99/$4.55)
Freedom – Jimi Hendrix (£2.49/€2.99/$4.55)
Fire – Jimi Hendrix (£2.49/€2.99/$4.55)
If 6 was 9 – Jimi Hendrix (£2.49/€2.99/$4.55)
Voodoo Child (Slight Return) – Jimi Hendrix (£2.49/€2.99/$4.55)
Red House – Jimi Hendrix (£2.49/€2.99/$4.55)
(All Jimi Hendrix tracks free until 28/1/2015)
Middle-earth: Shadow of Mordor
Lord of the Hunt (£7.99/€9.99/$14.95)
Minecraft
Festive Mash-up Pack (£2.49/€2.99/$4.55)
Birthday Skin Pack (Free)
Switch Galaxy Ultra
Music Pack 1 (£2.99/€3.59/$5.45)
Charity Pack 1 (£3.99/€4.99/$7.55)
War Thunder
Scout Starter Pack (£11.99/€14.99/$22.95)
Gustav Starter Pack (£11.99/€14.99/$22.95)
Fire and Maneuver Advanced Pack (£11.99/€14.99/$22.95)
Warframe
Nova Prime Access Pack (£57.99/€69.99/$105.95)
Nova Prime Accessories Pack (£49.99/€54.99/$77.95)
WWE 2K15
WCW Pack (£6.49/€7.99/$11.95)
PS3 DLC
Ace Combat Infinity
2 Million Downloads Appreciation Pack (Free)
Stocked Fuel & Special Supply Ticket Set A (£5.79/€6.99/$10.45)
Stocked Fuel & Special Supply Ticket Set B (£15.99/€19.99/$29.95)
Stocked Fuel & Special Supply Ticket Set C (£28.99/€34.99/$52.95)
Extra Contract & Special Supply Ticket Set A (£5.79/€6.99/$10.45)
Borderlands The Pre-Sequel
The Holodome Onslaught (£7.99/€9.99/$14.95 – free for Season Pass holders)
Dead or Alive 4 Ultimate
Complete New Year Set (£39.99/€49.99/$75.95)
DUST 541
War Profiteer Pack (Limited Time Only) (£39.99/€49.99/$75.95)
Hatsune Miku Project Diva F 2nd
Rhythm Game Song. Look This Way, Baby by ryo (£1.99/€2.49/$3.75)
Just Dance 2014
Miley Cyrus – We Can't Stop (£2.49/€2.99/$4.55)
LEGO Batman 3
Batman of the Future Pack (£1.69/€1.99/$2.95)
Minecraft
Festive Mash-up Pack (£2.49/€2.99/$4.55)
Birthday Skin Pack (Free)
MX vs ATV Supercross
KTM 450 SX-F MX (£2.49/€2.99/$4.55)
Resogun
Human Pack 1 (£0.79/€0.99/$1.45)
Human Pack 2 (£0.79/€0.99/$1.45)
Rocksmith 2014
Jimi Hendrix Pack 3 (£6.49/€7.99/$11.95)
Jimi Hendrix Pack 4 (£6.49/€7.99/$11.95)
Jimi Hendrix Pack 2 (£6.49/€7.99/$11.95)
Jimi Hendrix Full Song Pack (£24.99/€29.99/$44.95)
Jimi Hendrix Pack 1 (£6.49/€7.99/$11.95)
Purple Haze – Jimi Hendrix (£2.49/€2.99/$4.55)
Manic Depression – Jimi Hendrix (£2.49/€2.99/$4.55)
Foxey Lady – Jimi Hendrix (£2.49/€2.99/$4.55)
Bold As Love – Jimi Hendrix (£2.49/€2.99/$4.55)
Castles Made Of Sand – Jimi Hendrix (£2.49/€2.99/$4.55)
Little Wing – Jimi Hendrix (£2.49/€2.99/$4.55)
Freedom – Jimi Hendrix (£2.49/€2.99/$4.55)
Fire – Jimi Hendrix (£2.49/€2.99/$4.55)
If 6 was 9 – Jimi Hendrix (£2.49/€2.99/$4.55)
Voodoo Child (Slight Return) – Jimi Hendrix (£2.49/€2.99/$4.55)
Red House – Jimi Hendrix (£2.49/€2.99/$4.55)
Saints Row IV
Saints Row IV Game of the Century Upgrade Pack (£7.99/€9.99/$14.95)
Middle-earth: Shadow of Mordor
Deadly Archer Rune (£0.79/€0.99/$1.45)
Flame of Anor Rune (£0.79/€0.99/$1.45)
Hidden Blade Rune (£0.79/€0.99/$1.45)
Rising Storm Rune (£0.79/€0.99/$1.45)
Ultra Street Fighter IV
Challengers Wild Pack 1 (£3.29/€3.99/$5.95)
Shoryuken Wild Pack (£3.29/€3.99/$5.95)
Femme Fatale Wild Pack (£3.29/€3.99/$5.95)
Challengers Wild Pack 2 (£3.29/€3.99/$5.95)
Brawler Wild Pack (£3.29/€3.99/$5.95)
Shadaloo Wild Pack (£3.29/€3.99/$5.95)
Classic Wild Pack (£3.29/€3.99/$5.95)
Arcade Challengers Wild Pack (£3.29/€3.99/$5.95)
2014 Challengers Wild Pack (£3.29/€3.99/$5.95)
Wild Costume Compatibility Pack (Free)
Wild Complete Pack (£14.99/€17.99/$26.95)
WWE 2K15
WCW Pack (£6.49/€7.99/$11.95)
Paige (Free)
Hulk Hogan Pack (£2.49/€2.99/$4.55)
PS Vita DLC
Hatsune Miku Project Diva F 2nd
Rhythm Game Song. Look This Way, Baby by ryo (£1.99/€2.49/$3.75)
Minecraft
Festive Mash-up Pack (£2.49/€2.99/$4.55)
Birthday Skin Pack (Free)
Resogun
Human Pack 1 (£0.79/€0.99/$1.45)
Human Pack 2 (£0.79/€0.99/$1.45)
Senran Kagura Shinovi Versus
Double Knot (£0.69/€0.79/$1.25)
Hairstyle Set 4 (£1.99/€2.49/$3.75)
Emo Cut (£0.69/€0.79/$1.25)
Lolita Cut (£0.69/€0.79/$1.25)
Short Cut (£0.69/€0.79/$1.25)
Loose Crop (£0.69/€0.79/$1.25)
Santa Set (Free)
Ikaruga's Santa Outfit (Free)
Merry Christmas (Free)
Senran Kagura Bon Appetit
Two Costume Set (£1.99/€2.49/$3.75)
Six Accessory Set (£3.69/€4.49/$6.75)
Awesome Chikuwa & Incredible Narutomaki Set (£0.39/€0.49/$0.75)
Candy Party Set (£0.39/€0.49/$0.75)
Japanese Chef Set (£1.29/€1.59/$2.45)
Kitchen Mitt Set (£0.69/€0.79/$1.25)
Lunch Cook Set (£1.29/€1.59/$2.45)
Sugar Candy Set (£0.69/€0.79/$1.25)
Whipped Cream Set (£0.39/€0.49/$0.75)
Takoyaki (£0.39/€0.49/$0.75)
Switch Galaxy Ultra
Music Pack 1 (£2.99/€3.59/$5.45)
Charity Pack 1 (£3.99/€4.99/$7.55)
Tales of Hearts R
School Costumes Bundle (£7.99/€9.99/$14.95)
Kor: School uniform (£1.69/€1.99/$2.95)
Kohaku: School uniform (£1.69/€1.99/$2.95)
Hisui: School uniform (£1.69/€1.99/$2.95)
Ines: School uniform (£1.69/€1.99/$2.95)
Beryl: School uniform (£1.69/€1.99/$2.95)
Kunzite: School uniform (£1.69/€1.99/$2.95)
Chalcedony: School uniform (£1.69/€1.99/$2.95)
Gall: School uniform (£1.69/€1.99/$2.95)
The Hungry Horde
Holiday Hijinx (£1.69/€1.99/$2.95)