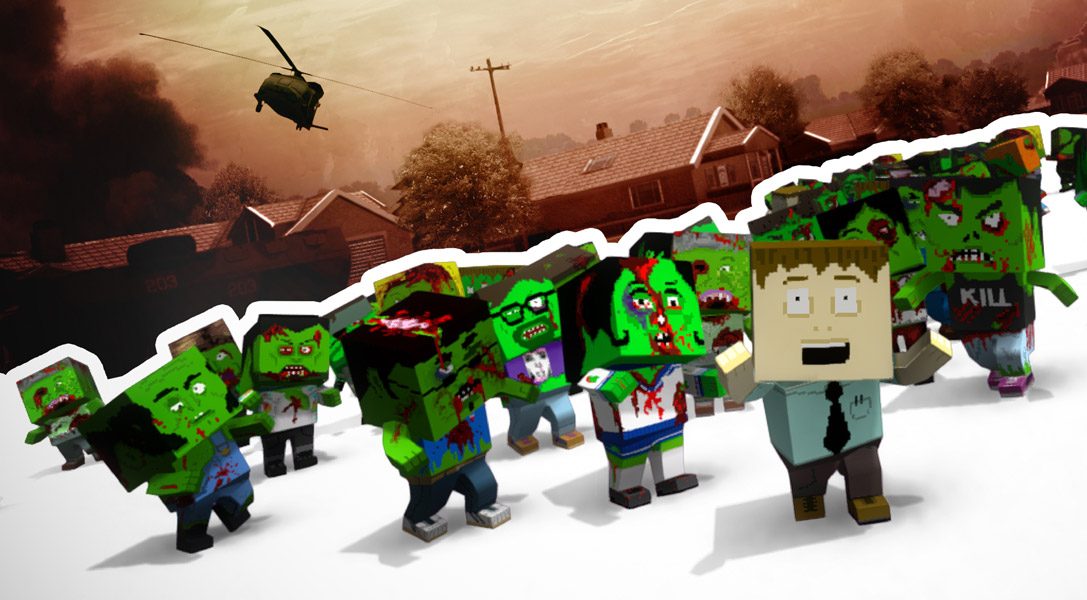 A host of new festive features inbound for the PS Vita zombie romp
Andreas Firnigl here, Director of Nosebleed Interactive. Our debut game, The Hungry Horde has been out a few weeks now and we've been overwhelmed with the positive response from players, who seem to be having a great time with the game.
Some of you have been asking us about PlayStation TV compatibility and we've been listening. The upcoming patch adds full PlayStation TV support so any of you big screen players can enjoy trying to beat the high scores, filling the sticker book and generally causing some good, old fashioned zombie carnage.
We've reworked several portions of the game so that they will work specifically with PlayStation TV so hopefully you'll enjoy playing it on the big screen very soon. The patch also re-balances some of the earlier levels to make sure novices have a little more time early on, as well as adding a few other extras and fixing a couple of niggles.
That's not all I'm here to tell you though. I'm also here to talk about THHHHP. "What's THHHHP?" you ask? Well let me introduce you to The Hungry Horde: Holiday Hijinx Pack. With the season to be merry fast approaching, we decided to inject the celebrations with a bit of zombie silliness. The Hungry Horde: Holiday Hijinx Pack is our winter holiday-themed DLC pack, and like the rest of the game we've stuffed it fuller than Santa's sack with additional content.
The first thing you'll notice booting the game during December and January is that there's a new menu theme, complete with new music tracks for the game. And, what music it is; very cool!
We've also updated all the levels you know and love, so that you can now play them during the daytime as well as at dusk. Now you'll not just have to survive the night but also the day! We've added a couple of brand spanking new snowy levels to explore too, which come complete with new destructible scenery, some snowy visual effects and even a frozen river and lake to skate around on.

Then there are the new skins to unlock and some new opposition to face off against… Let's just say, the big bearded fellow isn't as jolly about zombies ruining around his winter wonderland as he is about eating mince pies, and nor are his Elf minions. Expect to see a minigun-wielding Santa on your travels.
Of course no Hungry Horde banquet would be complete without a new winter themed minigame. After you recruit zombie Santa and head back to his workshop you've got to make sure none of your elf slaves are escaping inside presents. It's a quick-fire game that'll test your reflexes as well as your memory. That's right, we're not only helping you to eat brains, we're actively training yours to get bigger! Yum.

We know how some of you LOOOOVE trophies (it's okay, we do too) so we're including even more in the pack. Ten to be precise, bringing the total to 53. Christmas is about giving after all!
I hope you'll enjoy Holiday Hijinx when it launches on 17th December via PlayStation Store, alongside the aforementioned game update. Happy holidays!