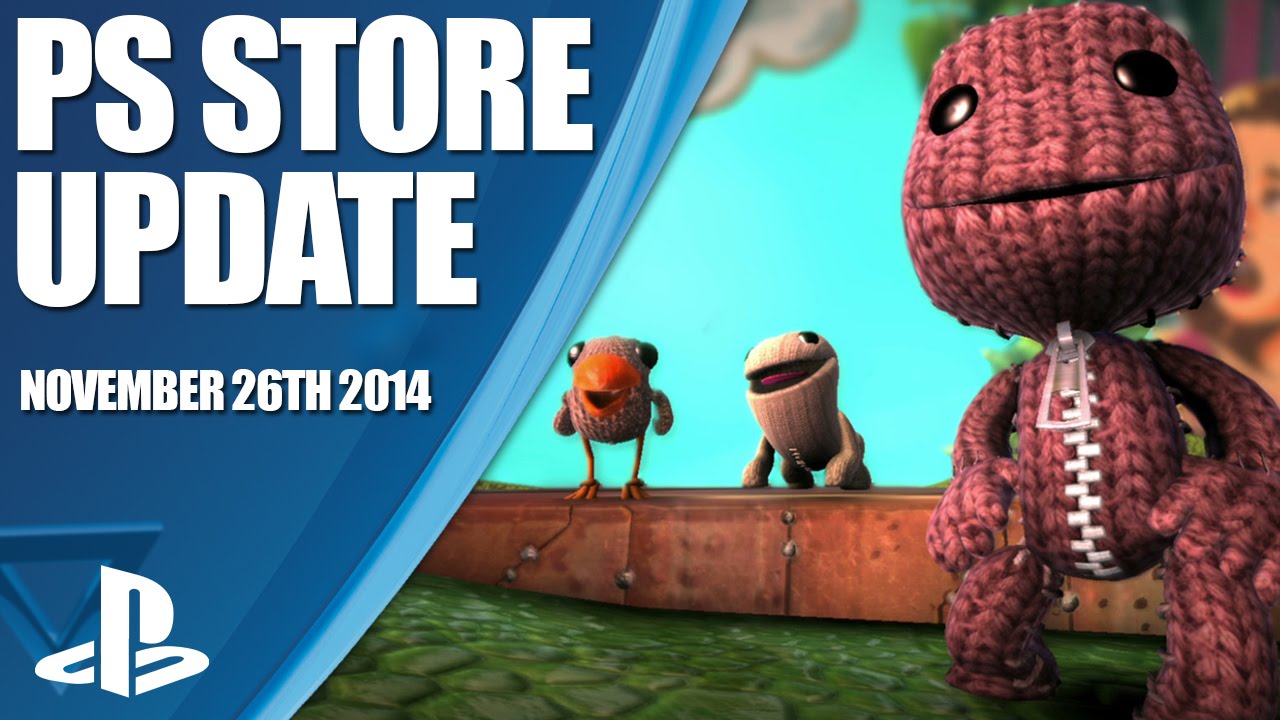 Ples, Aqua Kitty Milky Mine Defender DX, Escape Goat 2, Speakeasy, more
First up this week, we welcome LittleBigPlanet 3 to PlayStation Store. Sackboy is joined by new friends OddSock, Swoop and Toggle, all with unique talents of their own to help you explore Bunkum's every nook and cranny. You'll sink plenty of hours into LBP3 creating and playing in loads of different levels. The world is your oyster!
Also out this week – battle waves of enemies in arcade shooter Geometry Wars 3, acquire calcium goodness in Aqua Kitty Milky Mine Defender DX, and go on a beautiful journey together with a foxy friend in Never Alone.
Come back on Friday for new discounts that will be going live over the weekend.
PlayStation Plus
Never Alone (PS4) – 10% off, ends 10th December
Aqua Kitty Milky Mine Defender DX – 10% off, ends 3rd December
PlayStation 4

Aqua Kitty Milky Mine Defender DX
Price:£5.49/€6.59/$9.95

Escape Goat 2
Price:£7.99/€9.99/$14.95

Geometry Wars 3: Dimensions
Price: :£13.99/€14.99/$19.75

LittleBigPlanet 3 (Out 28th November in UK/Ireland)
Price:£49.99/€59.99/$79.95

Monopoly Family Fun Pack
Out 27th November
Price:£24.99/€29.99/$44.95

Motorcycle Club
Price:£54.99/€59.99/$84.95

Rollers of the Realm
Price:£7.99/€9.99/$14.95

Never Alone
Price:£11.99/€14.99/$22.95

Speakeasy
Not available in Russia
Price: :£7.99/€9.99/$14.95

Thomas Was Alone
Price:£6.49/€7.99/$11.95
PlayStation 3
Geometry Wars 3: Dimensions
Price: :£11.99/€14.99/$19.75

Heavy Fire: Shattered Spear
France, Ireland, Italy, Spain, UK only
Price:£5.79/€6.99

LittleBigPlanet 3 (Out 28th November in UK/Ireland)
Price:£39.99/€49.99/$69.95
PlayStation Vita

Aqua Kitty Milky Mine Defender DX
Price:£5.49/€6.59/$9.95
Arcana Heart 3 LOVE MAX!!!!!
Price:£34.99/€39.99/$54.95

LittleBigPlanet PlayStation Vita Marvel Super Hero Edition
Price:£11.99/€14.99/$22.95

Pocket RPG
Not available in Austria, Belgium, Denmark, Finland, France, Germany, Italy, Luxembourg, Netherlands, Norway, Poland, Portugal, Russia, Spain, Sweden, Switzerland,Turkey, Ukraine
Price:£8.99/€10.99/$16.45

Rollers of the Realm
Price:£7.99/€9.99/$14.95

Tiny Troopers Joint Ops
Price:£5.79/€6.99/$10.45
PlayStation Mobile
Solbrain VIII – Garden
£3.39/€4.29/$7.45
MahJah
£3.39/€4.29/$7.45
Flappy 2048
£2.99/€3.79/$6.45
Solbrain IX – Forest
£3.39/€4.29/$7.45
The Game Lab Project
£0.40/€0.49/$0.90
PS4 DLC
Assassin's Creed Unity
Revolutionary Armaments Pack (£2.49/€2.99/$4.55)
Just Dance 2015
'Funhouse' by P!nk (£1.69/€1.99/$2.95)
'Want U Back' by Cher Lloyd Ft. Astro (£1.69/€1.99/$2.95)
'C'mon' by Ke$ha (£1.69/€1.99/$2.95)
'Kiss You' by One Direction (£1.69/€1.99/$2.95)
'We Can't Stop' by Miley Cyrus (£2.49/€2.99/$4.55)
LittleBigPlanet 3
LBP3 Rare Launch T-shirt Pack (£3.99/€4.99/$7.55)
Madden NFL 15: Player Likeness Update (Free)
Rabbids Invasion
Season Pack (£11.99/€14.99/$22.95)
Pack1 Season 1 (£3.29/€3.99/$5.95)
Middle-earth: Shadow of Mordor
Deadly Archer Rune (£0.79/€0.99/$1.45)
Thomas Was Alone: Benjamin's Flight (£1.99/€2.49/$3.75)
PS3 DLC
Akiba's Trip: Undead & Undressed
Ragnarok Odyssey ACE Set (Free)
Nana's Sleepwear (Free)
Alien: Isolation
Trauma (£5.79/€6.99/$10.45)
Just Dance 2015
'Funhouse' by P!nk (£1.69/€1.99/$2.95)
'Want U Back' by Cher Lloyd Ft. Astro (£1.69/€1.99/$2.95)
'C'mon' by Ke$ha (£1.69/€1.99/$2.95)
'Kiss You' by One Direction (£1.69/€1.99/$2.95)
'We Can't Stop' by Miley Cyrus (£2.49/€2.99/$4.55)
LittleBigPlanet 2
Spacesuit Costume (DUP) (Free)
Turkey Head Costume (Free)
LittleBigPlanet 3
Dragon Age: Inquisition Costume Pack (£4.99/€5.99/$8.95)
Dragon Age Mini Pack (£2.49/€2.99/$4.55)
LBP3 Rare Launch T-shirt Pack (£3.99/€4.99/$7.55)
PS Vita DLC
Akiba's Trip: Undead & Undressed
Ragnarok Odyssey ACE Set (Free)
Nana's Sleepwear (Free)
Destin of Spirits
Destiny Orbs 500 + Super Rare Susanowo Spirit (£17.99/€21.99/$32.95)
Destiny Orbs 500 + Super Rare Amaterasu Spirit (£17.99/€21.99/$32.95)
Destiny Orbs 1000 + Super Rare Susanowo Spirit (£30.99/€36.99/$55.95)
Destiny Orbs 1000 + Super Rare Amaterasu Spirit (£30.99/€36.99/$55.95)
Freedom Wars
Combat Items Pack 8 (Free)
Combat Items Pack 9 (Free)
Citizen Pack 5 (£0.79/€0.99/$1.45)
Citizen Pack 6 (£0.79/€0.99/$1.45)
Citizen Pack 7 (£0.79/€0.99/$1.45)
Citizen Pack 8 (£0.79/€0.99/$1.45)
Gorgeous Fur Costume Pack (£1.69/€1.99/$2.95)
Mask Pack 1 (£1.69/€1.99/$2.95)
Additional Battle Music 1 (£0.79/€0.99/$1.45)
Additional Battle Music 2 (£0.79/€0.99/$1.45)
Additional Battle Music 3 (£0.79/€0.99/$1.45)
Additional Battle Music 4 (£0.79/€0.99/$1.45)
Additional Battle Music 5 (£0.79/€0.99/$1.45)
200 Signs & Symbols Pack (£3.99/€4.99/$7.55)
BGM Sticker Pack (£1.69/€1.99/$2.95)
LittleBigPlanet PS Vita
Spacesuit Costume (DUP) (Free)
Turkey Head Costume (Free)
LBP3 Rare Launch T-shirt Pack (£3.99/€4.99/$7.55)
Senran Kagura Bon Appetit
Gessen X Hebijo DLC and Soundtrack (£7.99/€9.99/$14.95)
Senran Kagura Shinovi Versus
Camisole (£1.29/€1.59/$2.45)
Fruits & Chocolate (£1.29/€1.59/$2.45)
Costume Set 5 (£3.69/€4.49/$6.75)
Kunoichi Uniform (£1.29/€1.59/$2.45)
Sexy Wedding Set (£1.29/€1.59/$2.45)
Homura's Hairstyle (Free)
Perfect Bible (Free)
Tales of Hearts R
Maid/Butler costumes Bundle (£7.99/€9.99/$14.95)
Kor: Butler costume (£1.69/€1.99/$2.95)
Kohaku: Maid costume (£1.69/€1.99/$2.95)
Hisui: Butler costume (£1.69/€1.99/$2.95)
Ines: Maid costume (£1.69/€1.99/$2.95)
Beryl: Maid costume (£1.69/€1.99/$2.95)
Kunzite: Butler costume (£1.69/€1.99/$2.95)
Chalcedony: Butler costume (£1.69/€1.99/$2.95)
Gall: Butler costume (£1.69/€1.99/$2.95)