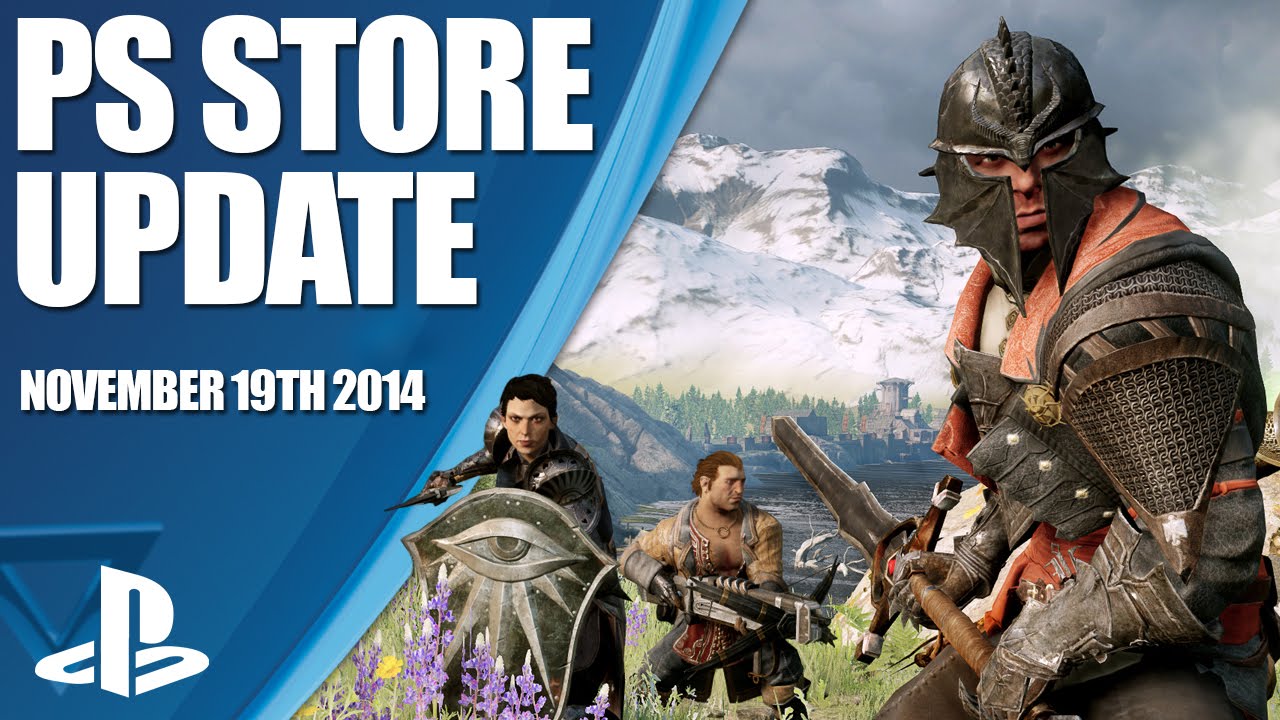 The November heat wave continues with some massive new releases
The slate of massive new releases doesn't stop this week, with the arrival of some big hitters.
Rockstar has the ultimate Grand Theft Auto V experience available on PS4 right now, whilst Ubisoft come in strong with a different open world offering in Far Cry 4, available on PS4 and PS3. Rounding out the big trio this week is EA's acclaimed Dragon Age: Inquisition, also on PS4 and PS3.
Meanwhile on PS3 and PS Vita, Hatsune Miku brings more of her vocaloid stardom in Project Diva F 2nd and Persona 4: Ultimax on PS3 arrives with big changes from the original offering.
Finally, check out this morning's discounts post to see this week's deals and savings.
PlayStation 4

Dragon Age: Inquisition (out 21st November)
Price:£54.99/€69.99/$99.95

Dragon Age: Inquisition Deluxe Edition (out 21st November)
Price:£64.99/€79.99/$109.95

Far Cry 4
Not available in Kuwait, Qatar, Saudi Arabia, UAE
Price:£54.99/€69.99/$99.95

Far Cry 4 Gold Edition
Not available in Kuwait, Qatar, Saudi Arabia, UAE
Price:£74.99/€99.99/$135.95

Grand Theft Auto V
Not available in Kuwait, Qatar, Saudi Arabia, UAE
Price:£54.99/€69.99/$99.95

LEGO Batman 3: Beyond Gotham Premium Edition (out 26th November)
Price:£64.99/€74.99/$107.95

MotoGP14 Compact (out 20th November)
Price:£15.99/€19.99/$29.95

Rabbids Invasion: The Interactive TV Show (out 20th November)
Price:£32.99/€39.99/$59.95

Rugby 15 (out 21st November)
Price:£54.99/€59.99/$84.95

Samurai Warriors 4
Price:£54.99/€59.99/$84.95

Tiny Troopers Joint Ops
Price: £5.79/ €6.99/$10.45

WWE 2K15 (out 21st November)
Price:£54.99/€69.99/$99.95
PS4 demos
PlayStation 3

Adventure Time: The Secret of the Nameless Kingdom
Not available in Kuwait, Qatar, UAE, Russia
Price:£29.99/€39.99/$49.95

Arcana Heart 3 LOVE MAX!!!!! (out 21st November)
Price:£29.99/€39.99/$49.95

Dragon Age: Inquisition (out 21st November)
Price:£49.99/€69.99/$89.95

Dragon Age: Inquisition Deluxe Edition (out 21st November)
Price:£59.99/€79.99/$99.95

Escape Dead Island (out 21st November)
Not available in Italy, Kuwait, UAE
Price:£39.99/€49.99/$69.95

Far Cry 4
Not available in Germany
Price:£49.99/€59.99/$89.95

Hatsune Miku: Project DIVA F 2nd (out 21st November)
Price:£39.99/€49.99/$75.95

LEGO Batman 3: Beyond Gotham Premium Edition (out 26th November)
Price:£54.99/€64.99/$94.95

Middle-earth: Shadow of Mordor (out 21st November)
Price:£49.99/€59.99/$89.95

MotoGP14 Compact (out 20th November)
Price:£11.99/€14.99/$22.95

Persona 4 Arena Ultimax (out 21st November)
Price:£39.99/€49.99/$69.95

Rugby 15 (out 21st November)
Price:£39.99/€49.99/$69.95

Samurai Warriors 4
Price:£39.99/€49.99/$69.95
PS3 demos
PlayStation Vita

Hatsune Miku:Project DIVA F 2nd (out 21st November)
Price:£32.99/€39.99/$59.95

MotoGP14 Compact (out 20th November)
Price:£7.99/€9.99/$14.95

Rugby 15 (out 21st November)
Price:£29.90/€34.99/$47.95

Samurai Warriors 4
Price:£34.99/€39.99/$54.95
PlayStation Mobile
Microbe Chain
Free
Eternibeat
£2.39/€2.99/$4.95
Frisky Derby Online
£1.39/€1.79/$2.95
Santa's Salvation
£1.99/€2.49/$4.25
NowWeAttack
£2.19/€2.79/$4.75
Front Wars: World War II Turn-Based Strategy Game
£5.49/€6.99/$11.45
Atlas
£0.79/€0.99/$1.75
PS4 DLC
Battlefield 4
Final Stand (£11.99/€14.99/$22.95)
DC Universe Online
War of the Light Part II (12) (£7.99/€9.99/$14.95)
Far Cry 4
Season Pass (£23.99/€29.99/$39.95)
Not available in Kuwait, Saudi Arabia, UAE, Bahrain, Lebanon, Oman, Qatar
Peggle 2
Shiver Me Timbers Costume Pack (£0.79/€0.99/$1.45)
Samurai Warriors 4
Horse Pack 1 (£1.69/€1.99/$2.95)
Horse Pack 2 (£1.69/€1.99/$2.95)
Special Costumes 1 (£6.49/€6.99/$11.95)
Special Costumes 2 (£6.49/€6.99/$11.95)
Special Costumes 3 (£6.49/€6.99/$11.95)
Special Costumes 4 (£6.49/€6.99/$11.95)
Special Costumes 5 (£3.29/€3.99/$5.95)
Horse Set (£2.49/€2.99/$4.55)
Special Costume Set (£24.99/€29.99/$39.95)
Middle-earth: Shadow of Mordor
Skull Crushers Warband (£1.69/€1.99/$2.95)
Hidden Blade Rune (£0.79/€0.99/$1.45)
Sniper Elite III
International Camouflage Rifles Pack (£2.49/€2.99/$4.55)
U.S. Camouflage Rifles Pack (£2.49/€2.99/$4.55)
WWE 2K15
WWE 2K15 Showcase Season Pass (£19.99/€24.99/$37.95)
Accelerator (£1.69/€1.99/$2.95)
PS3 DLC
Akiba's Trip: Undead & Undressed
Tokyo Toybox Set (Free)
Tiger-Striped Swimwear (Free)
Battlefield 4
Final Stand (£11.99/€14.99/$22.95)
DC Universe Online
War of the Light Part II (12) (£7.99/€9.99/$14.95)
Dead or Alive 5 Ultimate
Nurse Costumes + Training Gear Set (£11.99/€14.99/$22.95)
Ultimate Police Uniform Set (£14.99/€17.99/$26.95 or £1.69/€1.99/$2.95 each)
Ultimate Costume Catalog 20 (Free)
Fairy Fencer F
Secrets of Shukesoo's Tower 8 (Free/€0.00/$0.00)
Far Cry 4
Season Pass (£23.99/€29.99/$39.95)
Not available in Kuwait, Saudi Arabia, UAE, Bahrain, Lebanon, Oman, Qatar
Hatsune Miku: Project DIVA F 2nd
Costume Club (£39.99/€49.99/$75.95)
Song Club (£19.99/€24.99/$37.95)
Tell Your World (Live) (£1.19/€1.49/$2.25)
Tsuika module set: Neru,Haku,Teto (£1.99/€2.49/$3.75)
Odds & Ends (Live) (£1.19/€1.49/$2.25)
Module: Americana (£1.19/€1.49/$2.25)
Rin, Len & Kitty Skin (Free)
Skin: Miku & Luka (Heart) (Free)
Skin: ALL STARS (Stationery) (Free)
Edit Start Pack (Free)
Minecraft
MX vs ATV Supercross
Kawasaki KX125 MX (£2.49/€2.99/$4.55)
Kawasaki KX250F MX (£2.49/€2.99/$4.55)
Kawasaki KFX450 ATV (£2.49/€2.99/$4.55)
Kawasaki KX450F MX (£2.49/€2.99/$4.55)
KTM 450 SX ATV (£2.49/€2.99/$4.55)
KTM 125 SX MX (£2.49/€2.99/$4.55)
KTM 250 SX-F MX (£2.49/€2.99/$4.55)
KTM 350 SX-F MX (£2.49/€2.99/$4.55)
KTM 450 SX-F MX (£2.49/€2.99/$4.55)
Yamaha YZ125 MX (£2.49/€2.99/$4.55)
Yamaha YZ250F MX (£2.49/€2.99/$4.55)
Yamaha YFZ450 ATV (£2.49/€2.99/$4.55)
Yamaha YZ450F MX (£2.49/€2.99/$4.55)
Rocksmith 2014
Learning to Fly – Tom Petty (£2.49/€2.99/$4.55)
Refugee – Tom Petty (£2.49/€2.99/$4.55)
American Girl – Tom Petty (£2.49/€2.99/$4.55)
Free Fallin – Tom Petty (£2.49/€2.99/$4.55)
I Won't Back Down – Tom Petty (£2.49/€2.99/$4.55)
Samurai Warriors 4
Horse Pack 1 (£1.69/€1.99/$2.95)
Horse Pack 2 (£1.69/€1.99/$2.95)
Special Costumes 1 (£6.49/€6.99/$11.95)
Special Costumes 2 (£6.49/€6.99/$11.95)
Special Costumes 3 (£6.49/€6.99/$11.95)
Special Costumes 4 (£6.49/€6.99/$11.95)
Special Costumes 5 (£3.29/€3.99/$5.95)
Horse Set (£2.49/€2.99/$4.55)
Special Costume Set (£24.99/€29.99/$39.95)
Middle-earth: Shadow of Mordor
Captain of the Watch (Free)
PS Vita DLC
Akiba's Trip: Undead & Undressed
Tokyo Toybox Set (Free)
Tiger-Striped Swimwear (Free)
Freedom Wars
Female Accessory Voice Customisation (£2.49/€2.99/$4.55)
Male Accessory Voice Customisation (£2.49/€2.99/$4.55)
Signs & Symbols Pack 2 (£1.69/€1.99/$2.95)
Signs & Symbols Pack 3 (£1.69/€1.99/$2.95)
Combat Items Pack 4 (Free)
Combat Items Pack 5 (Free)
Combat Items Pack 6 (Free)
Combat Items Pack 7 (Free)
Citizen Pack 1 (£0.79/€0.99/$1.45)
Citizen Pack 2 (£0.79/€0.99/$1.45)
Citizen Pack 3 (£0.79/€0.99/$1.45)
Extra Facility Plot 1 (£0.79/€0.99/$1.45)
Extra Facility Plot 2 (£0.79/€0.99/$1.45)
Extra Facility Plot 3 (£0.79/€0.99/$1.45)
Ghillie Suit Costume Pack (£1.69/€1.99/$2.95)
Super Peace Suit Costume Pack (£1.69/€1.99/$2.95)
Additional Custom Loadouts (£1.69/€1.99/$2.95)
Glasses Pack 1 (£1.69/€1.99/$2.95)
Glasses Pack 2 (£1.69/€1.99/$2.95)
Hat Pack 1 (£1.69/€1.99/$2.95)
Accessory Pack 1 (£1.69/€1.99/$2.95)
Colour Pack 1 (£1.69/€1.99/$2.95)
Colour Pack 2 (£1.69/€1.99/$2.95)
Character Badge Pack 1 (£1.69/€1.99/$2.95)
Hatsune Miku: Project DIVA F 2nd
Costume Club (£39.99/€49.99/$75.95)
Song Club (£19.99/€24.99/$37.95)
Tell Your World (Live) (£1.19/€1.49/$2.25)
Tsuika module set: Neru,Haku,Teto (£1.99/€2.49/$3.75)
Odds & Ends (Live) (£1.19/€1.49/$2.25)
Module: Americana (£1.19/€1.49/$2.25)
Rin, Len & Kitty Skin (Free)
Skin: Miku & Luka (Heart) (Free)
Skin: ALL STARS (Stationery) (Free)
Edit Start Pack (Free)
Minecraft
Samurai Warriors 4
Horse Pack 1 (£1.69/€1.99/$2.95)
Horse Pack 2 (£1.69/€1.99/$2.95)
Special Costumes 1 (£6.49/€6.99/$11.95)
Special Costumes 2 (£6.49/€6.99/$11.95)
Special Costumes 3 (£6.49/€6.99/$11.95)
Special Costumes 4 (£6.49/€6.99/$11.95)
Special Costumes 5 (£3.29/€3.99/$5.95)
Horse Set (£2.49/€2.99/$4.55)
Special Costume Set (£24.99/€29.99/$39.95)
Senran Kagura Shinovi Versus
Accessory Set 3 (£0.69/€0.79/$1.25)
47 Ronin Set (£1.69/€1.99/$2.95)
Color Tile Set (£0.69/€0.79/$1.25)
Costume Set 4 (£3.69/€4.49/$6.75)
Mini-Skirt Santa Set (£1.69/€1.99/$2.95)
Female Officer Set (£1.69/€1.99/$2.95)
Nun Set (£1.69/€1.99/$2.95)
Sea Shell (£0.39/€0.49/$0.75)
Student Bag (£0.39/€0.49/$0.75)
Murakumo's Mask (£0.39/€0.49/$0.75)
Famitsu Special (Free)
Tales of Hearts R
5-Level Boost (5) (£1.19/€1.49/$2.25)
5-Level Boost (6) (£1.19/€1.49/$2.25)
10-Level Boost (3) (£1.99/€2.49/$3.75)
300,000 Gald (2) (£1.69/€1.99/$2.95)
1000 Grade (2) (£1.19/€1.49/$2.25)
2000 Grade (1) (£1.99/€2.49/$3.75)