Game director Arthur Parsons tells us what we can expect from the impending mega-sequel
So, here we are, rapidly approaching the 14th November launch of LEGO Batman 3: Beyond Gotham, and I wanted to share something that is both exclusive and exciting for all of you PlayStation 3 and PlayStation 4 gamers out there.
First off, a brief introduction, my name is Arthur Parsons. I am the Game Director of LEGO Batman 3: Beyond Gotham. I've been working at TT Games for the past 15 or so years, and I was delighted to make a return to LEGO Batman having been involved in the previous two titles. Both myself and the team involved are incredibly excited for you all to get your hands on what we consider to be our most ambitious LEGO game yet.
LEGO Batman 3 is our third adventure into the DC Comics universe, and as such we decided to make it bigger and better than anything we have done before. For starters, our epic storyline sees us blast off into space, teaming up the Justice League with the Legion of Doom for an intergalactic extravaganza.
We've added a raft of new suits for Batman, Robin and several other characters. We've added a completely new dynamic to the open world gameplay, and each area of the game has been lovingly crafted around the story and designed to bring in as many locations and characters as possible. We've included a plethora of playable characters, a number of cool abilities, endless amount of fun, and more importantly hours of gaming enjoyment for you all. This really is the ultimate Super Hero game for all ages this year and one that you won't want to miss out on.
This year is Batman's 75th Anniversary, and so we wanted to really push the boundaries with LEGO Batman 3. We added a bonus level that explores the 1960s Batman TV show, complete with voice work from the one and only Mr Adam West!
There are LEGO Batmobiles from all eras of Batman, including the 1960's Batmobile, as well as the Tumbler. We have included awesome content from throughout the 75 years of Batman both in the main game story and freeplay modes, and also within the Season Pass DLC for the game. LEGO Batman 3 really is an outpouring of the affection we at TT Games have for the DC Comics universe.
In addition to all of that mouth-watering content, we really wanted to do something truly exciting for PlayStation gamers. So we are delighted to include an exclusive bonus DLC character pack for everyone that buys the game on PlayStation 3 and PlayStation 4 in Europe that features some of the brilliant characters from the hugely popular "Batman of the Future" animated TV show. This pack will give you an additional eight characters that you can take into the game to enjoy in freeplay as you explore the outer reaches of the lantern worlds.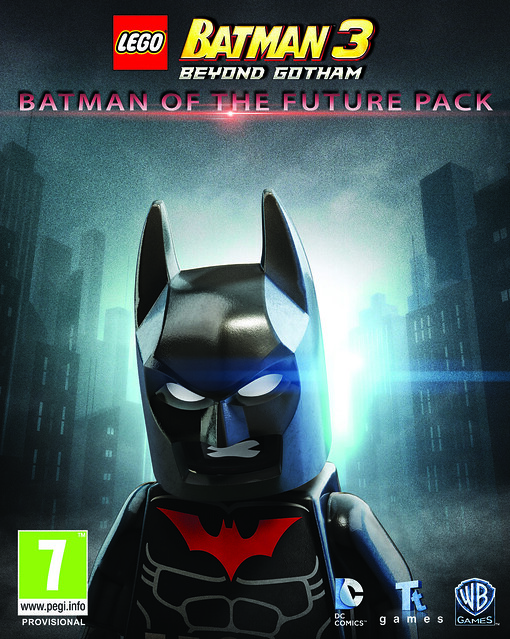 The "Batman of the Future" Character Pack allows the player to control a new Batman, Terry McGinnis, who comes fully-equipped with his technologically-advanced Bat suit, allowing him to fly, fire Batarang darts and even turn fully invisible. We are also including the retired Bruce Wayne himself, and his trusty Bat-Hound "Ace", who can use his keen sense of smell to sniff out hidden LEGO and the ability to dig for hidden objects.
Almost everyone who plays our games loves to play as the super-villains, so the rest of the pack focuses on our favourite super-villains from "Batman of the Future". We've included the humungous henchman "Bonk," a LEGO Big Figure, and a great fun character to smash around with; the radioactive Blight, who has the ability to light up darkened areas within the game as well as being immune to hazards and fire; and the shape-shifting femme fatale, Inque who can fit through tiny cracks.
Lastly, no "Batman of the Future" character pack would be complete without the addition of two of everybody's favourite super-villains: Mr Freeze, who not only has the ability to freeze water and enemies with his ice canon, but can transform himself into something that shall remain a secret to you all until you play as him: and the Joker himself complete with a laser gun, joker grenades, his electric joy buzzer and much more!
All of us here at TT Games, Warner Bros. Interactive Entertainment, DC Comics and LEGO are really looking forward to you all getting your hands on the game and enjoying everything we've put into it.