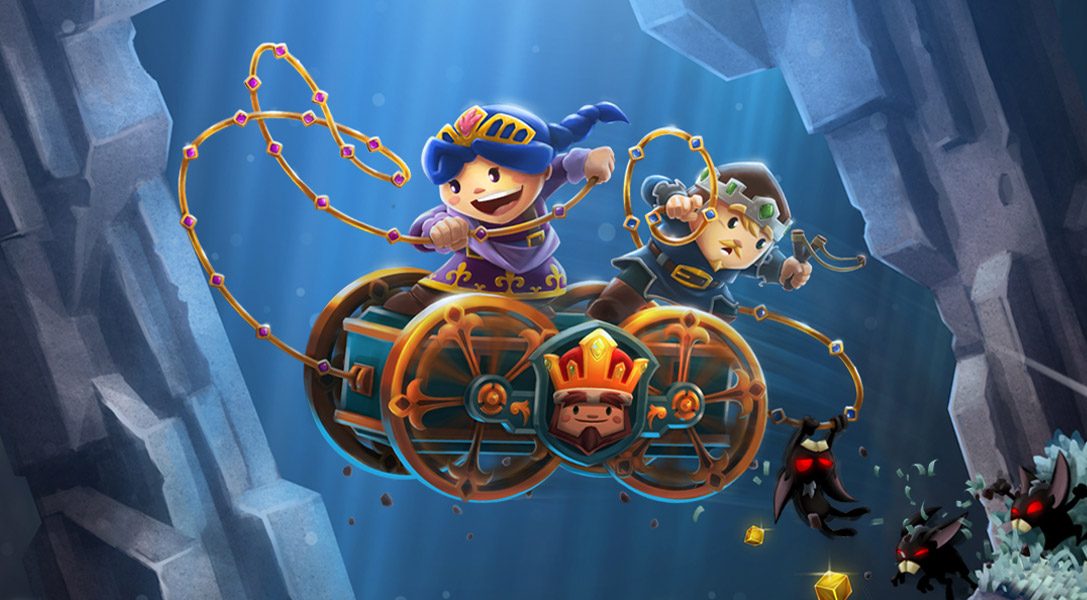 Frima Studio's unique adventure debuts on 22nd October
It's been a long ride, but the royal chariot is finally ready to roll. Since we first unveiled it at this year's E3, hundreds of players have had the opportunity to take Chariot out for a spin and give us some feedback.
One question kept coming back: "When is it gonna come out on PS4?" Well, today we're happy to announce that PS4 owners in the SCEE region will be able to experience Chariot's unique co-op platforming and spelunking goodness on Wednesday, 22nd October.
You've never heard of Chariot, you say? That's alright. We'll sum it up for you:
Chariot is a co-op platformer where two players have to work together using physics-based mechanics, like pushing and pulling, to bring His Majesty's royal coffin to his final resting place. Since the king's ghost is picky (to say the least) regarding where and how he expects to be buried, this won't be an easy task. Along the way, the princess and her fiancé will have to gather gold and precious gems to decorate the sepulcher.
We love that local multiplayer games are making a comeback, but we wanted to stray from the competitive game model and make one that focused on cooperation. That being said, the game can be enjoyed and finished by playing solo, but steel yourself, because some of the challenges will require an enormous amount of creativity on your part if you decide to go it alone.
We can't wait for you guys to try Chariot! But in the meantime, you can find out more about the game on our website at www.chariotgame.com. And if you're interested, you can join our little community on Facebook. If you have any question or comment, feel free to share them with us in the Comments section. We're really eager to chat with you guys!