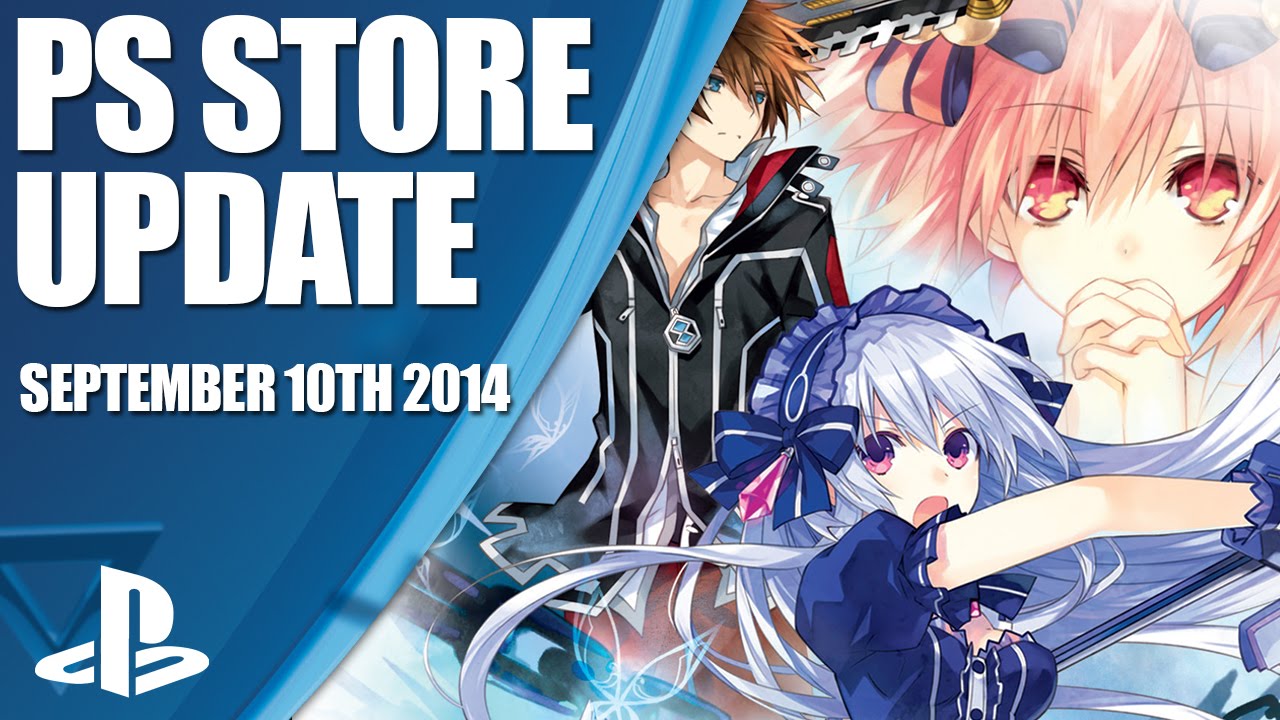 And Plants vs Zombies and Another World are among our deals of the week
First up this week is the weird and wonderful Murasaki Baby on PS Vita. When a scared little girl awakes lost and alone in a strange land full of terrifying nightmares, she desperately needs you to help find her mummy. Use your wits to guide the girl through paths full of dangers and teach her the difference between right and wrong in a bid to keep her smiling… and alive.
On PS3, a world of magic and adventure awaits in Fairy Fencer F. Explore fearsome dungeons, tackle powerful beasts, and travel the world to collect all 100 Fairies. But be careful — the Furies are coveted by many Fencers, good and bad. Pray these powerful weapons do not fall into the wrong hands…
And for PS4, we have Worms developer Team 17's new puzzle game, Flockers. It features helpless sheep that you must guide to safety whilst avoiding numerous traps or have them suffer truly unfortunate sheep death. That would be baaaad.
PlayStation Plus
Murasaki Baby – 20% off, ends 24th September
Flockers – 25% off, ends 15th October
PlayStation 4
Anomaly 2
Price: £11.49/€13.99/AU$20.95
Flockers (available from 19th September)
Price: £19.99/€24.99/AU$30.95
Not available in New Zealand
KickBeat Special Edition
Price: £7.99/€9.99/AU$14.95
PlayStation 3
Fairy Fencer F (available from 19th September)
Price: £39.99/€49.99/AU$69.95
PlayStation Vita
Jetpack Joyride Ultra Bundle
Price: £3.29/€3.99/AU$5.95
Murasaki Baby
Price: £7.99/€9.99/AU$14.95
Run Like Hell!
Price: £3.29/€3.99/AU$5.95
PlayStation Mobile
Steam Lands (£3.39/€4.29/AU$7.45)
Pong Breaker (£1.39/€1.79/AU$2.95)
Inflatable Maths (£3.39/€4.29/AU$7.45)
Solbrain I – Village (£5.89/€7.49/AU$12.45)
Flight World Simulator (£3.69/€4.49/AU$7.75)
One Image Viewer (£1.19/€1.49/AU$2.45)
PS4 DLC
Sniper Elite 3
Axis Weapons Pack (£2.49/€2.99/AU$4.55)
Save Churchill, Part 2: Belly of the Beast (£6.49/€7.99/AU$11.95)
Eastern Front Weapons Pack (£2.49/€2.99/AU$4.55)
Sniper Rifle Weapons Pack (£2.49/€2.99/AU$4.55)
War Thunder
Hunter Starter Pack (£14.99/€17.99/AU$26.95)
Attacker Starter Pack (£14.99/€17.99/AU$26.95)
Tank Destroyers Advanced Pack (£24.99/€29.99/AU$44.95)
Shielded KV-1E Starter Pack (£14.99/€17.99/AU$26.95)
IL-2 Avenger Starter Pack (£14.99/€17.99/AU$26.95)
Victory is Ours Advanced Pack (£24.99/€29.99/AU$44.95)
Guards Starter Pack (£8.99/€10.99/AU$16.45)
LaGG-3 34 Starter Pack (£8.99/€10.99/AU$16.45)
Defenders Advanced Pack (£14.99/€17.99/AU$26.95)
PS3 DLC
Fairy Fencer F
First Aid Pack for Newbie Fencers (Free)
Beginner's Synthesis Kit (Free)
GRID Autosport
Touring Legends Pack (£9.99/€12.99/AU$19.45)
LittleBigPlanet 2
World Peace Day Costume (Sept Seasonal) (Free)
Naruto Ultimate Ninja Storm Revolution
Jinchuriki Costume Pack 1 (£1.69/€1.99/AU$2.95)
Jinchuriki Costume Pack 2 (£1.69/€1.99/AU$2.95)
Sniper Elite 3
Axis Weapons Pack (£2.49/€2.99/AU$4.55)
Save Churchill, Part 2: Belly of the Beast (£6.49/€7.99/AU$11.95)
Eastern Front Weapons Pack (£2.49/€2.99/AU$4.55)
Sniper Rifle Weapons Pack (£2.49/€2.99/AU$4.55)
PS Vita DLC
LittleBigPlanet PlayStation Vita
World Peace Day Costume (Sept Seasonal) (Free)
Run Like Hell
Medium Coin Pack (£1.69/€1.99/AU$2.95)
Big Coin Pack (£4.99/€5.99/AU$8.95)
Great Coin Pack (£7.99/€9.99/AU$14.95)
Dead Man's Chest (£15.99/€19.99/AU$29.95)
Small Coin Pack (£0.79/€0.99/AU$1.45)
Deal of the week
Another World – 20th Anniversary Edition (PS Vita/PS3/PS4) – Was £6.49/€7.99/AU$11.95, now £3.29/€3.99/AU$5.95
MXGP – The Official Motocross Videogame (PS Vita) – Was £34.99/€39.99/AU$54.95, now £11.99/€14.99/AU$22.95
Plants vs. Zombies Garden Warfare (PS3) – Was £19.99/€29.99/AU$39.95, now £15.99/€19.99/AU$24.95
Plants vs. Zombies Garden Warfare (PS4) – Was £34.99/€39.99/AU$54.95, now £21.99/€26.99/AU$40.95
WWE2K14 (PS3) – Was £24.99/€34.99/AU$44.95, now £10.99/€14.99/AU$17.95
Disney discounts – ends 24th September
LEGO Pirates of the Caribbean PS3 – Was £15.99/€19.99/AU$24.95, now £7.99/€9.99/AU$12.95
LEGO Pirates of the Caribbean [PSP] – Was £7.99/€9.99/AU$14.95, now £3.99/€4.99/AU$7.55
Monkey Island Special Edition Bundle – Was £11.99/€14.99/AU$22.95, now £4.39/€5.29/AU$7.90
The Secret of Monkey Island: Special Edition – Was £7.99/€9.99/AU$14.95, now £2.89/€3.49/AU$5.25
Monkey Island 2 Special Edition: LeChuck's Revenge – Was £7.99/€9.99/AU$14.95, now £2.89/€3.49/AU$5.25
Pirates of the Caribbean: At World's End [PSP] – Was £6.49/€7.99/AU$11.95, now £1.99/€2.49/AU$3.75
Pirates of the Caribbean: Dead Man's Chest [PSP] – Was £6.49/€7.99/AU$11.95, now £1.99/€2.49/AU$3.75
PSP Pirates Double Pack – Was £9.49/€11.99/AU$17.95, now £3.29/€3.99/AU$5.95
Peter Pan Return to Neverland – Was £7.99/€9.99/AU$14.95, now £2.89/€3.49/AU$5.25
Disney's Treasure Planet – Was £5.79/€6.99/AU$10.45, now £1.99/€2.49/AU$3.75
Pirates of the Caribbean – Was £7.99/€9.99/AU$14.95, now £2.89/€3.49/AU$5.25
Peter Pan Double Pack – Was £8.99/€10.99/AU$16.45, now £3.29/€3.99/AU$5.95
PETER PAN : ADVENTURES IN NEVER LAND – Was £3.99/€4.99/AU$7.55, now £1.15/€1.39/AU$2.05
Disney Universe – Neverland Level Pack – Was £3.99/€4.99/AU$7.55, now £1.49/€1.75/AU$2.65
Availability change
Fate/EXTRA (PSP) – Now available in Finland, Norway