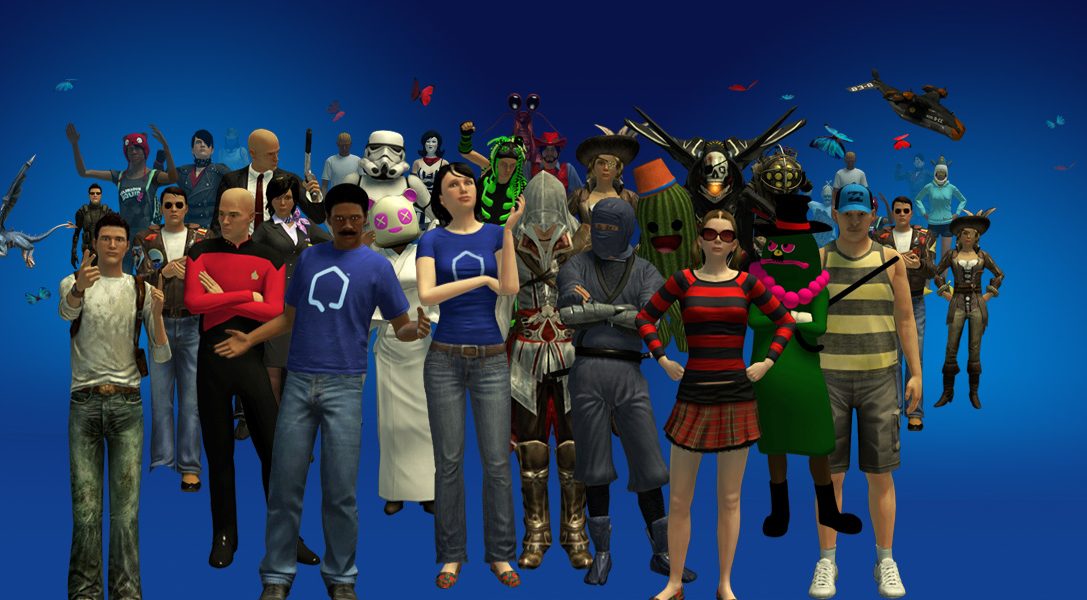 Find out what's new in Home Square this week
Hello and welcome to another PlayStation Home update. There is a lot of new content to cover today so instead of my opening paragraph let's just get on with what you want to see – the list of content releasing this week, enjoy!
JAM Games
JAM Games brings you their latest apartment and clothing collection the 'Twingate Castle'. You must remember as you enter that every story has two sides, every day has its night and every soul has its dark side. What would happen if these two sides were ever parted; if magic entered the roots of your soul and divided it into two? The curse hung in the air filling every corner of the castle. The splitting of a soul in two, one side to hold all that was good, great and beautiful, the other half to be filled with the darkness of evil, bitterness and hatred. Here everything is light and the feeling of hope and happiness is palpable. But this is Twingate Castle…
Atom Republic
Don't miss Atom Republic's latest choreography, inspired by Bollywood movies! You can also buy it in the Traditional Dances bundle, with 2 other traditional dance packs: the Irish Dance Moves and the Traditional Dance Moves.
MyGarden
This week VEEMEE bring you everything you need to decorate your garden spaces with their attractive MyGarden furniture. The four-piece modular couch allows you great flexibility in any space. Add a comfortable, free-standing armchair and a beautiful glass coffee table to finish the layout. Accessorise with a few scatter cushions, a large palm tree planter and a parasol to complete the look. Every item is available individually or as part of a great value bundle. Now just sit back, relax and enjoy your handiwork.
MyBedroom Beds
VEEMEE has 4 new MyBedroom Beds available for you. These new designer beds are sure to give your bedroom the makeover it needs! The beds come in two styles with two colour variations for each and don't worry they're not just decorative pieces.
Element Summer 2014
Check out the massive selection of new Element items from VEEMEE. The beautiful all-over printed, short sleeve, knit Black Daisy Dress is perfect for a late night date or hanging out with your friends. The fashionable, heavyweight crew neck Black Carter Long Sleeve Top for men goes perfectly with the Grey Heather Gibson Sweat Pants. There is also a sweet new locomotion skateboard – the Melted Blue Deck with Kickflip trick.
And here is a video of VEEMEE's content this week:
Giftinator 9000
Hellfire Games continues their biggest item release ever with 20 more gifts, including the Crimson and Emerald Nebulon SpeedWings, Midnight and Radiant Rocket LMOs, Gold Fez, three new Nebulon Bikinis, Pink Sunset and Black Exotic Hawaiian Shirts, Vivid and Animated Hearts Leggings, and Floral and Imperial Persian Rugs! Available at the Giftinator 9000 in the Home Tycoon Train Station.
nDreams
Want to be the most adorable person in the whole of PlayStation®Home? With 'So Cute!' from nDreams you can be! Equip yourself with the nDreams So Cute! Collection and show off your most lovable side. In the nDreams So Cute! Collection Part 1 there are 3 new motion-captured LMOs to grab. Choose from the Teddy Bear LMO, the Bubble Blower LMO, or the Umbrella LMO for a delightfully charming new look.
Lockwood
It's time to dance – retro style! The new Dance Craze GAPs and animation packs will ensure you and your friends are the talk of the town! Putting on a 1950s musical? Got you covered. Suddenly found yourself transported back in time to a '90s disco and need to fit in? No problem!
No matter what era you're in, don't step onto the dance floor without your hair in perfect style. The new Medusa Sweethearts range has banished bad hair days to the retro past! Play it sweet with the Cassidy to make sure everyone knows your hair is large and in charge with the Crystal, or go classic with the Cordelia.
It's the dystopian future. Tumbleweeds blow across the arid desert, and a lone bounty hunter surveys the surroundings. The harsh sun glints glistens from their Retro Future sunglasses and their leather desert gear creaks as they shift their weight, scanning for their prey. If this sounds like you, then track down new Sodium Bounty Hunter outfits in the store and Gift Machine.
While you're searching out your prey, your hunt for the perfect pair of dungarees may be over! Foal has stepped up to the mark, with fashion-forward dungarees for guys and gals – and as it's Foal you know the colours will be bright and the patterns will be bold!
KOVOK
This week we bring more cuteness to Play Station® Home with another release of Kawaii!
Descended from an ancient lineage of Ninjas, Zix Shadowshatter is fast, silent and one of the best in his clan! Lethal in his defence of you and a faithful travel companion!
Disney's Pirate Sale
As it's the international 'Talk Like A Pirate Day' on the 19th September, Disney are hosting a sale of selected items from the Monkey Island and Monkey Island 2 range. So get on board you landlubbers and grab some cheap booty before these deals are gone to Davey Jones' locker.
CodeGlue
Codeglue's Sweet Boho collection is on sale! For the next two weeks every item from this great collection from Dani will be half price. If Sweet Boho is missing from your collection, now's the time to grab it.
Don't forget PS Home will briefly be offline from 8.00am BST on Wednesday 17th September for routine maintenance.
That's all for now, see you in PlayStation Home!