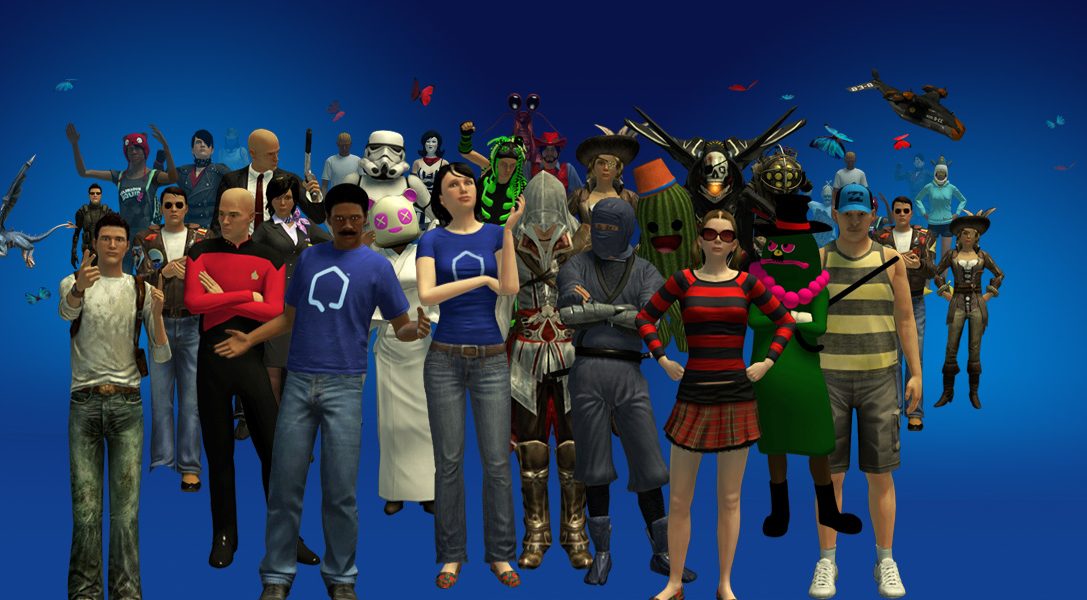 Find out what's new in Home Square this week
Hello and welcome to another PlayStation Home update. Lovers of the night, rejoice! The Moonlight Room apartment arrives in Estates, plus we have some great new avatar interactions from Atom Republic, new gifts from Hellfire Games and much more. Read on for the full summary…
Kovok
When the sun sets, darkness reigns the night and only the magic of the moon lights up the streets. At that precise moment, the "Moonlight Room" comes to life. Its dark tones and silver trims are filled with beauty, class and distinction.
Grab yourself a bargain and enjoy our iconic items at the best value possible with the Mega Bundles! This week – Tales and Bellver. Check them out, our prices are mega CRAZY!
Atom Republic
This week Atom Republic bring you new avatar interactions to chill out with your loved one: sit with your head on partner's lap, sit in partner's arms, lie side by side, lie with your head on partner's stomach, lie with your head on partner's shoulder or sit side by side"
Giftinator 9000
Hellfire Games release their biggest item update EVER with 70+ new items and four new rewards this week, including Partner Packs: Massages, Novus Prime Ship LMOs, Weather-Tron 5000: Rain and Snow, Dance-o-Tron Studio, Nebulon SpeedWings, IdolStyles hairstyles, Nebulon Bikinis, animated leggings, and more! Available now at the Giftinator 9000 in the Home Tycoon Train Station.
nDreams
This week, nDreams are releasing a new dance collection which will allow you to show off some fun new moves – the motion-captured Robo Punk Dance Packs. Collect them all, and stand out from the crowd!
JAM Games
OMG! It's the JAM Games Price Drop! These amazing prices are not to be missed! Summer Sale Fever is about to hit new heights of…OMG!
There is also another stunning update to the JIVE Collection! Ladies, you can grab yourselves our extremely cute, sweet and sexy Teasing Tartan skirts with matching tartan shoes, all in the Jive colour palette! JIVE with JAM!
In any home one thing is clear – you can never have enough storage! The LIVING Collection brings you another piece of furniture to compliment the other pieces – the sideboard! This embodiment of style and affordability brings all the LIVING Collection furniture together into a look any home would be proud to embrace!
VEEMEE
Dig deep into the wardrobe of your teenage years with the new Shredded! collection. For guys, throw on the "Old Souls" or "Festival Vet" Jacket and head on down to your local venue for a hardcore night of music! Ladies, get down there with the Tartan Shirt and Black Military Boots.
Make your friend's skin crawl with creepy crawly Radioactive Arachnids. Become a powerful Stalker spider which uses crippling poison to capture its prey. The Hunter spider lets you jump out of the shadows, or scurry around as the formidable Skitter scorpion.
There are new Billabong fashions from VEEMEE this week. The Grass Roots Quiet Down Jacket is one to watch and the Coconut Shell Ocean View Dress is a bustier style sundress which brings you endless compliments.
This week you have a chance to get the most popular VEEMEE apartments at spectacular prices with VEEMEE's Half Price Hot Deals! What's the point of having a great looking avatar if you've got nowhere to hang out?
Don't forget PS Home will briefly be offline from 8.00am BST on Wednesday 10th September for routine maintenance.
That's all for now, see you in PlayStation®Home! Follow us on Twitter @PSHomeEU