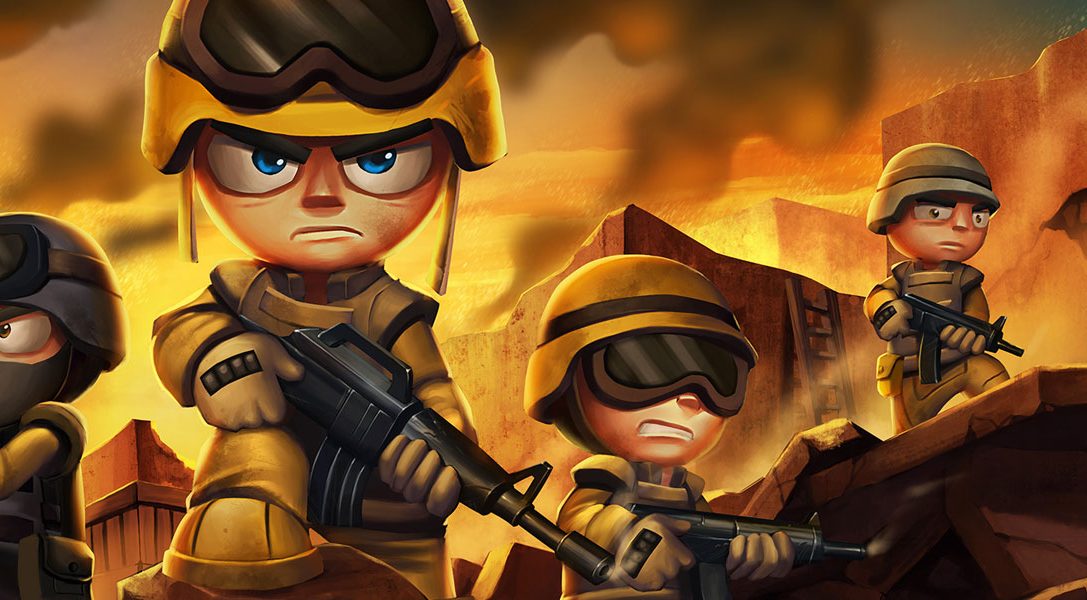 Take a closer look at forthcoming PS3/PS4/PS Vita arcade shooter
Hi everyone! It's been a while since our last post on Tiny Troopers Joint Ops, however I am now happy to confirm the release of our Official Feature Trailer. Check it out and tell us what you think!
I know many of you were keen to know when we will be launching and what the price will be and we'll be confirming this very soon! You'll be pleased to know the price will be fun size too! More details on this soon.
We have also put together a brief Q&A to answer some of the questions we've been receiving. If there is anything further you'd like to know, please don't hesitate to post a question below and we'll do our best to answer J
What is Tiny Troopers Joint Ops?
Tiny Troopers Joint Ops is an epic bite sized arcade shooter, filled to the brim with action-packed mini maps of mayhem! Take control of your miniature marines as you battle evil foes from around the world with a multitude of weapons and specialist soldiers. Collect medals, dog tags and Intel during the course of each mission. With over seven hours of gun toting explosive gameplay, Tiny Troopers Joint Ops is miniature warfare on a massive scale!
When will Tiny Troopers Joint Ops be available in the UK and Europe?
We'll be announcing the release date for Tiny Troopers Joint Ops very soon! It's literally just over the horizon. Hang tight.
What is the price of Tiny Troopers Joint Ops on each platform?
We haven't announced the price for Tiny Troopers Joint Ops just yet, however we hope to confirm this within the next few weeks! You'll be pleased to know the price will also be fun size!
What platforms are you launching Tiny Troopers Joint Ops on?
Tiny Troopers Joint Ops will be launching on the PS3, PS4 as well as PS Vita. The game will feature Cross Save and Cross Play functionality, allowing you to download, play and save on any of the 3 devices! Just remember to save your game to the cloud otherwise you won't be able to pick up on your Vita whilst out and about!
Are there any differences between the mobile and console versions of Tiny Troopers?
Tiny Troopers Joint Ops is based on the hugely popular Tiny Troopers 1 and Tiny Troopers 2: Special Ops. It features all the great content from both these games, as well as the additional Zombie modes that were later introduced. You'll be able to play either campaign from the very beginning, but you'll have to start each campaign from the first mission.
As well as upgrading the graphical display, we've also completely re-worked the control system specifically for PlayStation platforms. Tiny Troopers Joint Ops works as a twin stick arcade shooter on either platform, however on PS Vita you can choose between the twin stick system or touch screen controls. When using the touch screen control, simply click on the screen where you want your tiny troopers to move to and away they go. Tap on enemies or buildings to attack them and simply drag your rockets or grenades onto the targets you want to destroy. It couldn't be simpler!
Finally, one other major difference between the mobile and console version is based on how you level up. In Tiny Troopers Joint Ops, levelling up is driven by your ability to collect in game command points (accrued for completing levels and or missions). At the end of each level or mission, use these command points to increase your trooper's arsenal, change their outfits and more! There's no in-game purchases required here soldier!
Does Tiny Troopers Joint Ops support true Cross Play and Cross Save functionality?
Yes! Tiny Troopers Joint Ops is fully playable across all three devices, allowing players to game on the go with their PS Vita, and pick up the game at a later date on either PS3 or PS4.
Does Tiny Troopers Joint Ops feature any multiplayer elements?
Tiny Troopers Joint Ops is a single player game that doesn't include any multiplayer elements. You can however compete with your friends in the online leaderboards found in the Zombie mode.
Does Tiny Troopers Joint Ops contain a platinum trophy?
There are no platinum trophies available in Tiny Troopers Joint Ops.
How much gameplay is there in Tiny Troopers Joint Ops?
There are well over seven hours of gameplay in Tiny Troops Joint Ops including the various Zombie Modes. In total there are 58 missions to complete. Get to it recruit!
Don't forget to head on over to the Wired Productions Facebook page to keep up to date with everything Wired. Or just hit Like on the Tiny Troopers Facebook page for more information.