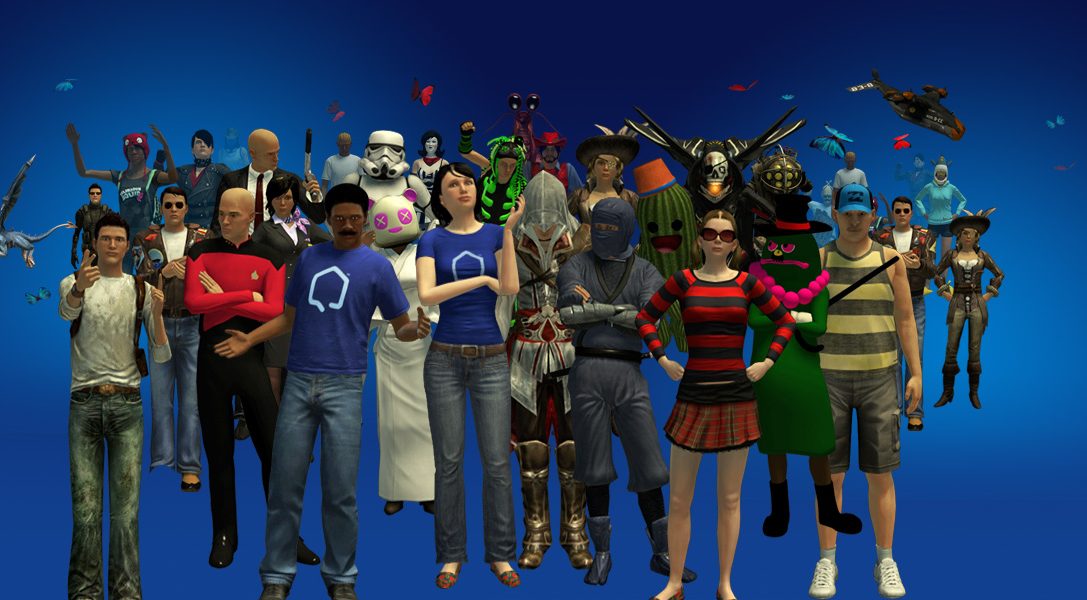 Find out what's new in Home Square this week
Hello and welcome to another PlayStation Home update. Here are highlights of what you can expect to find in PS Home this week, following the normal Wednesday maintenance window.
Lockwood
Don't be too disheartened if your new mount can dance better than you can, after all, he does have two more legs to utilise! New Delirious Squid Cybergoth Clothing and Horse LMOs will ensure you're the centre of attention in the darkest of futuristic rave clubs!
Untouched by humans, Prehistoric Canyon has been discovered in the deepest jungle. Enjoy panoramic views of dramatic waterfalls and lush grassland from your bamboo hut perched high above Prehistoric Canyon. Dinosaurs and prehistoric mammals roam the surroundings, from peaceful Mammoth families to ferocious T-Rexes. Play the Dinosaur Spotting mini game to record the prehistoric creatures that visit every day and earn rewards – guests can play too!
Note – Not the feint of heart.
nDreams
Aurora has a brand new update! In Aurora 1.9 you can bag yourself 100,000xp and an exclusive dance pack reward! Check out the mini game near the café to grab these exclusive items. There have also been some disturbing sightings in Aurora lately, so keep your eyes on the skies – we may need your help!
You can also pick up the Aurora Pro XP Booster Bundle which includes many XP boosting items for one great price!
Atom Republic
Show your feelings for someone special, thanks to Atom Republic's new poses for two! "Romantic Poses" let you strike eight different static poses with your sweetheart: down on one knee, hold the waist, lift-up, head on shoulder, carry in arms, cuddled up, arm-in-arm and holding hands. Or interact with your friends using the eight "Friends Poses": arm around the shoulder, arm around the waist, side hug, carry on shoulders, piggyback, sat back to back, cover the eyes, and whisper.
JAM Games
JAM Games brings you the second half of their Strictly Sparkle Collection and one more for the ladies. In these sparkling outfits you will stand out on any crowded dance floor. Turn everyone's heads as you dance the night away! Sparkle with success and bring on the bling!
There is also an update to the JIVE Collection! The clothing line that is fun, flirty, colourful, and of course, completely affordable! Ladies, you can grab yourselves some very cute dresses with matching patterned or plain shoes all in the Jive colour palette! JIVE with JAM!
Kovok
Night creatures, prepare! Raven Culture is back to Play Station Home! Mix and match these stripy designs and create your own style! Also take advantage of some great value mega bundles – 32 items from the Kigu range, and 51 Raven Culture items!
VEEMEE
The chill winds of the North are blowing through PlayStation Home this week as VEEMEE release their Storm of the North collection. Run through the snow with a Direwolf companion or head for sunnier climes with your very own Drake. Suit up for battle with the Mercenary, Barbarian and Southern Lady outfits. Variations are also available in the 3D Printer.
New from Element – for the practical casual look try combining the canvas cargo pants with a stone washed camo pattern. The Black Solitary Dress is a long-sleeve dress with lace details and a beautiful all-over printed pattern.
VEEMEE presents a new week of their Half Price Hot Deals!! Animal Avatars are loose this week and running amok. Terrorise your friends with the Giant Tarantula then win them back as a big cuddly Polar Bear. Check out the Sales icon in the VEEMEE store each week for great deals; all AT LEAST 50% off!
That's all for now, see you in PlayStation Home! Follow us on Twitter @PSHomeEU