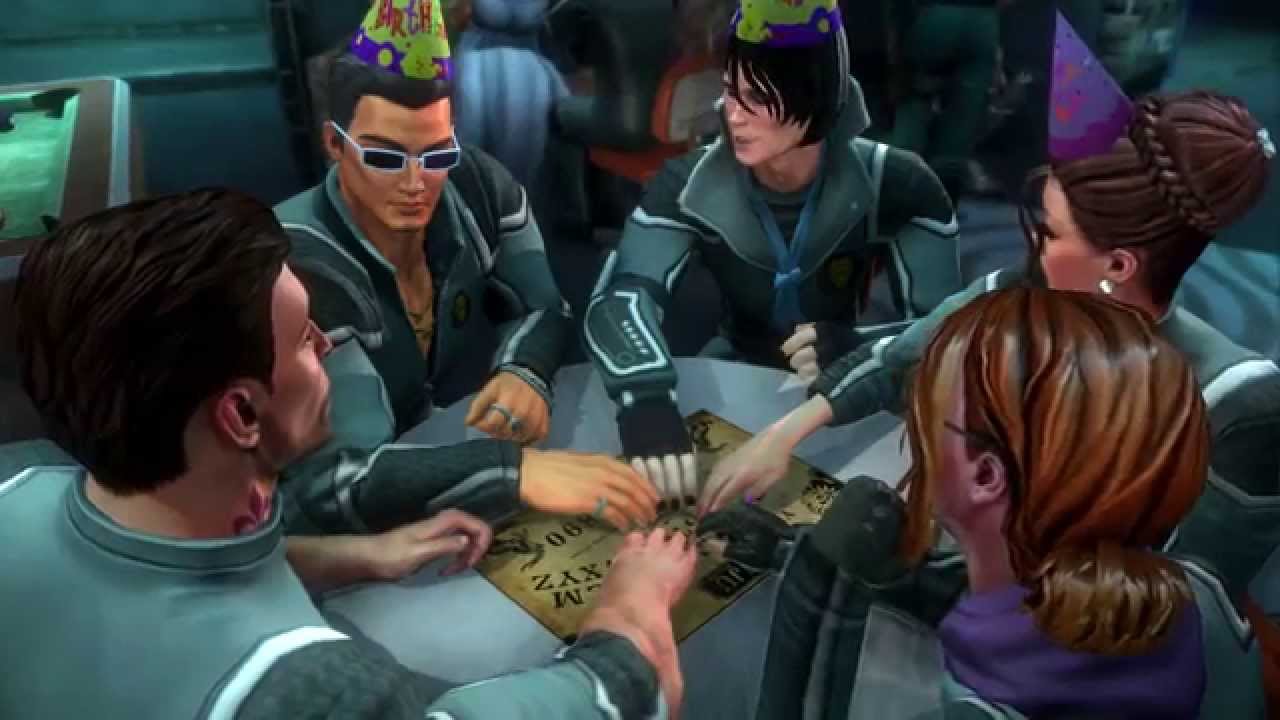 Standalone expansion takes the Saints to the demon-infested New Hades
Eight years ago today, Volition introduced the world to Johnny Gat: the badass lieutenant of the 3rd Street Saints with a knack for bloodshed. Over the years, he waged war against the Vice Kings in Saints Row, took brutal revenge for his lost love against The Ronin in Saints Row 2, selflessly sacrificed himself to save his friends in Saints Row: The Third, and triumphantly returned to eviscerate the Zin Empire in Saints Row IV. Today, on this anniversary, we at Volition are thrilled to announce a new standalone expansion for Saints Row IV in which Johnny Gat must face the only opponent worthy of his extreme reputation: Satan himself.
Fans have been wondering: where we can possibly go after the Saints have conquered the known Universe? Saints Row: Gat Out Of Hell is our answer. Johnny Gat and Kinzie Kensington embark on a quest to save The President/God Emperor of the Universe from Hell's infernal city of New Hades. After teaming up with former enemy Dane Vogel, they learn The Boss is going to be forced to marry Satan's daughter! The Saints must conquer the demon-infested city and save their friend before it is too late.
Volition has been working hand in hand with High Voltage Software to create this heroic epilogue to Saints Row IV. For the first time, players can play as their favorite Saints, Johnny Gat and Kinzie Kensington solo or cooperatively with a friend. This expansion features an open world city sandbox where players progress the story however they please: medaling on activities, completing diversions, exploring, conquering the city, finding hidden treasures, killing – the possibilities are sure to please! Our brand new city of New Hades features five distinct islands including a barren wasteland of an ancient war, a towering downtown for Hell's elite, and a crammed slums built for ultimate suffering. This new environment is specifically catered to one of our new supernatural powers: angelic flight! With angelic wings our Saints will terrorize the ranks of Hell's armies from ankle biting imps to massive Arch-Demons. Super powers are making a return with supernatural twists from demonic summons to deadly holy auras. A new arsenal of wicked weapons can be found as well as The 7 Legendary Deadly Weapons – each the twisted embodiment of one of the 7 deadly sins! Fans may also find some much needed closure for past friends (and enemies)!
Saints Row: Gat Out Of Hell is coming to PS3 and PS4 January 27, 2015 and will also be bundled with our new gen version: Saints Row IV: Re-Elected.