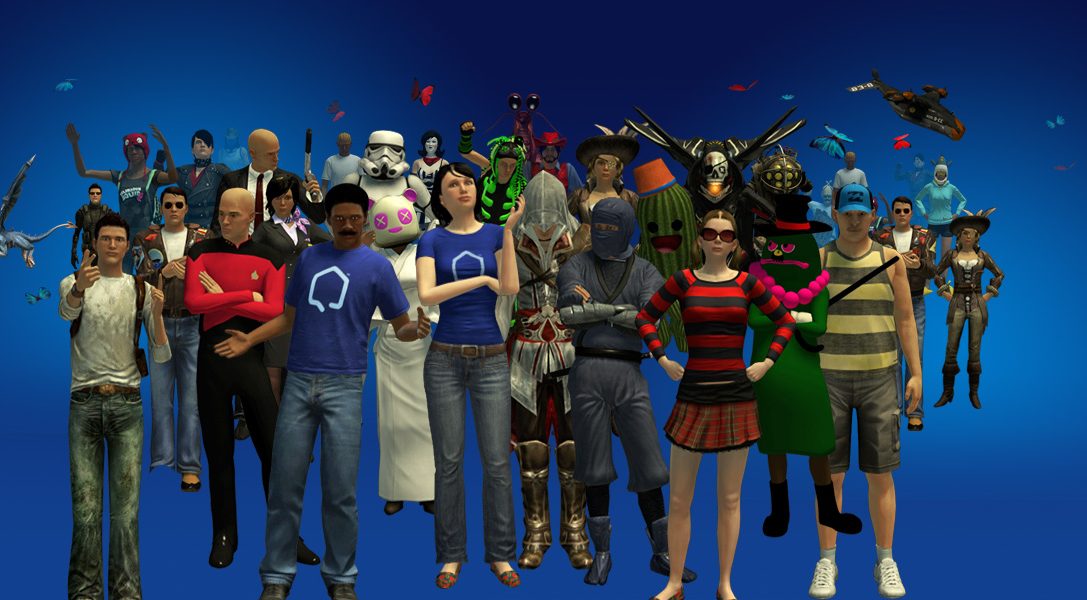 Find out what's new in Home Square this week
Hello and welcome to another PlayStation Home update. We have another packed release for you this week with everything from psychic powers to patriotic fridges. Only in PlayStation Home..!
Lockwood
Ever wanted to control people and make them to do strange things? Force them to do your bidding with our Mind Powers Interaction Packs by Iron Fusion. Imagine their surprise when you make your friend hover in mid-air, throw them around or attack them with mind bullets!
The Foal Holiday collection brings you colourful, vibrant accessories and clothing for the self-assured, uncompromising woman of today. When the sun is shining and you're on holiday it's the perfect time to style up your look and be fabulous!
Protect your keep, fight evil, and explore every dungeon… whatever your hero is doing you will want to be well protected. Ajagara Phoenix Guardians brings you suitable armour to defend yourself from any foe.
How better to guard your treasures than by transforming into a mythical Ajagara Golem? These ancient stone creatures are said to be demons conjured by dark forces to do their bidding…Your foes will flee with fright!
JAM Games
This week JAM Games brings a little razzle dazzle into PlayStation Home with their costumes fit for a Dancing Queen…and King! The time has come to trip the light fantastic, shine bright like a diamond, sparkle with success and bring on the bling!
In their final set of fridges JAM combine fun with colour and patriotism! Grab your flag fridge and add that touch of stylish fun into your kitchen area! Remember… Fashion passes, style remains, LIVING is the key!
Kovok
Summer is coming to an end but that's no reason to stop lounging by the poolside! This week we bring you more exciting Aqua designs!
Atom Republic
Atom Republic release a great value bundle containing 11 group animations: Line Dancing, Cossak jump-style, Bollywood, Disco Inferno, Chicken Dance, Zombie, Cha-Cha Step, Modern Country, Latin Routine, K-pop and Mexican Wave. Once you have equipped the item, up to 5 other users can join in by walking up to the disco ball and pressing X.
nDreams
nDreams present another of their fantastic "Best Of" bundles. This time they've brought some of their best animations together in one collection, including the Iconic Poses, Epic Moves, Street Moves, Mrs Z and K-Pop Dances.
VEEMEE
The VEEMEE hairdressers have been hard at work experimenting with new styles for your avatar! Rock one of the new Split Ends hairstyles with either plain, red or teal highlights.
From Billabong, make the most of the remaining sun with the Lite Hearted Bazaar Denim Shorts and Clouds Above Crop Tank Top for women. For men, hit the beach with the Xero Pro 2MM long Sleeve Spring Suit.
In the VEEMEE 3D Printer this week, pick up some cute new Split Ends haircuts or Mythical Stone Statues for your apartment. Choose from the mighty Cerberus, Proud Griffin, Terrifying Dragon and many more!
VEEMEE presents a new week of their Half Price Hot Deals! Have your friends round for dinner with the Personal Chef and Dining bundles or redecorate with the MyBathroom Dark Wood and Slate collections. Get yourself a new set of retro wheels with the Hot Rod bundle or become a legend with the Mythical Creature Avatars Bundle. All this and more with AT LEAST 50% off!
Don't forget PS Home will briefly be offline from 8.00am BST on Wednesday 27th August for routine maintenance.
That's all for now, see you in PlayStation Home!
Follow us on Twitter @PSHomeEU