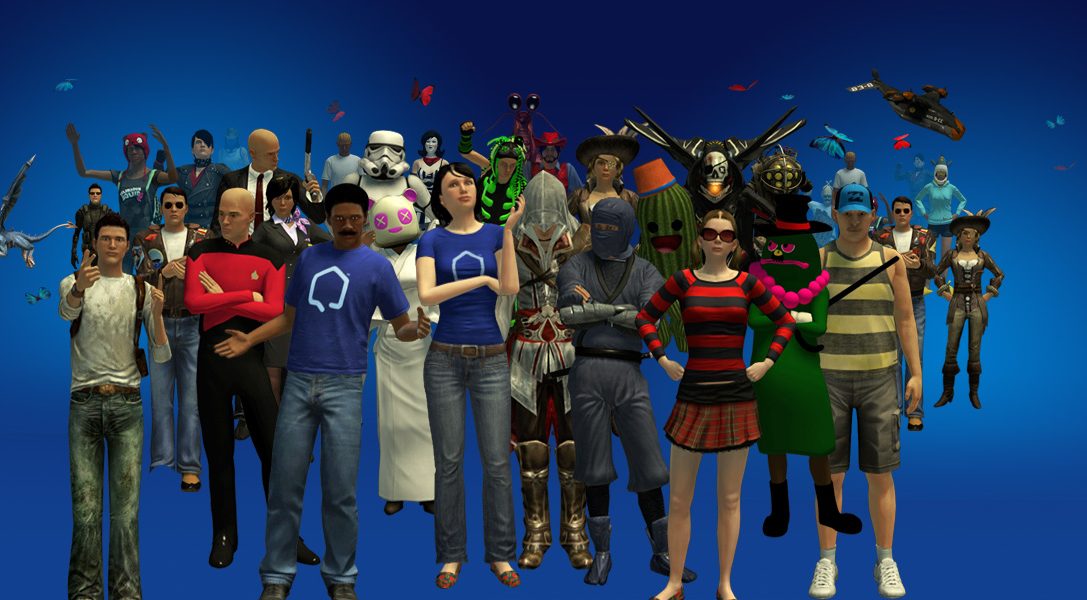 All the latest news from Home Square
Hello and welcome to another PlayStation Home update. This week we have a brand new physics-based puzzler from Atom Republic. For the full breakdown of this week's highlights, read on, dear Homies…!
Atom Republic
Atom Republic bring you Stack Genius, an innovative 3D puzzle game! Find your way out of 4 different mazes: lay down giant wooden blocks in the right places to get past obstacles and reach the goal… The game will reward you with new puzzle-solving blocks, and an ornamental trophy! You can even decorate your personal space with the Stack Genius blocks as furniture, and use the blocks creatively to make your own constructions!
If you liked the 2000s decade, you'll love Atom Republic's latest creation, bringing you 4 dance packs inspired by the Noughties era: the Modern Country dance, the Cha-cha step, the High School dance, and the 00s dance moves collection, itself consisting of Heel-Toe, "Pop, lock and drop it", and Krumping.
Lockwood
With bikinis, hairstyles and avatar interaction packs, Lockwood has got everything you need to hit the beach – Anime style! Lounge in an Anime Sailor Girl Bikini and Medusa Heroine hairstyle, or grab a friend for a great photo memento with the Anime Photobooth Interaction Packs. If you're too busy striking deals to frolic in the sea, the Figment Power Suits will fulfil all your business desires!
JAM Games
The LIVING Collection from JAM Games moves into the Living Room with a range of oh-so-stylish coffee tables, so sit back and relax as you see how the LIVING Collection compliments your apartment!
Whatever your preferred style, LIVING will provide the answer to your dining needs with these marvellous fridge sets; remember…Fashion passes, style remains, LIVING is the key!
Kovok
The party never ends in PlayStation Home and there is no better way to enjoy it than with these new Rave Party designs from Kovok!
nDreams
Loving the big, money-saving bundles that nDreams have been releasing this month? This week brings yet another amazing deal for you – the Best of nDreams 2014 LMO Bundle!
For one amazing price, this bundle includes the Cutie Pie Bubblegum, Blow A Kiss, Lollipop, Pop-up chairs, Cell Phones, Drinking, Fitness Pole, Rock Star Guitar, Elegant Walks, Choppers, Quad Bikes and many more!
VEEMEE
Re-live those fun childhood summers with these Water Gun locomotion items. There are three to pick from; the Hyper-Hydrator, the Drencher and the H2Obliterator.
Wish your rivals were out of the picture? Redefine "hostile takeover" with our new cybernetic upgrades today! Now you can replace your lower half with four badass mechanical Walker legs or a heavy-duty monocycle Wheel.
New Element items this week include The Russet Owens denim pants for men and the Long Sleeve Black Alps Sweater Dress for women Also check out the beautiful Daisy Dress and a new locomotion skateboard.
In the VEEMEE 3D Printer, hop into your swimwear and get down to the beach. Pick up giftable variations of the Water Guns and Cyber Corp locomotion items.
VEEMEE presents a new week of their Half Price Hot Deals – at least 50% off! A bit of a mixed batch this time, with the return of the Binx and VelociRacer locomotion items. Fancy something new on your feet? Why not check out the Footwear and Inverse Classic bundles.
Hellfire Games
Home Tycoon's biggest sale ever is back by popular demand! Save 40% on the newly-upgraded VIP Gold Coin Pack in the Home Tycoon Train Station and get more perks than ever before, including the Gold Car Companion and a permanent boost to 60 maximum workers!
New from Hellfire Games: Save 50% on all full-body outfits at the Giftinator 9000 this week, August 20-27. Score the Obsidian Ice Knight, Tech Camo Mech Suit, Infused Interweave Suit, Avatar Projection System and more for only half the price and 100% of the Karma!
Don't forget PS Home will briefly be offline from 8.00 a.m. BST on Wednesday 20th August for routine maintenance.
That's all for now, see you in PlayStation Home!
Follow us on Twitter @PSHomeEU