Full details on all the exclusive content included
Before Gamescom 2014 officially kicks-off tomorrow, I've got an exciting new edition of DRIVECLUB to reveal to you.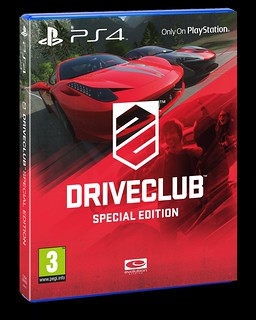 Landing in stores across Europe from 8th October 2014, the DRIVECLUB Special Edition comes with some unique and exclusive content to give you a head-start over the competition:
Foil treated, unique artwork housed in a high-quality card sleeve.
Instant access to five high performance cars, each with an exclusive livery design:

McLaren P1
Mercedes-Benz C63 AMG Coupe Black Series
Ferrari 458 Italia
Aston Martin v12 Vantage S
Alfa Romeo 4C

2 exclusive in-game livery packs to customise your car and club logo.
2 DRIVECLUB emblem vinyl stickers (one white, one red) – perfect for your laptop or games console.
DRIVECLUB and the DRIVECLUB Special Edition are both available for pre-order now at your local participating retailer (€69.99RRP). Pre-order today and find out more about DRIVECLUB here.
Keep an eye on PlayStation Blog and the DRIVECLUB Facebook and Twitter channels for more exciting info about the game at #PlayStationGC.