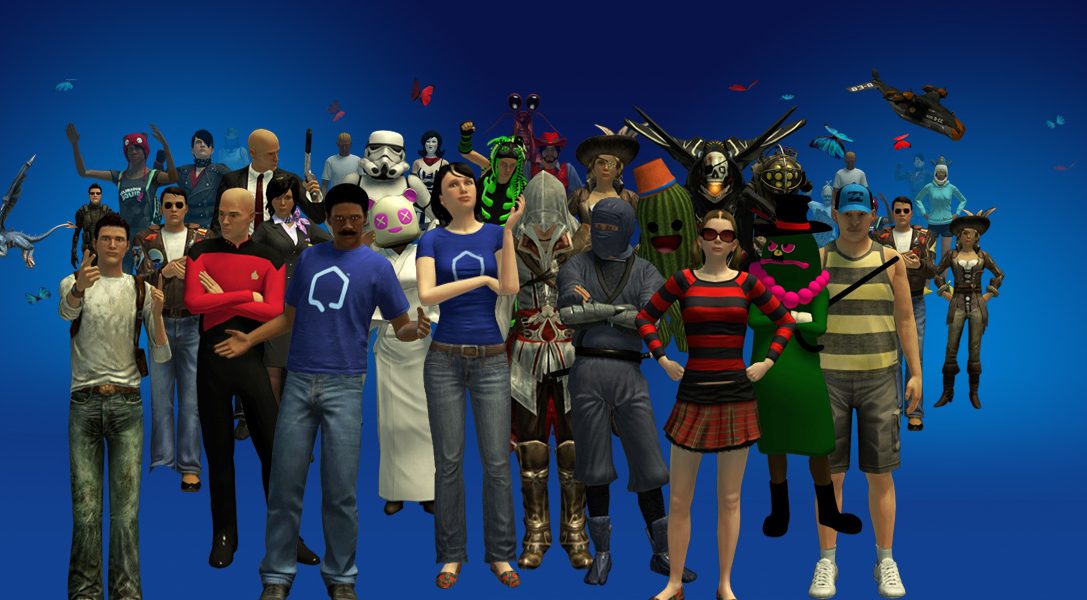 Find out what's new in Home Square this week
Hey and welcome to another PlayStation Home update. Feeling the heat? Well fear not, as Codeglue have some awesome summer dresses to make you look and feel effortlessly cool. Why not wear one at the KOVOK Rave Party, or if that sounds too energetic why not relax on a JAM Games settee? Still too hot for you? nDreams have come to the rescue with some clever drinks LMOs. They also have lots of other cool stuff like tablet, texting and selfie LMOs. Get your pout out! Oh and don't forget to make the most of the Casino sale! 40K chips are now HALF PRICE, if that isn't a good deal we don't know what is!
For all this and more, keep on reading and visit PS Home on the 30th July (after the publish update.)
nDreams
This week, nDreams are releasing a huge collection of motion-captured Lifestyle LMOs for PlayStation Home! Groom yourself with the beauty collection, including hairbrush, nail file, toothbrush and mascara LMOs. Catch up with friends with the technology collection, including tablet, texting and selfie LMOs. And get hydrated with the mineral water and coffee LMOs. Grab these new items individually, as part of the Beauty, Drinking and technology bundles, or even the Ultimate Bundle for a magnificent saving!
Codeglue and Dani are back with a fresh seasonal collection! Nothing is better than to feel free wearing "THE" perfect little dress. This is what you'll find with the brand new Dani's Summer Breeze collection. Available in long and short versions, these cute white little dresses have lovely coloured abstract designs on it. A must-have for every lady's wardrobe! Enjoy the summer everyone!
JAM Games
This week brings you more of the LIVING Collection from JAM Games! The time has come to sit back in mix and match luxury with these settee sets in a variety of colours! Effortlessly combining luxury with affordability the LIVING Collection fits well into any abode!
Whatever your preferred style, LIVING will provide the answer to your dining needs with these marvellous fridge sets; remember… fashion passes, style remains, LIVING is the key!
KOVOK
This week we bring you another goblin companion, Bakenrek Greasepan. With this goblin by your side you will never starve, he is famous in the Goblin world for being a master chef, his specialities are fried rat with frog eyes…tasty!?
It also happens to be party time! And there's no better way to do so than with these fun and sexy Rave Party designs. Rave Party, the new collection by Kovok.
Spunland
The 30th of July sees the release of new Spunland Commerce, 2 new Mega Bundles and updates to both Spunland and the Spunland Cottage – including new rewards!
In the new content corner we have the Uncle Spun Head (full body suit) replete with custom animation and the Spunland Rocket LMO for those with a need for… flight.
Spunland Mega Bundle 2 includes a host of Spun items including the Spunny Farthing LMO, the Happy Spunling Full body suits and much much more (12 items+), whilst Mega Bundle 3 contains 15 items, the centre piece of which is The Spunland Cottage! (Full details on the Spunland website).
Updates to Spunland & The Spunland Cottage include bug fixes, new functionality, secrets and 6 Spunner Posters to find hidden between both. Find all six posters to receive an extra reward in the Cottage!
Lockwood
Make a splash with Lockwood's new Fairytale Mermaid outfit. The good news is you don't have to switch your legs for an inconvenient fish tail. This slinky swimwear takes the mermaid staples of shell motifs and conch crowns and runs with it! Choose between luscious land lubber legs and a flowing floor-length skirt to create the illusion of a tail without any of the drawbacks!
Iron Fusion is back with a bang with the Flow Motion Animation Pack. You'll be dodging bullets and defying gravity in no time with these futuristic moves.
Lockwood are also expanding their Anime range with a selection of hard-edged J-Metal clothes. There's the spikes and leather you'd expect from Western metal, but that familiar look is given an Eastern twist with futuristic cuts and flashes of bright colour.
Digital Leisure
And last but not least, Season 7 of The Casino is under way with everyone climbing the leaderboards quickly. The team at Digital Leisure is making this season a little more interesting with a sale on their largest chip package. For one week starting July 30th you'll be able to get the 40k chip bundle at 50% of the regular price. If you play your cards right this sale could be your ticket to hitting the jackpot! Head over to The Casino and deal yourself in.
Don't forget PS Home will briefly be offline from 8.00am BST on Wednesday 30th July for routine maintenance. That's all for now, see you in PlayStation Home!
Follow us on Twitter @PSHomeEU