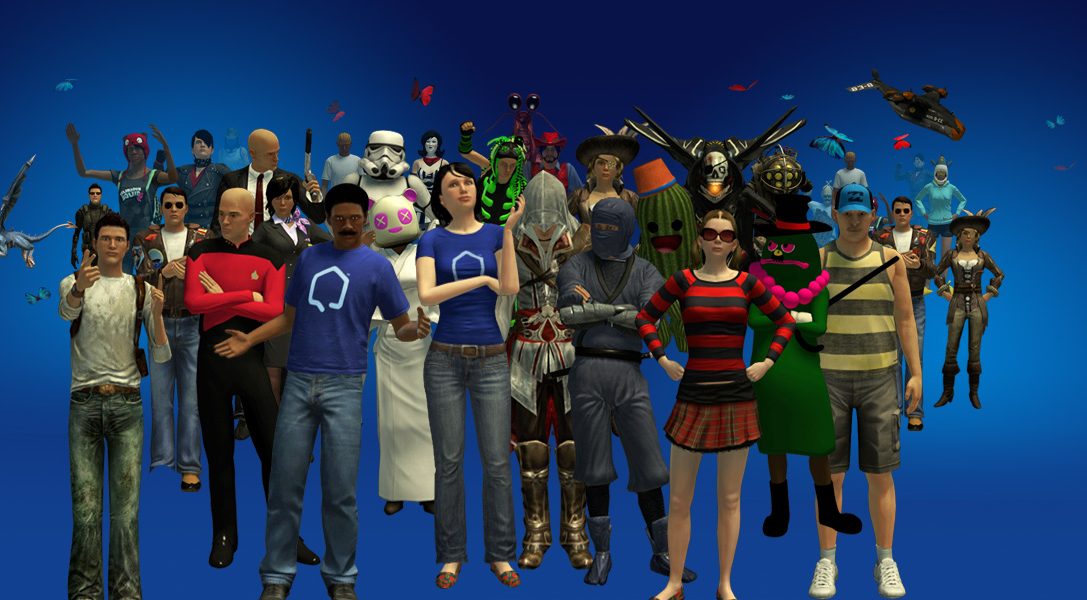 Find out what's new in Home Square this week
Hello everybody and welcome to another PlayStation Home update. The festival season is upon us, so why not join in with the new range of Festival clothing from Lockwood? But if festival clothing is not your style, then why not check out the Emote clothing from VEEMEE to help express yourself? We also have some cool group and two-player animation packs for you with awesome dances and some comical slapstick fighting ones too.
For all this and more, keep on reading and visit PS Home on the 23th July (after the publish update.)
Lockwood
With Foal's Festival clothing, ladies can channel Kate Moss and Sienna Miller in a cute fedora and sensible slouch boots, while guys unleash the rock star inside in retro sunglasses and bright plimsolls.
If you're an Awkward Annie or a Self-Conscious Samuel, you'll be able to propose to the object of your desire with the panache they deserve with the Romantic Gestures Pack.
Drey have some fresh, fashionable swimwear ideal for the sun lounger or the sea, offering Bond girl beauty that can be mixed and matched with daywear to suit the occasion.
If you're one of the few who haven't got in on the luxurious phenomenon that is the Dream Universe, now's the perfect time as the apartments and clubhouses are available in value packs for even bigger savings!
Granzella
GZ Gift is even more packed full of presents with the addition of over 50 new items you can send to your friends! Pet cats, wrist watches, and even triple scoop ice cream…there's something for everyone! In addition, Gift Coins have been added to GZ Gift, which can be used in place of GZ Tickets to purchase gifts. Send a friend some Gift Coins, and they can share the wealth by sending out even more gifts to their friends! So pick up GZ Gift FREE in the store and start gifting your friends today!
Hellfire
Lounge in style in 12 new personal space versions of the popular Throne of Royals and Lawn Chair series from Hellfire Games! Enjoy five colorful editions of the Throne of Royals line, plus seven discounted Lawn Chair items for your favorite personal space. Available now at the Giftinator 9000!
nDreams
A new collection of motion-captured dance animations have arrived for you – get ready for the Smooth Moves Dance Packs!
Show off your smooth and sultry side with these Latin, Salsa and Hula inspired dance moves! Collect all 4 dance bundles, or the ultimate bundle for super-money-saving value!
VEEMEE
Relive your childhood with these new Plastic Soldier toy outfits and locomotions from VEEMEE. The full body outfits are available in Modern or Classic stylings and both styles are available for men or women. There are four locomotions that come with a weapon and a plastic disc for your feet! For those that like a little more oomph there is also the Crouching Bazooka for taking out armoured opponents.
Do you find the TV screen limits the emotions you can offer the many friendly faces in PlayStation Home? Not satisfied that a :D or :S really gets the message across? Then VEEMEE has the thing for you! EMOTE! Heads and Suits! Express how you really feel with these comical emoticon head and outfit clothing items. There are a number of expressions to choose from including Angry, Crying, Laughing, with many more in future 3D Printer updates. Express yourself with the Emote! Suits and Heads.
VEEMEE are also excited to bring you Group Interaction Packs! There are three group interactions available; play fight with your friends using this two player Comical Slapstick Fighting animation, or instigate a flash mob in the middle of Acorn Meadows Park with a couple of eight player Bollywood Dances!
Check out the massive selection of new Element items this week. For the stylish Breton-look, combine the Navy Florence Maxi Skirt with the Navy Lagoon Tank for women. For men, the Black Fest Fender Tee and the Camo Chopper Shorts offers the perfect summer look. There is also a new locomotion skateboard; the Desert Oasis Deck with Backside Nollie Shuvit 360 trick.
Here is a video of all the VEEMEE items releasing this week:
KOVOK
Summer is here, so is AQUA! It's time to enjoy the heat and have a swim in the most fashionable way, the AQUA way!
Don't forget PS Home will briefly be offline from 8.00am BST on Wednesday 23th July for routine maintenance. That's all for now, see you in PlayStation Home!
Follow us on Twitter @PSHomeEU