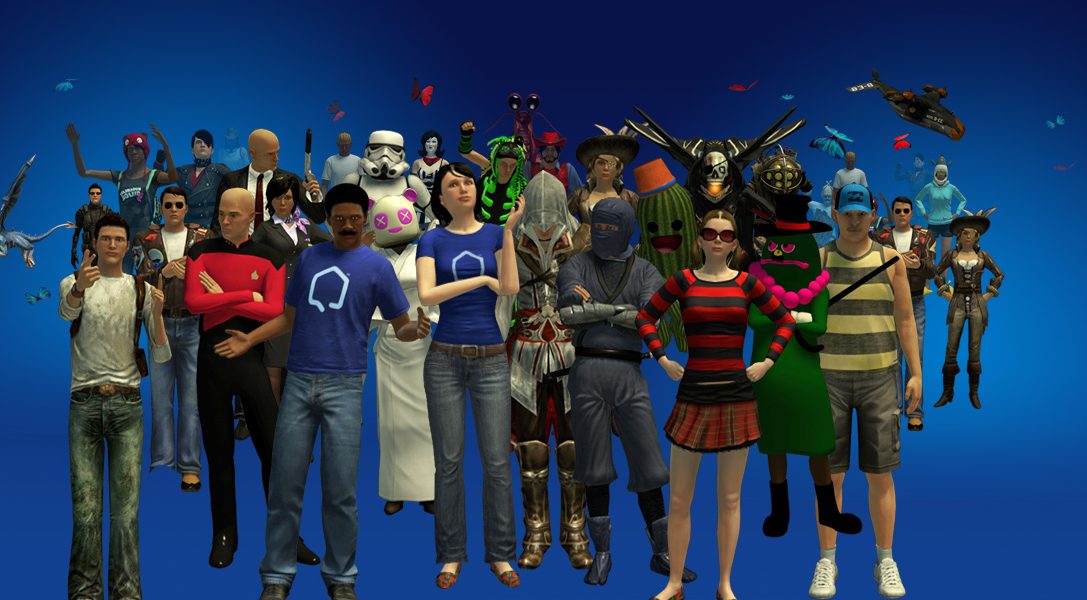 Find out what's new in Home Square this week
Hello everybody and welcome to another PlayStation Home update. This week we have a FREE modular Boutique apartment from nDreams, Home Tycoon receives a Community Feature Update, JAM Games' release their final Tour Bus, and much more. Here's a summary of these and other top updates which will go live after Wednesday's maintenance.
Boutique Apartment
nDreams are releasing a FREE apartment for visitors of Aurora and Home Square! The Boutique Apartment is the perfect place for the suave and sexy socialites of PlayStation Home to hang out and have fun.
The free apartment gives you access to the lobby and the library and you can expand your apartment by purchasing the extra rooms: bathroom, bedroom, kitchen, lounge and terrace. Unlock all rooms or purchase the clubhouse to receive a set of luxurious reward items!
Aurora 1.85
As well as Aurora having a shiny new look, the level cap has been increased to 150 which means new rewards, including a brand new apartment! There are also two new awards to be won in the Trap-O-Matic mini-game. So what are you waiting for? Dive into Aurora 1.85, earn rewards, and have some fun!
Home Tycoon
Home Tycoon gets a FREE upgrade this week with the new Community Feature Update! This fan-requested update brings more VIP perks, new features, and gameplay improvements — including a new VIP Pack with the Gold Car Companion and a permanent boost to 60 maximum Workers. Play for free at the Home Tycoon Train Station!
Granzella
GZ Gift is even more packed full of presents with the addition of over 50 new items you can send to your friends! Pet cats, wrist watches, and even triple scoop ice cream…there's something for everyone!
In addition, Gift Coins have been added to GZ Gift, which can be used in place of GZ Tickets to purchase gifts. Send a friend some Gift Coins, and they can share the wealth by sending out even more gifts to their friends! Maybe they'll even send you something as a thank you…
JAM Games
This week JAM Games brings you their final tour bus. Show them you've reached the top and flaunt your celebrity style as if through rose tinted spectacles! This tour bus truly is a Pink Paradise! Which Tour Bus suits you best? The choice is yours; just remember 'What Goes On Tour…. Stays On Tour!'
This week's release also brings you the 'Animal Fridges' to the Living collection – fun, cute, and stylish to add that quirky finishing touch to any kitchen space. More styles to come in the next few weeks! Remember – Fashion passes, style remains, LIVING is the key!
Lockwood
Figment has a day at the races in mind with tailcoats for the gentlemen and A-Line dresses paired with statement hats for the ladies.
To fulfil your inner shopaholic's needs, Lockwood's other big ranges, Secrets and Figment, will help you turn heads without working up a sweat. Secrets has a selection of new form-fitting bodycon dresses that are on the scale from sleek to wowza!
Kovok
This week Kovok gets animal again with another set of locomotion items – the Ostrich and the Pig! Traveling at maximum speed has never been so fun!
The cutest clothing collection has arrived to PlayStation Home with Kawaii! Pop and Asian inspired outfits from Kovok will make you feel like a living doll!
Billabong
The hi-low hem trend takes on an edgier form with the dramatic look of the You're Smitten dress. It's a hot mix of emotions for the Indigo Luv dress with its 90s baby doll silhouette and 60s tie-dye print. You'll agree, this look is fresh and futuristic.
Split Ends and 3D Printer
The ladies can rock out with the Riot or cute it up with the Sleek Pixie. For men, slick it up Tunnel Snake style with the Slick Buzz, or let it grow out with Scruffy. Variations of these hairstyles are available from the 3D Printer, along with the Sad Head and Grin Outfit plus a range of Strut leggings.
Half Price Hot Deals
Things are getting mythical this week with the Centaurs and Evil Shadows and Centaurs making their way into the Sale. Check out the Sales icon in the VEEMEE store each week for great deals; all AT LEAST 50% off!
Don't forget PS Home will briefly be offline from 8.00am BST on Wednesday 16th July for routine maintenance. That's all for now, see you in PlayStation Home!
Follow us on Twitter @PSHomeEU