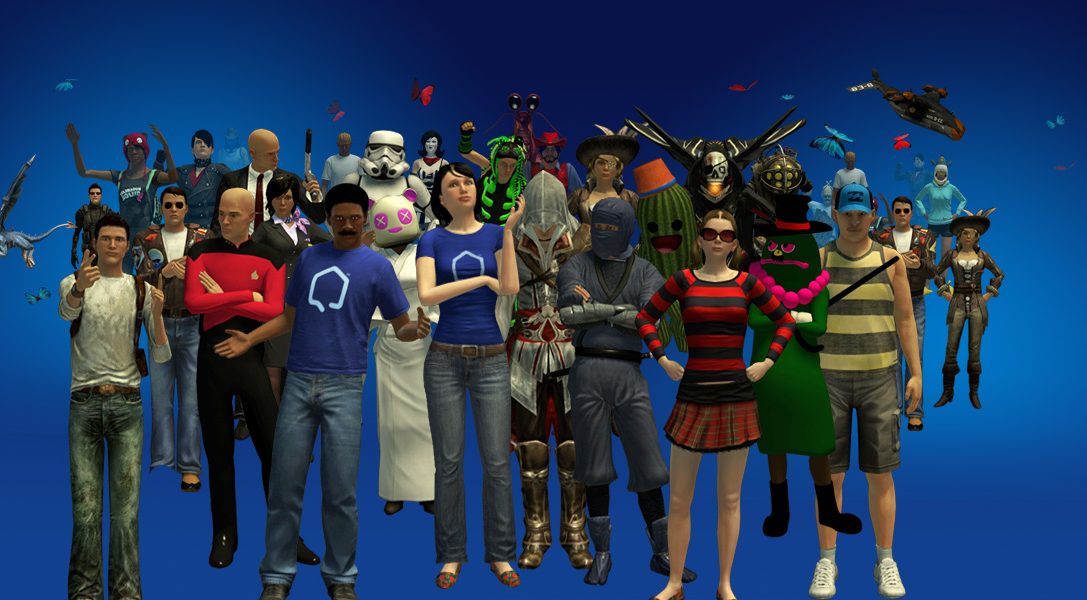 Find out what's new in Home Square this week
Hello everybody and welcome to another PlayStation Home update. This week we have some fantastic apartments for you, Granzella's 'My Secrect Villa on a Blue Whale' is really something special and JAM Game's 'Rock Reveller Tour Bus' is so rock and roll it will really impress the groupies. However if you need a new ride then don't forget to check out VEEMEE's Supercar LMOs and own that dream car you have always wanted. Not into cars? Then don't worry as Lockwood has a Phoenix LMO for you to set PlayStation Home ablaze.
For all this and more, keep on reading and visit PS Home on the 9th July (after the publish update.)
Granzella
A whale drifts gracefully through the great deep, its back lush with life like a tropical dream world. Dolphins swim in tandem as the blue sea stretches in all directions. Come spend a moment in this peaceful paradise. Change the scenery around your whale while visiting tropical countries, the Mediterranean, and even the northern fjords. It's up to you where you steer the gentle giant as you enjoy this relaxing cruise. There are six rewards that you can get from opening treasure chests or receive from the sparkling dolphins that show up from time to time.
JAM Games
As Ralph Waldo Emerson said 'Life is a journey not a destination!' So climb out that driver's seat and take full advantage of the freedoms a virtual world provides! Slip the bus into cruise control and join the party at full speed! JAM Games brings you the Rock Reveller Tour Bus, the ultimate in celebrity rock and glamour, tour the countryside as a rock star in this bus fitted out in reds and blacks!
Kovok
The first member of the Goblin clan is here! Nienrek Fizblade! A soldier, a warrior, a champion, and now a companion! You will never be in danger with him by your side; make him yours and start collecting these goblins to reunite the whole pack!
Kovok also introduce you to something very special – Bellver, an exclusive clothing brand with designs built in the best quality and style. Dress with excellence, dress with Bellver.
nDreams
A new dance collection which will allow you to show off some great technical moves – the motion-captured Street Skills Dance Packs! In this latest release there are 4 awesome dance styles to collect: The C-Walk, Drum 'n' Bass, Break-Dance and Body Popping – guaranteed to make heads turn with their energising, head-spinning, back-bending style!
Lockwood
Ajagara's scholars have long been mystified by the Phoenixes of Simorgh volcano. It seems they are more incredible than anyone could ever have imagined.
Anime fans just can't get enough of nekomimi (cat ears)! Fox ears and tails are popular too, and we've got you covered with both. So if you're feline foxy (geddit?!) get to the store and get your nekomimi on!
Foal have a new range of Summery bikinis in bold prints and bright colours. Rainbow stripes to multicoloured brights – they'll look even better topped off with a cute pair of ears!
Also this week, a Mexican Wave Group Animation, plus Drey get their sleuth on with outfits inspired by Modern Detectives. Mix and match with the Drey Noir range to get the best of both worlds.
VEEMEE
VEEMEE releases a fleet of Supercar locomotions for you. The 'Sidewinder' is the latest supercar from Saragat, the 'Leopard' is the pinnacle of precision automotive engineering from 'Laaksonen' and the Alpha is the height of style and refinement from Attlee. All of the supercars are available individually or as part of four Collection bundles.
Also check out the latest Element fashions available. The 'Multi Find Yourself Tank' for women is a Jac Vanek collaboration tie dye jersey muscle tank, and works perfectly with the Jac Vanek collaboration Peach Existence Pant with all-over print and wide legs. Complete the look with the Seiba collaboration Multi coloured Friendship Bracelets and the Push Triptic Center skateboard locomotion.
Finally get down to your local 3D Printer this week as new items have popped up and are ready for purchase! Express your true feelings with the EMOTE! outfits and head items. Strut that stuff with new Candy Corn and Camo leggings. Finally cruise the streets in style with these awesome new Supercar locomotions! Pink it up with the Attlee Alpha Pink or perhaps defend the law with the Laaksonen Leopard Enforcer.
For all of VEEMEE's content this week, check out this video:
Don't forget PS Home will briefly be offline from 8.00am BST on Wednesday 9th July for routine maintenance. That's all for now, see you in PlayStation Home!
Follow us on Twitter @PSHomeEU