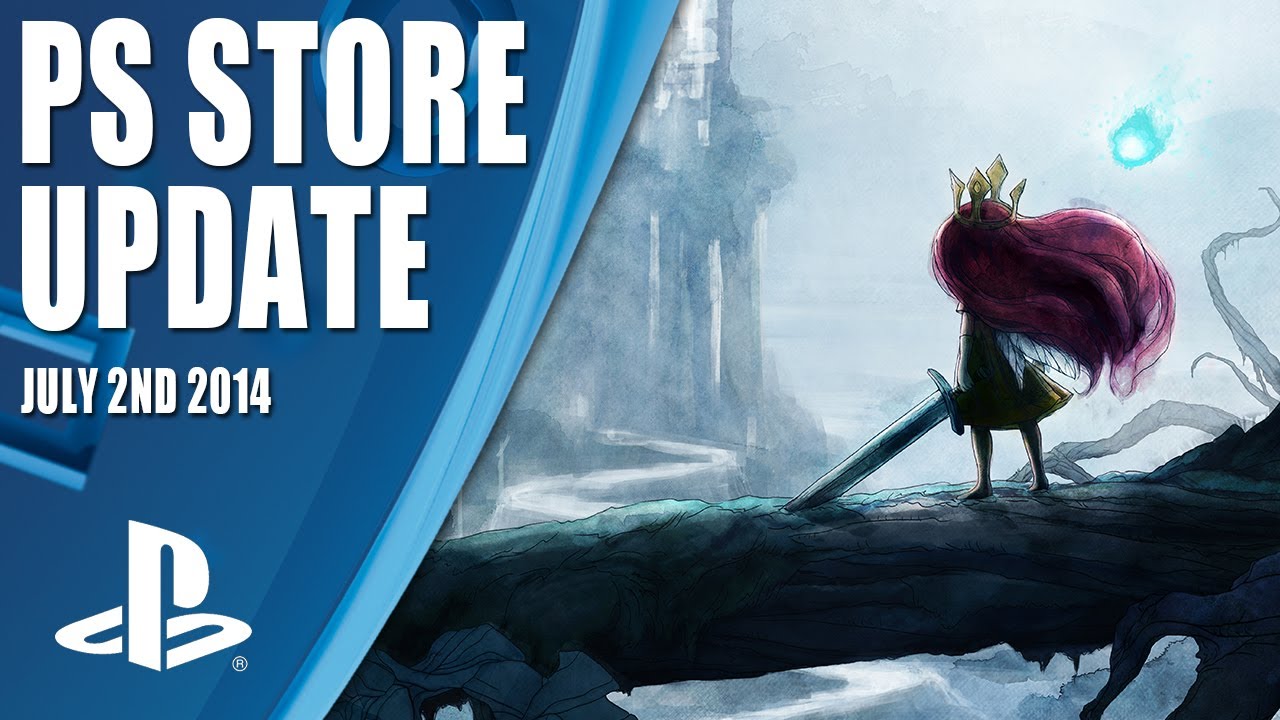 And discounts galore, including deal of the week Wolfenstein: The New Order
Taking a leaf from Capcom's book of highly descriptive titles, last year's hugely popular Guacamelee! receives the Super Turbo Championship Edition treatment on PS4 this week, chucking in new levels and a new boss among myriad other enhancements. My favourite addition? The homage to Super SFII Turbo!
Over on PS Vita, Ubisoft's eyeball-pleasing Child of Light is also available from today. Just as with the PS3 and PS4 versions, the kingdom of Lemuria has had its share of troubles thanks to the Black Queen. As Aurora, it's left upon you to sort this small dilemma out.
Also available today; after a small delay Atelier Rorona Plus for PS3 and PS Vita, new DLC for Watch_Dogs, Ratchet & Clank Trilogy on PS Vita, a fresh batch of PS Plus games, and tons of discounts in our Big in Japan promotion!
PlayStation Plus
TowerFall Ascension (PS4) – 100% discount
Strider (PS4) – 100% discount
Dead Space 3 (PS3) – 100% discount
Vessel (PS3) – 100% discount
LEGO Batman 2: DC Super Heroes (Vita) – 100% discount
Doki Doki Universe (Cross-Buy, PS4/PS3/Vita) – 100% discount
Guacamelee! Championship Edition – 10% off for one week
Guacamelee! Championship Edition Upgrade– 10% off for one week
PlayStation 4

Guacamelee! Super Turbo Championship Edition
Price: £11.49/€13.99/AU$20.95

Guacamelee! Super Turbo Championship Edition – PS4™ Upgrade
Price: £3.29/€3.99/AU$5.95

Tvigle (app)
Price: Free
Russia only
PlayStation 3

Atelier Rorona Plus with Bonus
Price: £39.99/€49.99/AU$69.95

JoJo's Bizarre Adventure All-Star Battle – Prestige Edition
Price: £54.99/€64.99/AU$94.95

Sacra Terra: Kiss of Death
Price: £9.49/€11.99/AU$17.95
PlayStation Vita
Atelier Rorona Plus with 3 DLCs
Price: £34.99/€39.99/AU$54.95

Child of Light
Price: £11.99/€14.99/AU$22.95

Child of Light Complete Edition
Price: £19.99/€24.99/AU$39.95

MotoGP 14 (available from 4th July)
Price: £34.99/€39.99/AU$54.95

The Ratchet & Clank Trilogy (Cross-Buy PS3/Vita)(available from 4th July in UK/IRE)
Price: £19.99/€24.99/AU$32.95

Ratchet & Clank (PSV) (Cross-Buy PS3/Vita) (available from 4th July in UK/IRE)
Price: £7.99/€9.99/AU$14.95

Ratchet & Clank 2 (PSV) (Cross-Buy PS3/Vita) (available from 4th July in UK/IRE)
Price: £7.99/€9.99/AU$14.95

Ratchet & Clank 3 (PSV) (Cross-Buy PS3/Vita) (available from 4th July in UK/IRE)
Price: £7.99/€9.99/AU$14.95
PlayStation Mobile
Blinkin Blobs (£0.79/€0.99/AU$1.75)
ComicStation (£1.59/€1.99/AU$3.45)
Quiet Christmas (£0.79/€0.99/AU$1.75)
Vacation Vexation (£1.59/€1.99/AU$3.45)
Fractopia (£1.59/€1.99/AU$3.45)
Ascent of Kings (£0.79/€0.99/AU$1.75)
Kung Fu FIGHT! (£1.19/€1.49/AU$2.45)
Quiet, Please! (£0.79/€0.99/AU$1.75)
MapCache Offline Maps (£1.59/€1.99/AU$3.45)
ARP-BOX (£0.79/€0.99/AU$1.75)
Blue Beacon (£2.19/€2.79/AU$4.75)
Trolly Fish (£1.59/€1.99/AU$3.45)
PS4 DLC
Call of Duty: Ghosts (available from 3rd July)
Call of Duty: Ghosts Invasion (£11.59/€14.49/AU$19.95)
Flags of the World Pack (£2.49/€2.99/AU$4.45)
Squad Pack – Resistance (£2.49/€2.99/AU$4.45)
Killzone ShadowFall
Bastille Day Skin Pack (£1.69/€1.99/AU$2.95)
Rainbow Knight Skin Pack (£1.69/€1.99/AU$2.95)
MotoGP 14
MotoGP 14 Season Pass (£6.49/€7.99/AU$11.95)
MotoGP 14 Laguna Seca Redbull US Grand Prix (£3.29/€3.99/AU$5.95)
MotoGP 14 Moto2 and Moto3 (Free)
Watch_Dogs
Access Granted Pack (£5.79/€6.99/AU$10.45)
Not available in Kuwait, Qatar, Saudi Arabia, UAE
War Thunder
War Thunder – Plus Free Starter Pack (Free)
War Thunder – SdKfz 140/1 and T-26E Starter Pack (£7.99/€9.99/AU$14.95)
War Thunder – Advanced Pack – Shielded T-34E (£19.99/€24.99/AU$37.95)
Not available in Austria, Belgium, Denmark, Finland, France, Germany, Italy, Luxembourg, Netherlands, Norway, Poland, Russia, Sweden, Switzerland, Turkey, Ukraine
PS3 DLC
ACE COMBAT INFINITY Launch Commemoration Pack (Free)
Atelier Rorona Plus – BGM Package (Free)
Call of Duty: Ghosts (available from 3rd July)
Call of Duty: Ghosts Invasion (£11.59/€14.49/AU$19.95)
Flags of the World Pack (£2.49/€2.99/AU$4.45)
Squad Pack – Resistance (£2.49/€2.99/AU$4.45)
Dead or Alive 5 Ultimate
DOA5U Character: Alpha-152 + Dead or Alive 2 Music (£1.69/€1.99/AU$2.95)
DOA5U: Core Fighters Summer Sale 25 Char + Costumes (£19.99/€24.99/AU$37.95)
DOA5U: Core Fighters Summer Sale 25 Character Set (£11.99/€14.99/AU$22.95)
Dead or Alive 5 Ultimate Team Ninja Recommendation Set (£4.49/€5.49/AU$8.25)
Dead or Alive 5 Ultimate Story Mode + Dead or Alive 2 Music (£5.79/€6.99/AU$10.45)
DOA5U Core Fighters Top Costume Picks (£11.99/€14.99/AU$22.95)
Dead or Alive 5 Ultimate – Costume Catalog 10 (Free)
Dead or Alive 5 Ultimate Team USA Character Set (£3.99/€4.99/AU$7.55)
Dead or Alive 5 Ultimate Lisa Top Costume Picks (£3.99/€4.99/AU$7.55)
Dead or Alive 5 Ultimate Hitomi Top Costume Picks (£5.79/€6.99/AU$10.45)
Dead or Alive 5 Ultimate Tina Top Costume Picks (£4.99/€5.99/AU$8.95)
Not available in Russia
DUST 514: Counter-Recon Pack (£15.99/€19.99/AU$29.95)
LittleBigPlanet 2
Sacktue of Liberty Costume (Free)
MotoGP 14
MotoGP 14 Season Pass (£6.49/€7.99/AU$11.95)
MotoGP 14 Laguna Seca Redbull US Grand Prix (£3.29/€3.99/AU$5.95)
MotoGP 14 Moto2 and Moto3 (Free)
Mugen Souls Z
Mugen Souls Z Cacophony! Hyper Weapon Pack 10 (£1.69/€1.99/AU$2.95)
Mugen Souls Z Overwhelming G Up Fever Pack 1 (£1.69/€1.99/AU$2.95)
Mugen Souls Z Overwhelming Ticket Set 1 (£0.79/€0.99/AU$1.45)
Mugen Souls Z Ultimate God Supply Pack 4 (Free)
Mugen Souls Z Jolly Coordination (Free)
Rocksmith 2014
'Devil in a Midnight Mass' by Billy Talent (£2.49/€2.99/AU$4.55)
'Fallen Leaves' by Billy Talent (£2.49/€2.99/AU$4.55)
'Red Flag' by Billy Talent (£2.49/€2.99/AU$4.55)
'Try Honesty' by Billy Talent (£2.49/€2.99/AU$4.55)
'Viking Death March' by Billy Talent (£2.49/€2.99/AU$4.55)
Watch_Dogs
Access Granted Pack (£5.79/€6.99/AU$10.45)
Not available in Kuwait, Qatar, Saudi Arabia, UAE
PS Vita DLC
Atelier Rorona Plus – BGM Package (Free)
Child of Light
Child of Light – The Golem's Plight Pack
Child of Light – Light Pack (£1.69/€1.99/AU$2.95)
Child of Light – Dark Pack (£1.69/€1.99/AU$2.95)
Child of Light – Rough Oculi Pack (£1.69/€1.99/AU$2.95)
Child of Light – Tumbled Oculi Pack (£1.69/€1.99/AU$2.95)
Child of Light – Faceted Oculi Pack (£2.49/€2.99/AU$4.55)
Child of Light – Stardust Pack (£2.49/€2.99/AU$4.55)
LittleBigPlanet PS Vita
Sacktue of Liberty Costume (Free)
MotoGP 14
MotoGP 14 Season Pass (£6.49/€7.99/AU$11.95)
MotoGP 14 Laguna Seca Redbull US Grand Prix (£3.29/€3.99/AU$5.95)
MotoGP 14 Moto2 and Moto3 (Free)
PlayStation Vita Pets
Sunflower Costume (Free)
Availability update
Chaos Code (PS3) – Now available in Australia, New Zealand, Russia, Ukraine
Shin Megami Tensei: Digital Devil Saga 2 (PS3) – Now available in Belgium, Denmark, Finland, Netherlands, Norway, Poland, Russia, Sweden, Ukraine
Deal of the week
Wolfenstein: The New Order (PS3) – Was €59.99/ £39.99/$79.95 now €39.99/ £24.99/ $49.95
R-Type Dimensions (PS3) – Was £7.99/€9.99/AU$14.95, now £4.29/€5.19/AU$7.85 (Additional 10% PS Plus discount)
DC Universe Online – Sons of Trigon (8) (PS3/PS4)- Was £7.99/€9.99/AU$14.95, now £5.79/€6.99/AU$10.45
DC Universe Online – The Battle for Earth (PS3/PS4) – Was £7.99/€9.99/AU$14.95, now £5.79/€6.99/AU$10.45
Soul Sacrifice – Was £29.99/€34.99/AU$47.95, now £14.99/€19.99/AU$24.95