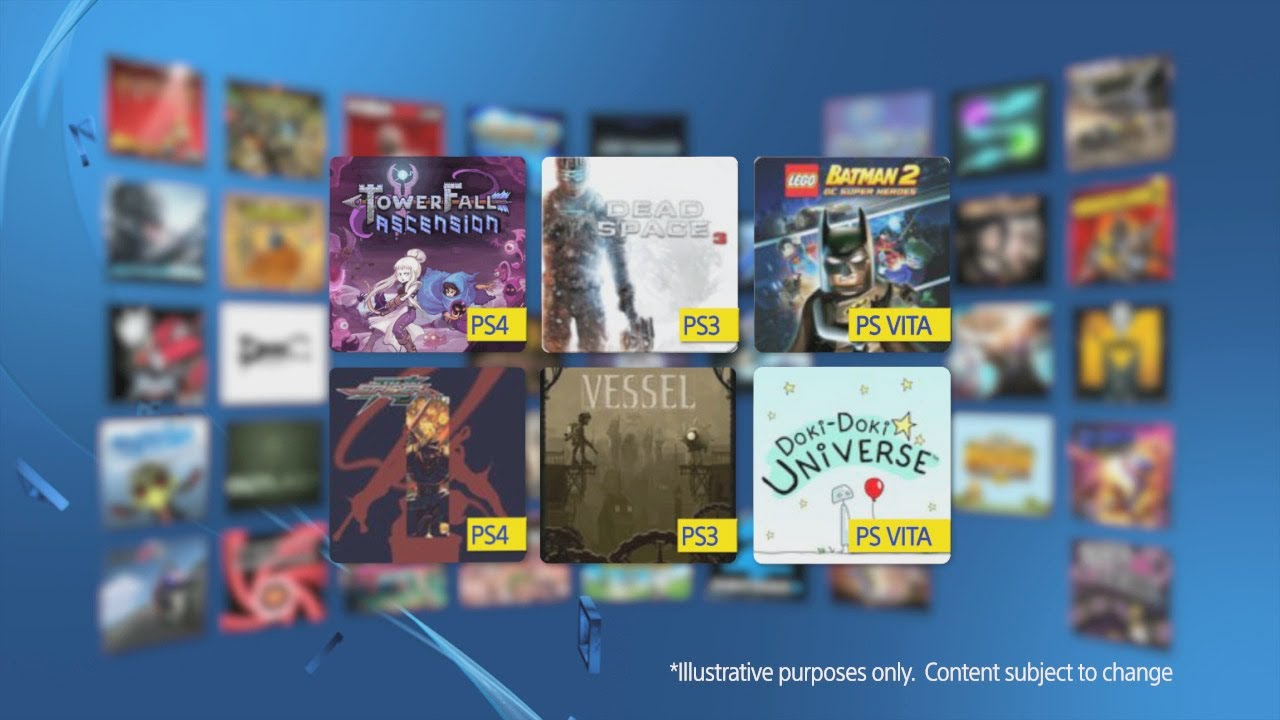 Doki Doki Universe, Vessel and LEGO Batman 2: DC Superheroes also join the service
Hi everyone. I hope you've recovered from the excitement of E3 and are ready for an epic July. Read on to find out what you'll be enjoying in PlayStation Plus.
New on PlayStation 4
First up this month on PS4 comes frenetic platformer TowerFall Ascension, which launched to huge acclaim earlier this year, picking up 9/10 from Eurogamer and 8.9 from IGN!
In the land of TowerFall you engage the noble and brutal tradition of bow-and-arrow combat either on your own or with up to four friends for hilarious, intense versus matches. TowerFall Ascension is the 'director's cut' version of the game, with 50 new versus levels, four more playable archers, an all­-new 12-player cooperative Quest mode and six additional power­-ups.
Next up on PS, we've teamed up with our friends at Capcom to bring you their hugely entertaining action title Strider! The game tells the story of Hiryu, the youngest ever "Super A" ranked agent of an elite corps known as the Striders. Strider Hiryu receives orders to assassinate Grandmaster Meio, supreme dictator of Earth, who has plunged humanity into a dystopian dark age…
New on PlayStation 3
On PS3 this month it's time to return to the depths of space in Dead Space 3. Fortunately this time you are not alone as Isaac Clarke and merciless soldier John Carver go on a journey across space to discover the source of the Necromorph outbreak. Facing never-more-deadly evolved enemies, the unlikely pair must work together to save mankind from extinction.
Next up on PS3 is 2D action puzzler Vessel. Arkwright, inventor of the world famous Fluro (mechanized-fluid automaton) is on a quest to finish his next great invention – The Device – that will alter existence in unimaginable ways. However, Fluros begin to mutate and run amok, and it's up to Arkwright to understand (and exploit) these strange evolutions.
New on PS Vita
LEGO Batman 2: DC Superheroes is your first offering this month on PS Vita. Can you help Batman save Gotham City from an array of fearsome villains including Penguin, Riddler, Harley Quinn and the Joker? Don't fear though, this time you are not alone as Batman has drafted in Superman, Wonder Woman and Green Lantern to lend a hand!
Your final offering for this month is the unique and charming Doki Doki Universe from HumaNature Studios. You will travel to uniquely themed planets and asteroids to meet some of the most bizarre characters in an effort to learn more about them, and hopefully, learn a little bit more about your character along the way. What's more, it's Cross Play so you can enjoy this one on PS3, PS4 or PS Vita.
In summary
Leaving PS Plus:
2nd July: Pixeljunk Shooter Ultimate
2nd July: Trine 2: The Complete Story
2nd July: NBA 2K14
2nd July: Sly Cooper Thieves in Time
2nd July: Puppeteer
2nd July: Lone Survivor
2nd July: Dragon's Crown
2nd July: Surge Deluxe
Entering PS Plus:
2nd July: TowerFall Ascension
2nd July: Strider
2nd July: Dead Space 3
2nd July: Vessel
2nd July: LEGO Batman 2: DC Superheroes
2nd July: Doki Doki Universe
Don't miss out! Make sure you add any of the games scheduled to leave the service to your download list now to ensure you get to play them!
We are always listening to our members to ensure we continually improve the PS Plus service! Now is your chance to give us feedback on the content so we can find out what you loved, liked, and didn't like so much. Simply take part in our content survey and share your thoughts on the June 2014 games.
Don't forget to also visit the PlayStation forums where each month we have challenges and competitions focused on the games in the Plus service for you to enjoy and compete against other Plus members.
Not a PlayStation Plus member? Then join today from just £5.49/€6.99 per month. To find out more, visit our PlayStation Plus site.
Remember, if you've not got access to your PS4, PS3 or PS Vita then you can also buy through our online store.