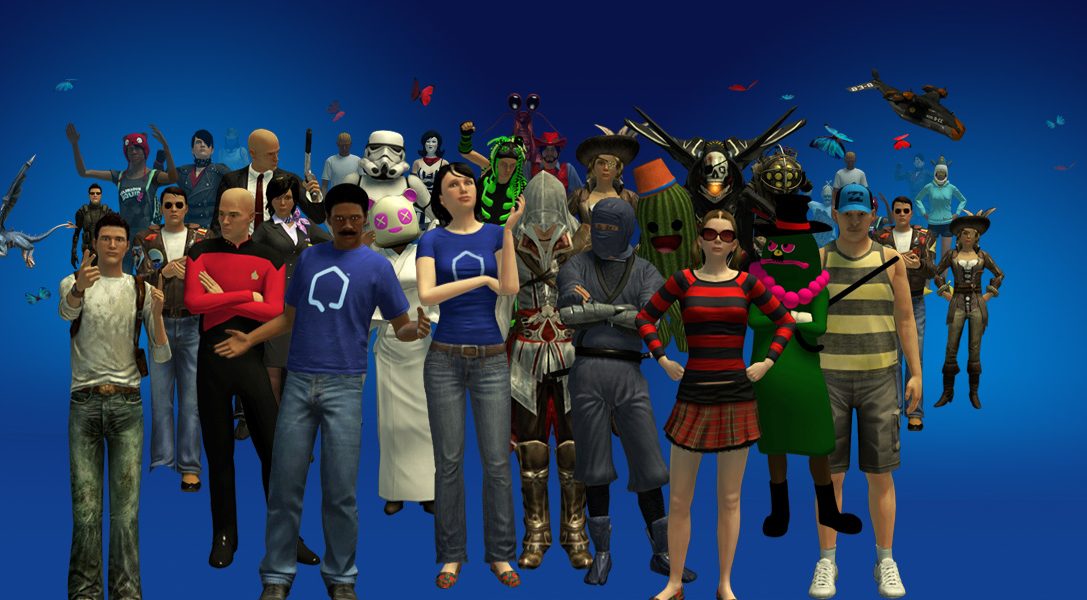 Find out what's new in Home Square this week
Hello everybody and welcome to another PlayStation Home update. This week, there is a secret party going on at the Secret Party Garden apartment to help you get into festival spirit for summer with some great clothes and dance moves too. We also have some more group animation packs from Atom Republic, with many new moves including a classic for you football fans, the Mexican wave, but that's not all! Look out for updates in The Casino with a chance to earn the Casino Crusader reward outfit, Madmunki are bringing updates, tweaks and rewards to Spunland and finally the new Community Lounge is now ready for you!
For all this and more, keep on reading and visit PS Home on 18th June (after the publish update.)
nDreams
This week, nDreams are releasing a brand new apartment; Get into the festival spirit with the brand new Secret Party Garden! Relax within the walls of this intimate and luscious new space, or hold a secret party for you and all of your friends in the clubhouse!
To accompany this space, nDreams are releasing a bunch of female, boho clothing items, along with a muscular, tattooed torso for male avatars – accessorise these items perfectly with a new set of motion-captured Secret Party Garden dance moves, or the collection of bohemian furniture items!
SCEE
Ever got tired of people talking to you in a language you don't understand? Or maybe you speak more than one language and you want to brush up on your amazing language skills! Now you can! The Community Lounge enables you to choose one of 11 most popularly spoken languages and meet new mates! We have given your new hangout a chilled vibe where you can play pool and bowling.
This will also be the place to go and check out what is new in your community. We will be updating the bulletin board with new events coming up and it's also where we will be featuring photo competition winners over the coming months. We hope you like it! This space is for you, so if you want to let us know if there is anything else you want (within reason and logic!!) we will certainly consider it!
VEEMEE
The Bureau expects each and every citizen to conform to the fashion regulations implemented within Sanctum. But we say oppose the Bureau! Rebel against the "utopia", which they claim will benefit Sanctum, take back the streets which they stole from you! And be sure to do it with the correct rebellious attire.
Visit the VEEMEE Store today to pick up your very own Cub Animal Avatar! Transform your avatar into one of these cute little cub locomotions. With a choice of Leopard, Lion, Brown Bear and Polar Bear you have every opportunity to show how adorable you are.
There are a lot of amazing new clothes from Billabong this week. For all of VEEMEE's, check out this video:
Atom Republic
Atom Republic bring you 5 group animation packs, to dance in sync with your friends: Line Dancing, Cossak jump-style, Disco Inferno, Chicken Dance and Mexican Wave. Only one user needs to own this portable item, and up to 7 other users can dance along!
Madmunki
Spunland Mega Bundle 1: This week sees the release of the most Spuntastic Spunland bargain ever! This bundle contains 4 LMOs, 1 Picture Puzzle Game, 1 companion, 4 furniture items, 1 lamp, 1 Full body suit, 3 other clothing items, and the Spunims Dance Pack! Bargain hunters of the world rejoice!
Spunland Updated: 4 new rewards added, one old reward brought back due to popular demand plus various bug fixes, tweaks and tucks! See www.spunland.com for more details…
Digital Leisure
The Casino is getting a brand new reward for reaching the 12th Global Tier. Keep the casino floor clean of villains by suiting up as The Casino Crusader! You'll have to reach 5,000,000 in earnings, and if you've already done that you will get these superhero rewards automatically when you enter the casino. Remember, with great rewards comes great responsibility.
Kovok
This exclusively made furniture is the definition of quality and class. Designed to decorate any personal space and make it feel unique, this furniture will fulfil the demands of the most fastidious. Use it in The Dressing Room to create an artistic centrepiece.
Lockwood
The Sodium salt flats have been quiet of late, but that's all about to change. The Desert Ravers are roaring into the barren landscape intent on filling it with colour, music and wild moves. Alternatively, try something completely different with Delirious Squid's new Steampunk range.
SALES
SCEE
Due to a famous football tournament that started last week we are offering you the 'SUPA-FUN ROBO-GOALIE BEACH TIME! Tropical Island' apartment on sale with a whopping saving, from €4.99/£3.99 down to €0.49/£0.39! (No, that is not a typo and yes we have gone crazy it seems…) So don't miss out and pick up this scorcher of a deal before its gone! Back of the net!
VEEMEE
VEEMEE add more items to their Half Price Hot Deals! Check out the Sales icon in the VEEMEE store each week for great deals; all AT LEAST 50% off!
Don't forget PS Home will briefly be offline from 8.00am BST on Wednesday 18th June for routine maintenance. That's all for now, see you in PlayStation Home!
Follow us on Twitter @PSHomeEU