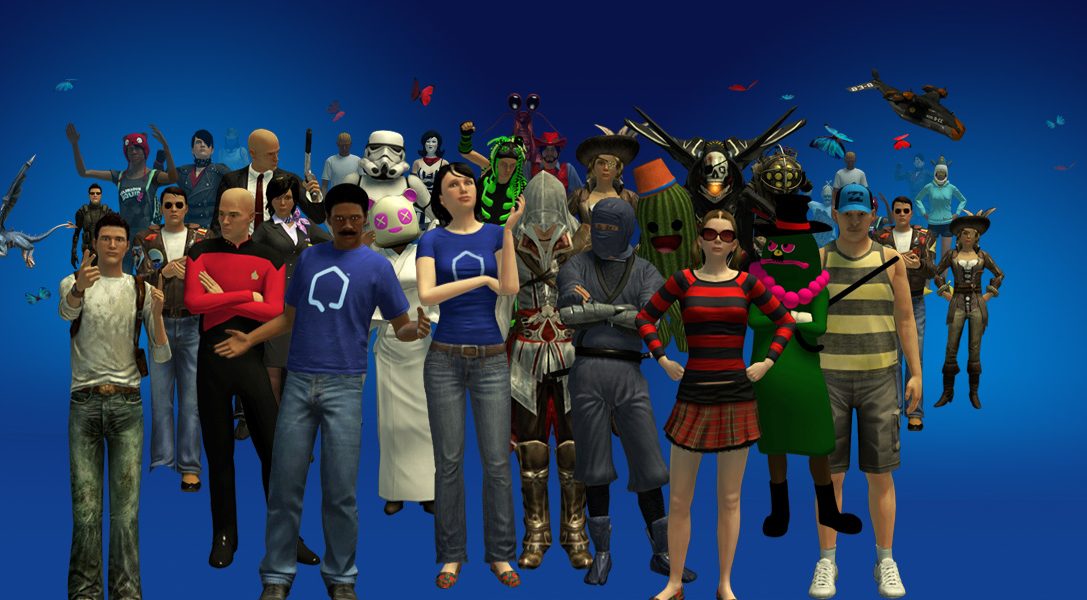 Find out what's new in Home Square this week
Hello everybody and welcome to another PlayStation®Home update. This week, we are getting our groove on with group dance animation packs from nDreams and Lockwood. We also have some retro 70s disco clothing from Kovok for you to wear whilst you strut your stuff. However, if parties are your style, we also have some great animal spirit LMOs from VEEMEE to help bring out your animal side. All this and more in this week's publish, see below for more details.
Kovok
This week, we bring you a collection that doesn't need much of an introduction. Flower Disco Power! Influenced by the movement of the 70s, this line is filled with good vibes and energy! Make the dance floor yours with your best moves and of course, make love and not war!
Official England and Brasil football kits
All eyes are on the world of football this week as we celebrate the start of competition crunch time with the official England and Brasil football kits.
Lockwood
Lockwood's second Party Dance Pack will have you shoulder-rolling in unison with your friends, or throwing out more violent moves with the whiplash. Just don't actually give yourself whiplash.
nDreams
This week, nDreams are releasing more motion-captured, 2-Player Dances for both lead and follower dancers! With these new 2-player dances you can show-off your expertise in The Tango, The Handshake, The Lambada or even Dance Dirty!
Still want more? Coming up there are also more sound packs with the Laugh and Cry collections. Let other avatars hear you cry, sob, giggle or laugh wave with these fun new items! Collect all dance packs, sound packs, or the ultimate bundles, from 11thJune 2014.
VEEMEE
Bring out your animal side with the Spirit Animal Avatars. There are four to choose from; the proud stag standing tall, the mighty bear bastion of strength, the ferocious wolf howling at the moon or the cunning fox stalking through the night. There's also a bundle for those who want all four at a discounted price!
The streets are primed and ready for some style! Work the asymmetric look with the One Up Cargo Pants and Bling Snapback Cap for women, or wrap up with one of the male coats (Parka or Quilted!). If you can't decide, there are gender specific bundles! Don't settle for mediocrity, snap up some of Street Style's fashion and stand out from the crowd! There are also some amazing new additions from the Element Summer 2014 catalogue available today.
For all of VEEMEE's content this week, check out this video:
JAM Games
This week, JAM Games brings you more from their LIVING Collection! A luxury furniture brand that combines style with affordability! Designed to add that touch of top class quality to any accommodation! This second set of furniture moves into the dining area providing a dining table, dresser and a choice of three chairs in each colour variation.
SALES
Disney
Indiana Jones and the Temple of Doom celebrate its 30th Anniversary this year on 15th June (when it was released in the UK) and to mark this occasion we are holding an Indiana Jones sale. You can get all the clothing bundles and furniture items for 50% off so check it out, just don't leave your hat at the door.
VEEMEE
VEEMEE presents the new week of their Half Price Hot Deals! Check out the Sales icon in the VEEMEE store each week for great deals; all AT LEAST 50% off!
Don't forget PS Home will briefly be offline from 8.00 a.m. BST on Wednesday 11th June for routine maintenance.
That's all for now, see you in PlayStation®Home!
Follow us on Twitter @PSHomeEU