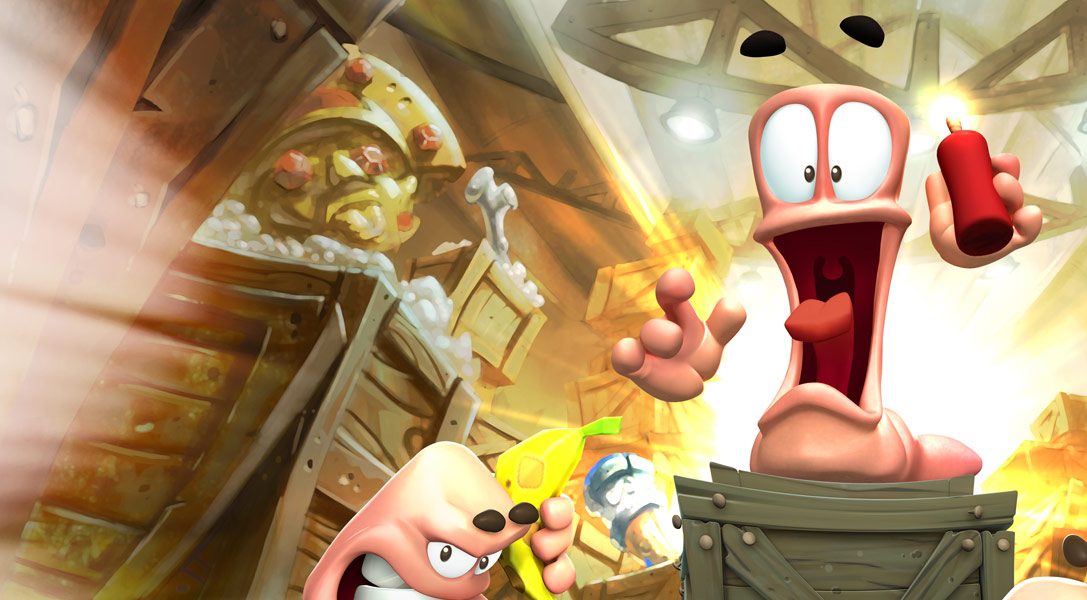 Everything you need to know about Team17's next gen debut
Hello again PlayStation Blog readers! We're delighted to announce that our first next gen title, Worms Battlegrounds, will be available to download for your PS4 via the PlayStation Store today for just £19.99/€24.99.
To celebrate the launch of the game we'll be streaming Worms Battlegrounds on PS4 and challenging the community to take us on live on Twitch from 5-7pm BST. Come and check us out on the Team17 channel, chat with us live and do battle with us if you think you've got what it takes!
Worms Battlegrounds features an extensive single player campaign spanning 25 story missions and 10 "Worm-Ops" time-attack missions which are set across five stunning environments (Inca, Viking, Feudal Japan and Industrial Revolution) with new day to night lighting transitions. Multi-BAFTA award winning writer Dean Wilkinson provides the script for the single player story campaign, which is in turn brought to life by the talented Katherine Parkinson, perhaps best known for playing Jen in The IT Crowd.
Multiplayer fans will be glad to know that there are both local and online multiplayer battles for up to four players! Choose from two different game modes: Deathmatch, Forts and Classic and either a predefined or customised game settings.
We've even added in multiplayer clan support! Create your own clan and choose your own clan emblem or simply join another existing clan and take part in league matches! All of which accumulates you community points, which in turn allows your clan to level up and grow larger.
"We've also utilised the awesome DS4 controller's light bar which will dynamically change colour depending on your worm's scenario"
There are some really cool PS4 exclusive features in Worms Battlegrounds, both of which take advantage of the new DS4 controller. Firstly we've added in weapon gestures, which allow you to quickly select your favourite four weapons. Want to get out your Super Sheep? Just swipe up! Swipe right for the Concrete Donkey, or any other weapon of your choosing!
We've also utilised the awesome DS4 controller's light bar which will dynamically change colour depending on your worm's scenario. Watch as the Light Bar glows red for attacks and explosions, blue when your worm is submerged in dynamic water and green to indicate that your worm is poisoned.
Finally, once you've exhausted the Single Player campaign and are ruling the online leaderboards, you could head over to the Landscape Editor, which allows you to create your own maps to play upon! Draw out your landscape, place any hazards (mines, barrels), physics objects and contraptions and then challenge your friends to a battle upon your creation.
Thanks for reading and we'll hope you'll enjoy the game if you're picking it up today!