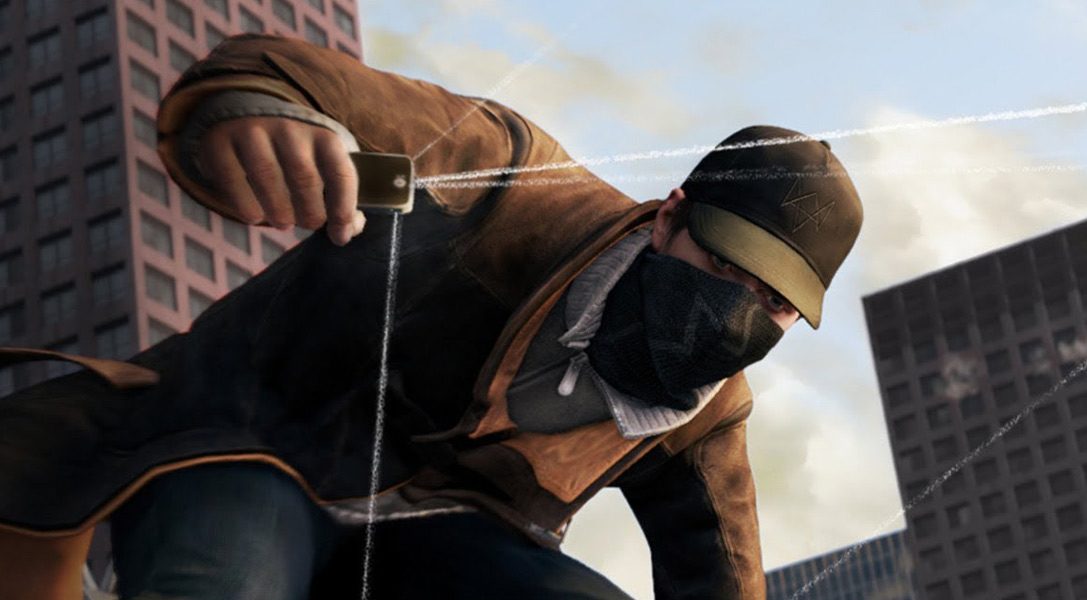 Worms Battlegrounds, Minecraft DLC and new discounts too
It's a special week here at PlayStation as we welcome the highly anticipated Watch_Dogs to the PlayStation family. Make sure you grab your copy of Ubisoft's cyber-crime adventure for an adrenaline-fuelled experience you won't be able to put down.
Some other huge franchises making an appearance this week include Worms Battlegrounds on PS4, and Lemmings Touch and the brilliant Borderlands 2 both on PS Vita.
There are also some new packs to pick up for Minecraft as well as some great savings across the Batman franchise as we celebrate the Dark Knight's 75th anniversary.
See below for the full content round-up.
PlayStation 4

Watch_Dogs – Classic Edition
Price: £59.99/€69.99/AU$99.95
PEGI:18

Watch_Dogs – Deluxe Edition
Price: £64.99/€79.99/AU$114.95
PEGI:18

Watch_Dogs – Season Pass
Price: £15.99/€19.99/AU$30.25
PEGI:18

Worms Battlegrounds (Releases 30th May)
Price: £19.99/€24.99/AU$30.95
PEGI:12

Puddle
Price: £5.99/€6.99/AU$10.05
PEGI:3
PlayStation 3

Watch_Dogs – Classic Edition
Price: £54.99/€69.99/AU$89.95
PEGI:18

Watch_Dogs – Deluxe Edition
Price: £59.99/€79.99/AU$109.95
PEGI:18

Watch_Dogs – Season Pass
Price: £15.99/€19.99/AU$30.25
PEGI:18

ACE COMBAT INFINITY
Price: F2P
PEGI:12

RESIDENT EVIL CODE:VERONICA X
Price: £15.99/€19.99/AU$29.95
PEGI:16

RAIDEN IV: OVERKILL
Price: £15.99/€19.99/AU$29.95
PEGI:7
Not available in Portugal and Russia
PlayStation Vita

Borderlands 2 (NZ release date: 4th June; UK/Ireland: 30th May)
Price: £19.99/€24.99/AU$32.95
PEGI:18
Broken Sword 5 – The Serpent's Curse: Episode 2
Price: £9.99/€12.99/$18.45
PEGI:16

Lemmings Touch
Price: £7.99/€9.99/AU$14.45
PEGI:3

TREASURES OF MONTEZUMA: ARENA
Price:F2P
PEGI:7
Not available in Australia and NZ

MIND≒0
Price: £23.99/€29.99/AU$43.95
PEGI:12
PS3 DLC
LittleBigPlanet (Cross-Buy)
Rainha de Bateria Samba Costume (£0.79/€0.99/AU$1.45)
Cangaceiro Bandit Costume (£0.79/€0.99/AU$1.45)
'The LittleBigPlanet Football Asset Pack (£2.39/€2.99/AU$4.35)
Minecraft
CANDY TEXTURE PACK (£0.79/€0.99/AU$1.45)
Nature Texture Pack (£0.79/€0.99/AU$1.45)
BATTLE AND BEASTS SKIN PACK 2 (£1.59/€1.99/AU$2.95)
Minecraft Skin Pack 2 (£1.59/€1.99/AU$2.95)
ACE COMBAT INFINITY
AIRCRAFT SET EXPANSION KEY (EXPAND FROM 4 TO 8 SLOTS) (£1.59/€1.99/AU$2.95)
AIRCRAFT SET EXPANSION KEY (EXPAND FROM 8 TO 12 SLOTS) (£1.59/€1.99/AU$2.95)
AIRCRAFT SET EXPANSION KEY (EXPAND FROM 12 TO 16 SLOTS) (£1.59/€1.99/AU$2.95)
AIRCRAFT SET EXPANSION KEY (EXPAND FROM 16 TO 20 SLOTS) (£1.59/€1.99/AU$2.95)
BETA TEST BONUS EMBLEM (FREE)
ELITE MERCENARY CONTRACT – 12 HOURS (£0.79/€0.99/AU$1.45)
ELITE MERCENARY CONTRACT – 48 HOURS (£2.39/€2.99/AU$4.35)
PLANT INVESTMENT CONTRACT – 12 HOURS (£0.79/€0.99/AU$1.45)
PLANT INVESTMENT CONTRACT – 48 HOURS (£2.39/€2.99/AU$4.35)
ROOKIE SET (£1.59/€1.99/AU$2.95)
SORTIE FUEL – 1 PACK (£0.79/€0.99/AU$1.45)
SORTIE FUEL – 5 PACK (£3.19/€3.99/AU$5.85)
SORTIE FUEL – 10 PACK +1 PACK (£5.49/€6.99/AU$10.35)
SORTIE FUEL – 30 PACK + 5 PACK (£15.99/€19.99/AU$29.95)
SORTIE FUEL – 50 UNITS + 10 FREE UNITS (£28.49/€34.99/AU$51.95)
UNLIMITED CAMPAIGN PLAY PACK (£11.99/€14.99/AU$21.95)
INFINITY ELITE PACK (£11.99/€14.99/AU$21.95)
RAGNAROK
RAGNAROK ODYSSEY ACE – PEPO PUMPKIN HEAD (FREE)
RAGNAROK ODYSSEY ACE – TRACK SUIT (FREE)
RAGNAROK ODYSSEY ACE – ZEALOT'S HOOD (FREE)
Dustforce
DUSTFORCE MAP PACK BETA (FREE)
JOJO'S BIZARRE ADVENTURE ALL STAR BATTLE
Iggy (£1.59/€1.99/ AU$2.95)
PS Vita DLC
TREASURES OF MONTEZUMA: ARENA
CRYSTAL PACK 1 (3K) (£0.69/€0.79)
CRYSTAL PACK 2 (8K) (£1.59/€1.99)
CRYSTAL PACK 3 (20K) (£3.19/€3.99)
CRYSTAL PACK 4 (50K) (£4.79/€5.99)
CRYSTAL PACK 5 (150K) (£7.29/€8.99)
CRYSTAL PACK 6 (400K) (£12.99/€16.99)
CRYSTAL PACK 7 (1M) (£55.99/€69.99)
ENDLESS UNLOCK MODE (£2.39/€2.99)
ENERGY REFILL (£0.79/€0.99)
Not available in Australia and NZ
CONCEPTION II: CHILDREN OF THE SEVEN STARS
CLAD IN GOLD (£1.99/€2.49/AU$3.65)
ECHOING SONG (£1.99/€2.49/AU$3.65)
OVERLORD'S RETURN (FREE)
Not available in NZ
RAGNAROK
RAGNAROK ODYSSEY ACE – PEPO PUMPKIN HEAD (FREE)
RAGNAROK ODYSSEY ACE – TRACK SUIT (FREE)
RAGNAROK ODYSSEY ACE – ZEALOT'S HOOD (FREE)
Dustforce
DUSTFORCE MAP PACK BETA (FREE)
Trial
RAGNAROK ODYSSEY ACE (PS3 and PS Vita)
Deals of the week
Batman Arkham Origins
Was €59.99/£49.99/AU$89.95, now €14.99/£10.99/AU$17.95
Dragon Ball Z: Battle of Z
Was €34.99/£24.99/AU$47.95, now €22.95/£11.99/AU$24.95
Not available in India
Terraria (PS3 and PS VITA)
Was €14.99/£11.99/AU$22.95, now €5.99/£4.79/AU$8.85
Additional 15% off for PS Plus members