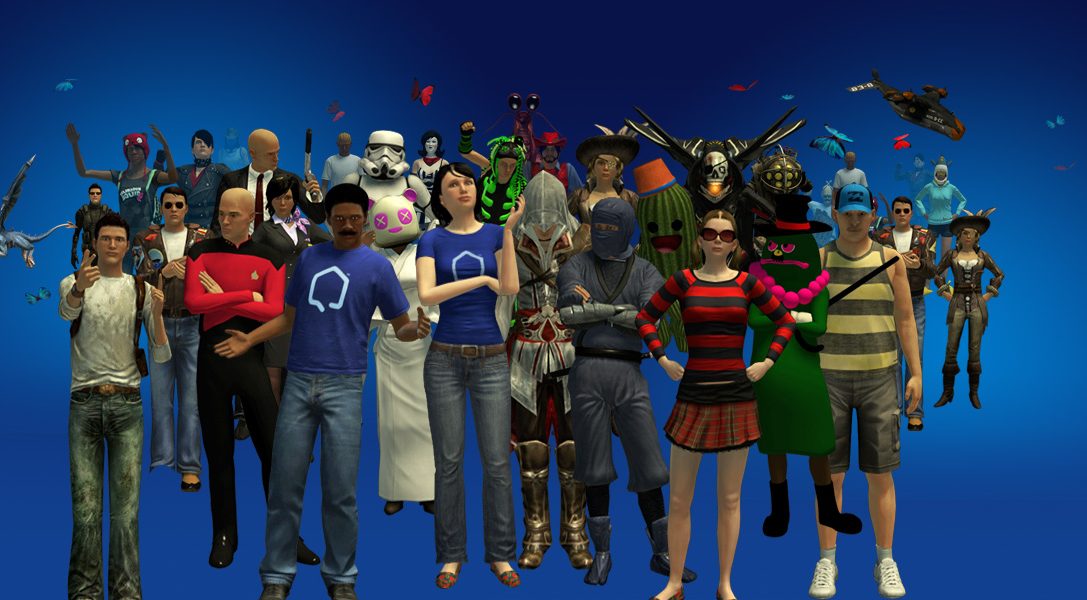 Find out what's new in Home Square this week
Hello everybody and welcome to another PlayStation®Home update. Due to some technical issues we had last week we sadly could not release the groovy 'Pop Icon Dance Packs' from nDreams, but don't fear, these are now fixed and being released this week! We also have more 2-player interactions and dance packs coming out this week for you to party on with as well as some cool masks, sexy leggings and summer dresses. So visit PS Home on Wednesday and bust some moves on the dance floor!
Edge of Tomorrow
Live on the Edge of Tomorrow. Watch the trailer and exclusive screenshots in Home Square and receive your very own awesome Edge of Tomorrow exosuit!!
nDreams
This week we see the release of the Pop Icon Dance Packs – strut your funky stuff with the fully motion captured Believer Fever or Monarch of Pop dance packs!
Enjoying the 2-Player interactions so far? If you are then get ready for 2-player 'slapstick' interactions! these new motion captured animations allow you to kick, throw or even super-punch a willing avatar!
Coming up there are also more sound packs with the rude sound pack collection. Let other avatars hear you hiccup, burp or break wind with these hilarious new items!
Lockwood
Choreographing a dance show can be a real headache, but Lockwood removes the hassle from your dance routine organisation with the Party Dance Group Animation. It'll get everyone moving as one, or throwing out freestyle shapes if you prefer things to be a little less regimented!
Lockwood also has the next best thing to a leotard for all the lady dancers out there – Secrets latest range of sexy leggings will let you show off your legwork AND your legs!
If you have something more avant garde in mind for your dance recital, Lockwood's latest range of weird and wonderful masks will give the perfect finishing touch to your performance. The glowing electro pulse masks in particular will look fantastic on stage.
Kovok
This week we bring you the second update of Rockabilly Rules with designs made exclusively in leather!
Madmunki
Madmunki bring Spunbots to Home! Buzz around PlayStation®Home on one of our 3 Spunbot Saucer LMOs, they come in classic, copter and flapper flavours! Get your roller Spunbot groove on with the Spunbot Legs & Animation pack, contains male & female Spunbot legs and a special spun anim pack of moves to go with them. Or get the Spunbot Mega Bundle containing all Spunbot items. Become a Spunbot today!
VEEMEE
Tired of making your sandwiches on that old used surface? Need an excuse to finally throw out that ever freezing fridge? Toaster no longer popping your toast? Then look no further! VEEMEE present their premium oak kitchen range with active items. Build you dream kitchen with these modular items, and bring it all to life with the interactive animated Fridge, Toaster and Microwave. All items can be bought individually to fill your kitchen needs or there are a number of bundle deals for those that want the complete package.
Head to the Billabong store and check out all the new fashions. All clothing items are available individually and as part of male and female value bundles.
New content can be found this week in the VEEMEE 3D Printer. Become one with the Elements with the Elemental wolves of Fire, Ice and Wind. Dwell in the shadows and strike fear into the hearts of others with the Evil Shadows clothing components, broken down into heads, torso, legs and feet. Finally add that finishing touch to your dream kitchen with the Gloss Black active kitchen appliances. Lots to be had in the VEEMEE Printer this week, so be sure to check yours out!
Half Price Hot Deals
VEEMEE presents the new week of their Half Price Hot Deals! This week, VEEMEE are bringing back the 50s with the sale taking an old school theme! Purchase the 50s Diner personal apartment with all associated bundle items or hop into one of the Hot Rod locomotion items (including Lowrider, Old Time and Funny Car to name a few). Check out the Sales icon in the VEEMEE store each week for great deals; all AT LEAST 50% off!
Don't forget PS Home will briefly be offline from 8.00 a.m. BST on Wednesday 21th May for routine maintenance.
That's all for now, see you in PlayStation®Home!
Follow us on Twitter @PSHomeEU