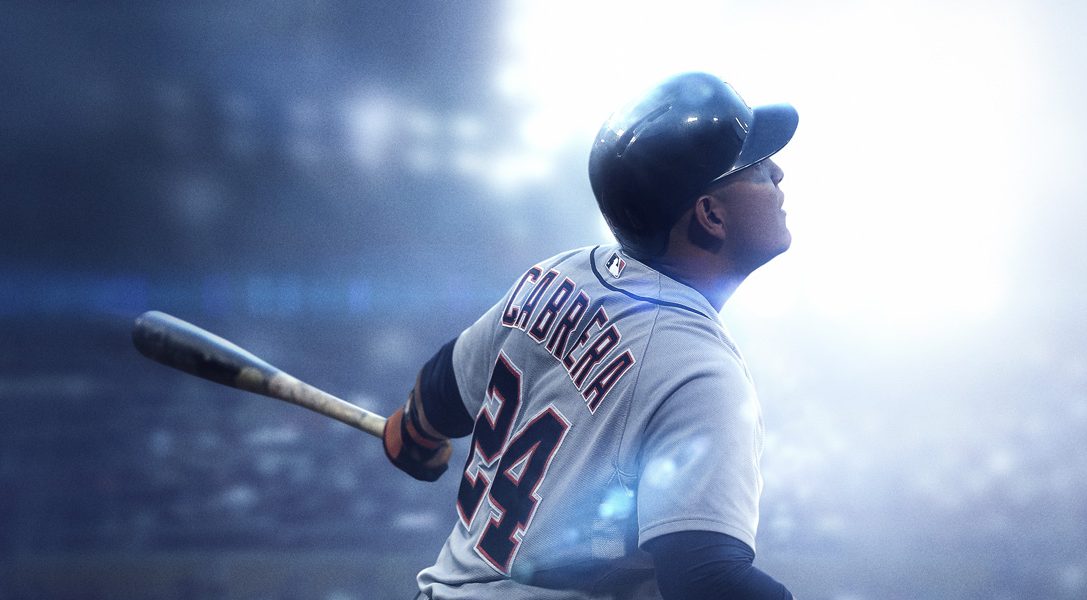 Plus, Conception II and Cel Damage HD make their debuts
After a small delay we're happy to let MLB 14: The Show for PS4 out into the wild, so get your bat and pitching arm all set for a game of round… I mean baseball!
Soul Sacrifice Delta, an expanded version of last year's PS Vita action RPG hit is here. Delta boasts additional enemy princesses not as elegant looking as you would otherwise know them, the option to now join the order of Grim and more. Delta includes the full game, so anyone who didn't jump on last year can do so without any worries.
Also happening this week – a new set of titles enters the Deal of the Week and there are tons of titles on offer in the May Madness deals. Madness, indeed!
PS Plus
Cell Damage HD (PS4 / PS3 / PS VITA) – 10% launch discount until 28th May
BIT.TRIP Presents… Runner2: Future Legend of Rhythm Alien (PS Vita) – 20% Plus discount until 30th July
PlayStation 4

Cel Damage HD (Cross-Buy PS4/PS3/PS Vita)
Price: £7.69/€8.99/$12.95
Pegi:7

MLB 14 The Show
Price: £38.49/€44.99/$64.95
Pegi:3
PlayStation 3
Adam's Venture: Chronicles – Soundtrack
Price: £3.19/€3.99
Not available in Australia, New Zealand

Cel Damage HD (Cross-Buy PS4/PS3/PS Vita)
Price: £7.69/€8.99/$12.95
Pegi:7

NASCAR '14 (available from 16th May)
Price: £39.99/€49.99/$69.95
Pegi:3

Serious Sam 3: BFE
Price: £15.99/€19.99/$29.95
Pegi:18

Tales of Graces f + Tales of Xillia – Combo Pack
Price: £36.99/€44.99/$66.95
Pegi:16
The Cube
Price: £7.99/€9.99/$14.45
Pegi:3
YouTube (app)
Not available in Bulgaria, Croatia, Luxembourg, Saudi Arabia, Slovenia, Ukraine, UAE

The Walking Dead: Season 2, Ep. 3, In Harm's Way
Price: £3.99/€4.99
PEGI: 18
PlayStation Vita

Cel Damage HD (Cross-Buy PS4/PS3/PS Vita)
Price: £7.69/€8.99/$12.95
Pegi:7

Conception II: Children Of The Seven Stars
Price: £31.99/€39.99/$58.95
Pegi:16
Not available in New Zealand

Soul Sacrifice Delta (+incentives) – Limited time offer
Price: £23.99/€29.99/$43.95
Pegi:16
PlayStation Mobile
Cloud Disk (£0.65/€0.79/$1.45)
A Bad Opera-tunity (£0.40/€0.49/€0.90)
dong (£0.40/€0.49/€0.90)
PS4 DLC
Dynasty Warriors 8: Xtreme Legends Complete Edition (Cross-Buy PS4/PS3/PS Vita)
Old Costume Pack 1 (£2.39/€2.99/$4.35)
Old Costume Pack 2 (£2.39/€2.99/$4.35)
Old Costume Pack 3 (£2.39/€2.99/$4.35)
Old Costume Pack 4 (£2.39/€2.99/$4.35)
Old Costume Pack 5 (£2.39/€2.99/$4.35)
Old Costume Pack 6 (£0.79/€0.99/$1.45)
Lego The Hobbit
Side Quest Character Pack (£1.59/€1.99/$2.95)
The Armory Pack (£1.59/€1.99/$2.95)
The Battle Pack (£1.59/€1.99/$2.95)
The Big Little Character Pack (£1.59/€1.99/$2.95)
Killzone: Shadow Fall
Cow Skin Pack (£1.69/€1.99/$2.85)
Cheese Skin Pack (£1.69/€1.99/$2.85)
Killzone™ Universe Playercard Icons Pack (£0.85/€0.99/$1.45)
Multiplayer Map Pack -DLC2 (Free)
PS3 DLC
JoJo's Bizarre Adventure: All-Star Battle
Lisa Lisa (£1.59/€1.99/$2.95)
Old Joseph Joestar (£1.59/€1.99/$2.95)
Ikuro Hashizara (£1.59/€1.99/$2.95)
Campaign Mode 2 Update (Free)
Lego The Hobbit
Side Quest Character Pack (£1.59/€1.99/$2.95)
The Armory Pack (£1.59/€1.99/$2.95)
The Battle Pack (£1.59/€1.99/$2.95)
The Big Little Character Pack (£1.59/€1.99/$2.95)
Ragnarok Odyssey ACE (Cross-Buy)
Ragnarok Odyssey Ace – Great Sage's Hat
Ragnarok Odyssey Ace – Puzzle & Dragons Set
Ragnarok Odyssey Ace – Silk Hat
Rocksmith 2014
Rocksmith® 2014 – 311 – Beautiful Disaster (£2.39/€2.99/$4.35)
Rocksmith® 2014 – 311 – Down (£2.39/€2.99/$4.35)
Rocksmith® 2014 – Mastodon – Black Tongue (£2.39/€2.99/$4.35)
Mastodon Song Pack (£6.49/€7.99/$11.75)
PS Vita DLC
Conception II: Children Of The Seven Stars
Alternate Costume Set (£1.59/€1.99/$2.95)
Cool Professional (£1.99/€2.49/$3.65)
Disciple Weapon Pack (Free)
Warrior Of Sadness (Free)
Not available in New Zealand
Dynasty Warriors 8: Xtreme Legends Complete Edition (Cross-Buy PS4/PS3/PS Vita)
Old Costume Pack 1 (£2.39/€2.99/$4.35)
Old Costume Pack 2 (£2.39/€2.99/$4.35)
Old Costume Pack 3 (£2.39/€2.99/$4.35)
Old Costume Pack 4 (£2.39/€2.99/$4.35)
Old Costume Pack 5 (£2.39/€2.99/$4.35)
Old Costume Pack 6 (£0.79/€0.99/$1.45)
Football Manager Classic
Board Over-Ride (£1.29/€1.59/$2.35)
Unlimited Scouting (£0.65/€0.79/$1.15)
Foreign Influx (£1.29/€1.59/$2.35)
Morale Boost (£0.65/€0.79/$1.15)
All Players Interested (£1.29/€1.59/$2.35)
Attribute Masking (£0.65/€0.79/$1.15)
Boost Bank Balance 10m (£2.39/€2.99/$4.35)
Boost Bank Balance 50m (£4.79/€5.99/$8.85)
Boost Bank Balance 1m (£0.65/€0.79/$1.15)
Boost Bank Balance 5m (£1.59/€1.99/$2.95)
Magic Sponge (£0.65/€0.79/$1.15)
National Management (£1.29/€1.59/$2.35)
New Stadium (£1.29/€1.59/$2.35)
No Loan Restrictions (£0.65/€0.79/$1.15)
No Sacking (£3.19/€3.99/$5.85)
No Transfer Windows (£0.65/€0.79/$1.15)
No Work Permits (£1.29/€1.59/$2.35)
Son Generated (£1.99/€2.49/$3.65)
Not available in Germany
Ragnarok Odyssey ACE (Cross-Buy)
Ragnarok Odyssey Ace – Great Sage's Hat
Ragnarok Odyssey Ace – Puzzle & Dragons Set
Ragnarok Odyssey Ace – Silk Hat
Soul Sacrifice Delta
Soul Sacrifice Delta – Memory Clods (£0.79/€0.99/$1.45)
Soul Sacrifice Delta – Memory Clods X6 (£3.19/€3.99/$5.85)
Availability change
Toukiden – Additional Missions 3, 4, 5, 6 – Now available in Russia
Lego Movie- Wild West Pack (PS3/PS4) – Now available in Australia, Austria, Germany, Greece, Israel, South Africa
Deal of the week
Dragon Ball Z: Battle of Z (PS3) (Not available in India) – Now £19.99/€24.99/$29.95
Stealth Inc: A Clone in the Dark (Cross-Buy PS3/PS Vita) – Now £3.99/€4.99/$7.35
Toukiden: Age of Demons (PS Vita) – Now £14.99/€19.99/$24.95