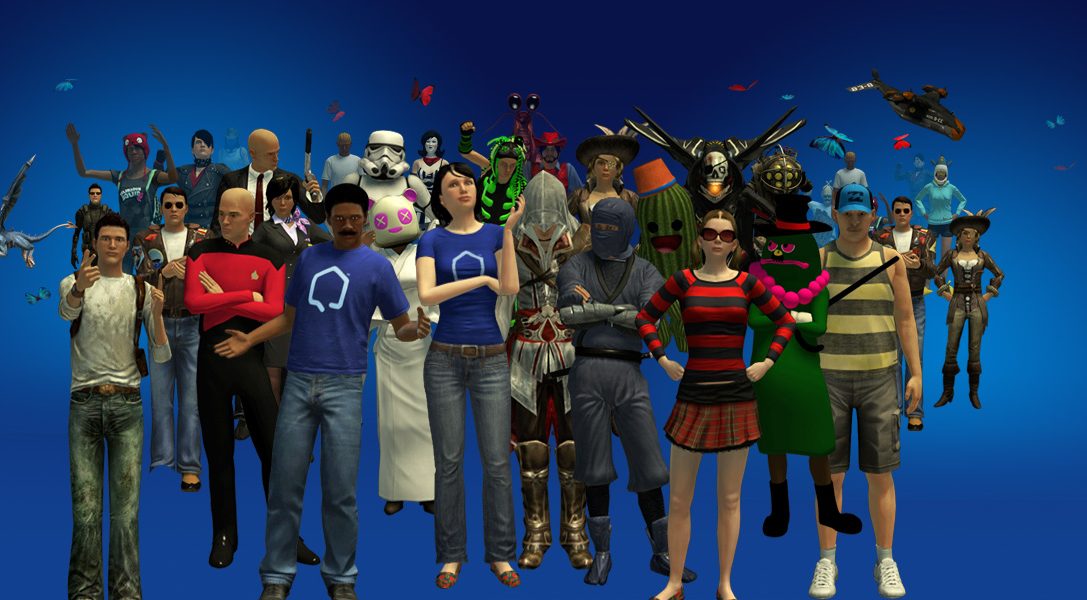 Find out what's new in Home Square this week
Hello everybody and welcome to another PlayStation Home update. This week we have free gold coins in Home Tycoon, great discounts on items from Dani and VEEMEE, new locomotion items including some raging DINOSAURS, and much more. Here's a rundown of the highlights going live from 14th May:
Home Tycoon
You asked for it, and we listened! Hellfire Games is giving away 70 FREE Gold Coins in Home Tycoon plus the new Coin Shower item for free, available to all users for the first time ever!
Scan the QR code with your mobile device or visit http://tiny.cc/GoldCoins to get your free item and 70 Gold Coins.
Codeglue Sale
This month we're slashing prices in half for some of the fashionable Dani collections. This week we will start with the lovely Touch of Spring collection. If you didn't get it already, now's the time to grab it. Keep following us, because next week we'll have another collection on sale for you!
nDreams
If you are enjoying the motion-captured LMO walks then you're going to love the new Headphone Swagger LMOs! These locomotion items will ensure you look your coolest when roaming around the streets of PlayStation Home!
Also from nDreams this week are the Pop Icon Dance Packs – strut your funky stuff with the fully motion captured Believer Fever or Monarch of Pop dance packs!
Kovok
If you liked the first release of Rockabilly Rules, this week we bring you an update with new designs and variations, combine them in any way you like to make new and original styles!
Lockwood
First there was Maliki's Might, an epic sword engraved with glowing runes. Now Liking Lockwood's Facebook page grants the boon of Maliki's Courage, a FREE rune-embossed helmet. Maliki's Courage bestows its wearer with the power of epic headgear!
Attention all Iron Fusion operatives! Unidentified forces have infiltrated Astra Corps' ranks. We must assume they are hostile until proved otherwise. Armour and weaponry are available via Lockwood.
In more terrestrial news, Double Time relaunches with a series of versatile tracksuits well-suited to a variety of fitness needs.
For a touch more glamour, the Secrets range introduces some slinky new leggings in glitter and leather designs. Check out the video for a sneak peek at next week's Secrets items too!
3D Printer
Pick up one of the 6 adorable Luxuries for both male and female avatars, including the Kangaroo and Dinosaur, Cupcake, Hotrod and Camouflage patterned. Alternatively, rage it up with the Prehistoric Rage Pterodactyl and Stegosaurus. Don't own the 3D Printer yet? Get yours free today from the VEEMEE store.
Element
Check out the massive selection of new Element items this week. The casual Sage Bonham Tank Top, Rust Endless Fun Cap for men will set you up for the summer months. The Red Mimic Tank Sweater, Black Lumineer Fleece and Black Eagle Tank Top for women are perfect for any weather. There are also male and femal bundles as well as two new locomotion skateboards.
Street Style
Bling it up for a night out with the Shine Cropped Jacket for women coupled with the Shine Leather Pants and Boots. For men, show off your style with the One Up Jogging Pants and Hi Top shoes or perhaps the Letterman Puffer Jackets in either Red, Blue or Green. Check out these items in the VEEMEE Store; you wouldn't want to hit the streets without them!
Rage Dinosaurs
RAWR! BIG ANGRY DINOSAUR! RAWR! Stalk your prey as a cunning Velociraptor, stomp around as the mighty Tyrannosaurus or charge as the sturdy Triceratops. All three locomotion items are available individually or as part of a great value bundle.
Half Price Hot Deals
VEEMEE presents the new week of their Half Price Hot Deals with at least 50% off selected items. We're going back in time with this week's theme to the Age of Swords! Indulge in the Banquet Bundle, live like a King, Druid, Princess, or Queen. There are lots of bundles to suit your dragon and demon slaying needs. Check out the Sales icon in the VEEMEE store each week for great deals; all AT LEAST 50% off!
Don't forget PS Home will briefly be offline from 8.00 a.m. BST on Wednesday 14th May for routine maintenance.
That's all for now, see you in PlayStation Home!
Follow us on Twitter @PSHomeEU