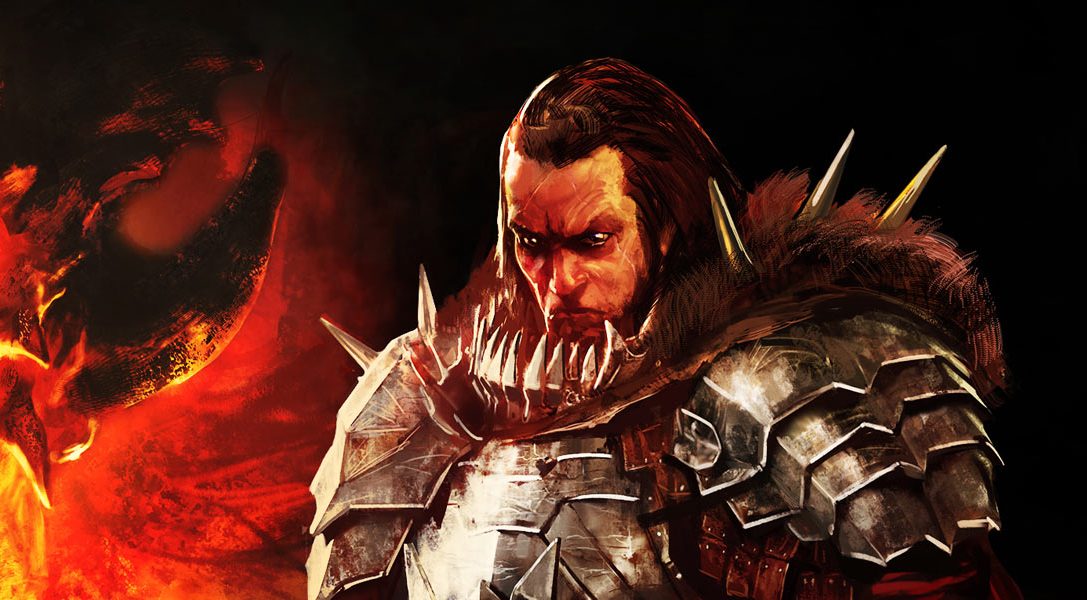 Take Kratos on your travels, too
Fantasy RPG Bound by Flame arrives on PS3 and PS4 this week. Possessed by a flame demon, you'll journey across a world ravaged by seven Ice Lords, having the chance to grow and build your character's skills and combat prowess.
Joining it is God of War Collection for PS Vita. The first two action packed titles in the series have been remastered for portable play, with full trophy support. Tear it up in an ancient Greek setting with Kratos' fearsome moves. It's also Cross-Buy, so if you pick it up on PS3 or PS Vita you will get the other version, too.
We've also got Cross-Buy arcade shooter Titan Attacks and multiplayer compilation Sportsfriends.
Finally, an update on MLB 14 The Show on PS4. We originally announced that this would launch today 7th May, but unfortunately it's been subject to a last minute delay. We will let you know a revised release date as soon as possible – thanks for your patience, and our apologies for any disappointment.

PlayStation Plus

Titan Attacks (PS4/PS3/PS Vita) – 10% off PLUS DISCOUNT
PlayStation 4

Bound By Flame (PS4)
Price: £49.99/€54.99/$77.95
PEGI:16
Not available in Turkey

Sportsfriends (PS4)
Price: £11.99/€13.99/$20.15
PEGI:7
Not available in Poland

Titan Attacks! (Cross Buy PS4/PS3/PS Vita)
Price: £8.49/€9.99/$14.35
PEGI:7
PS4 demos
PlayStation 3

Bound By Flame (PS3)
Price: £39.99/€49.99/$69.95
PEGI:16
Not available in Turkey

Hakuoki: Stories Of The Shinsengumi
Price: £23.99/€29.99/$43.95
PEGI:16

IHF Handball Challenge 14
Price: £39.99/€49.99
PEGI:3
Not available in Australia, New Zealand

Sportsfriends (Purchase on PS3 to receive PS4 version at no additional cost)
Price: £11.99/€13.99/$20.15
PEGI:7
Not available in Poland

Titan Attacks! (Cross Buy PS4/PS3/PS Vita)
Price:£8.49/€9.99/$14.35
PEGI:7
PlayStation Vita

God Of War Collection (Cross-Buy PS3/PS Vita)
Price: £19.99/€24.99/$32.95
PEGI:18

Titan Attacks! (Cross Buy PS4/PS3/PS Vita)
Price: £8.49/€9.99/$14.35
PEGI:7
PlayStation Mobile
QChat (£0.40/€0.49/$0.90)
MTG: LifeKeeper (£0.79/€0.99/$1.75)
KI Scientific Toolbox (£3.19/€3.99/$6.95)
PS4 DLC
Call Of Duty: Ghosts
Call Of Duty Ghosts Devastation (£11.59/€14.49/$19.95)
DC Universe™ Online
DC Universe™ Online – Amazon Fury Part I (10) (£9.99/€7.99/$14.45)
Just Dance 2014
The World Is Ours (Free)
The World Is Ours (Free)
Outlast
Whistleblower (£7.69/€8.99/$12.95)
Not available in India, Kuwait, Qatar, Saudi Arabia, Slovenia, Turkey, UAE
PS3 DLC
Atelier Escha&Logy
Additional Gathering Spot-Palace Depths (Free)
Additional Party Character- Katla (£3.99/€4.99/$7.35)
Additional Party Character- Micie (£3.99/€4.99/$7.35)
Not Available In Russia
Call Of Duty: Ghosts
Call Of Duty Ghosts Devastation (£11.59/€14.49/$19.95)
DC Universe™ Online
DC Universe™ Online – Amazon Fury Part I (10) (£9.99/€7.99/$14.45)
Hakuoki: Stories Of The Shinsengumi
A Festive Night (Free)
A Meeting Of Demons (£4.49/€5.49/$8.05)
B's-Log Package (Free)
Dengeki Girl's Style (Free)
Drama CD (Free)
Memories – Content Under The Blossoms (£1.59/€1.99/$2.95)
Memories – Fading Autumn Leaves (£1.59/€1.99/$2.95)
Memories – Fateful Moonless Night (£1.59/€1.99/$2.95)
Memories – For Good Or Ill (£2.99/€3.59/$5.25)
Memories – Like A Flower Blooming Madly (£2.99/€3.59/$5.25)
Memories – Madness (£2.99/€3.59/$5.25)
Memories – Never Boring (£1.59/€1.99/$2.95)
Memories – Something Important (£1.59/€1.99/$2.95)
Memories – The First Snow (£1.59/€1.99/$2.95)
Memories – The Waxing And Waning Of The Moon (£2.99/€3.59/$5.25)
Packaging (Free)
Portrait – Casual Outfits (Free)
Portrait – Casual Outfits (Alternate) (£1.49/€1.75/$2.55)
Portrait – Stories Version (Free)
Portrait – Warrior Outfit (Free)
Portrait – Warrior Outfits (Alternate) (£1.49/€1.75/$2.55)
Portrait – Western Outfits (Free)
Portrait – Western Outfits (Alternate) (£1.49/€1.75/$2.55)
The Life And Times Of Yukimura The Page (£4.49/€5.49/$8.05)
Just Dance 2014
The World Is Ours (Free)
The World Is Ours (Free)
LittleBigPlanet (Cross-Buy)
Joe Danger Costume (£1.59/€1.99/$2.95)
Ragnarok Odyssey ACE
Ancient Tiara (Free)
Cool Sunglasses (Free)
Emil Chronicle Online Set (Free)
Resistance 3
Resistance 3 – Brutality Pack (£3.19/€3.99/$5.85)
Rocksmith 2
Rocksmith 2014 – 311 – Amber (£2.39/€2.99/$4.35)
311 Song Pack (£6.49/€7.99/$11.75)
The Last Of Us
Reclaimed Territories Map Pack (£7.99/€9.99/$14.45)
Grounded Difficulty Mode (£3.99/€4.99/$7.35)
Survivalist Weapon Bundle (£4.79/€5.99/$8.85)
Situational Survival Skills Bundle (£3.19/€3.99/$5.85)
Professional Survival Skills Bundle (£3.19/€3.99/$5.85)
PS Vita DLC
LittleBigPlanet (Cross-Buy)
Joe Danger Costume (£1.59/€1.99/$2.95)
Ragnarok Odyssey ACE
Ancient Tiara (Free)
Cool Sunglasses (Free)
Emil Chronicle Online Set (Free)
Availability change
Half-Minute Hero (PSP) – Now available in Bulgaria, Hungary, Israel, Qatar, Ukraine
Skullgirls Encore Character Color Bundle (PS3) – Now available in Austria, Belgium, Denmark, Finland, Luxembourg, Netherlands, Norway, Poland, Russia, Sweden, Switzerland, Ukraine
Skullgirls Encore Squigly Character Unlock (PS3) – Now available in Austria, Belgium, Denmark, Finland, Luxembourg, Netherlands, Norway, Poland, Russia, Sweden, Switzerland, Ukraine
Syphon Filter: Logan's Shadow (PSP) – Now available in Bulgaria, Hungary, Qatar
Syphon Filter : Dark Mirror (PSP) – Now available in Bulgaria, Hungary, Qatar
Pursuit Force™: Extreme Justice (PSP) – Now available in Bulgaria, Hungary, Israel, Kuwait, Qatar, Ukraine
This is Football Management (PSP) – Now available in Bulgaria, Hungary, Qatar
Piyotama (PSP PSN)
Cool Boarders 2 (PSP) – Now available in Bulgaria, Hungary, Qatar
Bust A Groove (PS one) – Now available in Bulgaria, Croatia, Hungary, Indian, Israel, Kuwait, Qatar, Slovenia, Turkey, Ukraine
Wild Arms (PS one) – Now available in Bulgaria
Deal of the Week
NBA 2K14 (PS3) – Was £49.99/€59.99/$89.95, now £15.99/€19.99/$24.95
Lone Survivor: The Director's Cut (PS Vita) – Was £9.99/€12.99/$18.45, now £3.99/€4.99/$7.35
SteamWorld Dig (PS Vita/PS4) – Was £7.29/€8.99/$13.25, now £3.69/€4.49/$6.65
Offers
Below offers end 23rd May 2014
DOA5U: Core Fighters Original 25 Character Set – Now £15.99/€19.99/$29.95
Complete DOA5(+) Costume Set for DOA5U – Now £15.99/€19.99/$29.95