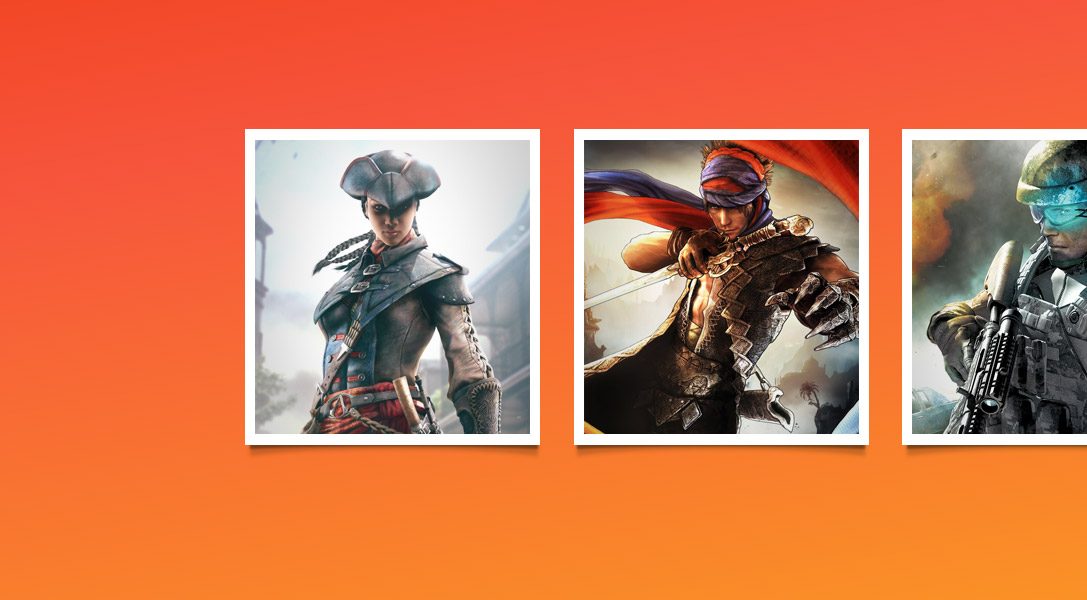 Splinter Cell, Prince of Persia, P4G and Ghost Recon also discounted
Hi everyone. It's time for some new PlayStation Store discounts once again. We're very happy to announce that we've teamed up with our friends at Ubisoft to bring you some big discounts on a great selection of titles and DLC from some of their best franchises, including Assassins Creed, Tom Clancy, Rayman, Far Cry and Prince of Persia.
This discounts go live later today and run for two weeks. Get yourself over to the store and pick up some huge titles at bargain prices. Enjoy!
Assassins Creed series
Assassin's Creed Freedom Cry
Was €14.99/AU$21.95/£11.99, now €9.99/AU$14.35/£8.49
Additional 10% discount for PS Plus members
Assassin's Creed Double Edition
Was €24.99/AU$36.95/£19.99, now €9.99/AU$14.45/£7.99
Additional 10% discount for PS Plus members
Assassin's Creed II (Not available in Bulgaria,Hungary, Qatar)
Was €14.99/AU$17.95/£10.99, now €5.99/AU$8.85/£4.79
Additional 10% discount for PS Plus members
Assassin's Creed II Complete Pack (Not available in Turkey)
Was €19.99/AU$29.95/£15.99, now €7.99/AU$11.75/£6.49
Additional 10% discount for PS Plus members
Assassin's Creed 2 Game of the Year Edition (Not available in Denmark, Finland, Norway, Poland, Sweden, Turkey)
Was €14.99/AU$17.95/£10.99, now €5.99/AU$8.85/£4.79
Additional 10% discount for PS Plus members
Assassin's Creed Brotherhood Complete Pack (Not available in Turkey)
Was €19.99/AU$29.95/£15.99, now €7.99/AU$11.75/£6.49
Additional 10% discount for PS Plus members
Assassin's Creed Revelations
Was €14.99/AU$17.95/£10.99, now €5.99/AU$8.85/£4.79
Additional 10% discount for PS Plus members
Assassin's Creed Liberation HD (Not available on Germany)
Was €19.99/AU$29.95/£15.99, now €12.99/AU$18.45/£9.99
Additional 10% discount for PS Plus members
Assassin's Creed: Bloodlines [PSP] (Not available in Bulgaria, Hungary, Israel, Kuwait, Qatar, Ukraine)
Was €9.99/AU$14.45/£7.99, now €3.99/AU$5.85/£3.19
Additional 10% discount for PS Plus members
Assassin's Creed III Liberation (PS Vita)
Was €19.99/AU$24.95/£14.99, now €9.99/AU$14.95/£6.99
Additional 10% discount for PS Plus members
Assassin's Creed Brotherhood – Da Vinci Disappearance (Not available in Qatar)
Was €9.99/AU$14.45/£7.99, now €4.99/AU$7.35/£3.99
Additional 10% discount for PS Plus members
Far Cry series
Far Cry Classic
Was €9.99/AU$14.45/£7.99, now €4.99/AU$7.35/£3.99
Additional 10% discount for PS Plus members
Far Cry 2
Was €14.99/AU$21.95/£11.99, now €5.99/AU$8.85/£4.79
Additional 10% discount for PS Plus members
Far Cry 3
Was €19.99/AU$24.95/£15.99, now €7.99/AU$11.75/£6.49
Additional 10% discount for PS Plus members
Far Cry 3 Blood Dragon
Was €14.99/AU$21.95/£11.99, now €5.99/AU$8.85/£4.79
Additional 10% discount for PS Plus members
Far Cry 3 Deluxe Bundle DLC (Not available in Turkey)
Was €9.99/AU$14.45/£7.99, now €4.99/AU$7.35/£3.99
Additional 10% discount for PS Plus members
Prince of Persia series
Prince of Persia (Not available in Bulgaria, Hungary, Qatar)
Was €14.99/AU$17.95/£10.99, now €4.99/AU$7.35/£3.99
Additional 10% discount for PS Plus members
Prince of Persia Classic (Not available in Bulgaria, Hungary, Israel, Kuwait, Qatar, Ukraine)
Was €9.99/AU$14.45/£7.99, now €2.99/AU$4.35/£2.39
Additional 10% discount for PS Plus members
Prince of Persia The Forgotten Sands (Not available in Bulgaria, Hungary, Qatar)
Was €14.99/$21.95/£11.99, now €4.99/$7.35/£3.99
Additional 10% discount for PS Plus members
Prince of Persia: The Sands of Time (Not available in Bulgaria, Hungary, Qatar)
Was €9.99/AU$14.45/£7.99, now €2.99/AU$4.35/£2.39
Additional 10% discount for PS Plus members
Prince of Persia: The Two Thrones (Not available in Bulgaria, Hungary, Israel, Kuwait, Qatar, Ukraine)
Was €9.99/AU$14.45/£7.99, now €2.99/AU$4.35/£2.39
Additional 10% discount for PS Plus members
Prince of Persia: Warrior Within (Not available in Bulgaria, Hungary, Israel, Kuwait, Qatar, Ukraine)
Was €9.99/AU$14.45/£7.99, now €2.99/AU$4.35/£2.39
Additional 10% discount for PS Plus members
Prince of Persia Trilogy (Not available in Bulgaria, Hungary, Qatar)
Was €14.99/AU$21.95/£11.99, now €4.99/AU$7.35/£3.99
Additional 10% discount for PS Plus members
Prince of Persia Rival Swords (PSP) (Not available in Bulgaria, Hungary, Israel, Kuwait, Qatar, Ukraine)
Was €7.99/AU$11.75/£6.49, now €2.49/AU$3.65/£1.99
Additional 10% discount for PS Plus members
Prince of Persia The Forgotten Sands (PSP) (Not available in Bulgaria, Hungary, Israel, Kuwait, Qatar, Russia, Ukraine)
Was €7.99/AU$11.75/£6.49, now €2.49/AU$3.65/£1.99
Additional 10% discount for PS Plus members
Prince of Persia: Revelations (PSP) (Not available in Bulgaria, Hungary, Israel, Kuwait, Qatar, Russia, Ukraine)
Was €7.99/AU$11.75/£6.49, now €2.49/AU$3.65/£1.99
Additional 10% discount for PS Plus members
Rayman series:
Rayman
Was €4.99/AU$7.35/£3.99, now €1.99/AU$2.95/£1.59
Additional 10% discount for PS Plus members
Rayman 2 The Great Escape (Not available in Bulgaria, Hungary, Qatar)
Was €4.99/AU$7.35/£3.99, now €1.99/AU$2.95/£1.59
Additional 10% discount for PS Plus members
Rayman 3 HD
Was €9.99/AU$14.45/£7.99, now €3.99/AU$5.85/£3.19
Additional 10% discount for PS Plus members
Rayman Origins (PS3)
Was €14.99/AU$17.95/£10.99, now €7.99/AU$11.75/£6.49
Additional 10% discount for PS Plus members
Rayman Origins (PS Vita)
Was €19.99/AU$24.95/£14.99, now €7.99/AU$11.75/£6.49
Additional 10% discount for PS Plus members
Rayman Legends (PS3)
Was €29.99/AU$39.95/£19.99, now €12.99/AU$18.45/£9.99
Additional 10% discount for PS Plus members
Rayman Legends (PS Vita)
Was €29.99/AU$39.95/£24.99, now €12.99/AU$18.45/£9.99
Additional 10% discount for PS Plus members
Tom Clancy series:
Tom Clancy's Splinter Cell Blacklist – Classic Edition
Was €29.99/AU$39.95/£19.99, now €12.99/AU$18.45/£9.99
Additional 10% discount for PS Plus members
Tom Clancy's Splinter Cell Blacklist – PS3 Deluxe Edition
Was €39.99/AU$49.95/£29.99, now €19.99/AU$24.95/£15.99
Additional 10% discount for PS Plus members
SPLINTER CELL TRILOGY HD (Not available in Bulgaria, Hungary, Qatar)
Was €14.99/AU$21.95/£11.99, now €7.99/AU$11.75/£6.49
Additional 10% discount for PS Plus members
Tom Clancy's Splinter Cell Chaos Theory HD
Was €9.99/AU$14.45/£7.99, now €4.99/AU$7.35/£3.99
Additional 10% discount for PS Plus members
Tom Clancy's Splinter Cell Double Agent
Was €14.99/AU$21.95/£11.99, now €5.99/AU$8.85/£4.79
Additional 10% discount for PS Plus members
Tom Clancy's Splinter Cell Pandora Tomorrow HD (Not available in Bulgaria, Hungary, Qatar)
Was €9.99/AU$14.45/£7.99, now €4.99/AU$7.35/£3.99
Additional 10% discount for PS Plus members
Tom Clancy's Splinter Cell HD (Not available in Bulgaria, Hungary, Qatar)
Was €9.99/AU$14.45/£7.99, now €4.99/AU$7.35/£3.99
Additional 10% discount for PS Plus members
Tom Clancy's Ghost Recon Advanced Warfighter (Not available in Denmark, Finland, Norway, Poland, Sweden)
Was €9.99/AU$14.45/£7.99, now €4.99/AU$7.35/£3.99
Additional 10% discount for PS Plus members
Tom Clancy's Ghost Recon Future Soldier
Was €14.99/AU$17.95/£10.99, now €7.99/AU$11.75/£6.49
Additional 10% discount for PS Plus members
Tom Clancy's G.R.A.W. 2 (Not available in Bulgaria, Hungary, Qatar)
Was €14.99/AU$17.95/£10.99, now €5.99/AU$8.85/£4.79
Additional 10% discount for PS Plus members
Tom Clancy's G.R.A.W. 2/Splinter Cell Essentials (PSP) (Not available in Bulgaria, Hungary, Qatar)
Was €19.99/AU$29.95/£15.99, now €7.99/AU$11.75/£6.49
Additional 10% discount for PS Plus members
Tom Clancy's Ghost Recon Advanced Warfighter 2 (Not available in Bulgaria, Hungary, Israel, Kuwait, Portugal, Qatar, Russia, Ukraine)
Was €9.99/AU$14.45/£7.99, now €2.99/AU$4.35/£2.39
Additional 10% discount for PS Plus members
Tom Clancy's Ghost Recon Predator (Not available in Bulgaria, Hungary, Israel, Kuwait, Portugal, Qatar, Ukraine)
Was €7.99/AU$11.75/£6.49, now €2.99/AU$4.35/£2.39
Additional 10% discount for PS Plus members
Tom Clancy's Ghost Recon (Not available in Denmark, Finland, Norway, Poland, Sweden)
Was €9.99/AU$14.45/£7.99, now €4.99/AU$7.35/£3.99
Additional 10% discount for PS Plus members
Tom Clancy's RAINBOW SIX (Not available in Bulgaria, Germany, Hungary, Israel, Kuwait, Netherlands, Portugal, Qatar, Russia, Ukraine)
Was €4.99/AU$7.35/£3.99, now €1.99/AU$2.95/£1.59
Additional 10% discount for PS Plus members
Tom Clancy's Rainbow Six Vegas
Was €14.99/AU$21.95/£11.99, now €5.99/AU$8.85/£4.79
Additional 10% discount for PS Plus members
Tom Clancy's Rainbow Six Vegas 2 (Not available in Germany, Russia, Ukraine)
Was €14.99/AU$17.99/£10.99, now €5.99/AU$8.85/£4.79
Additional 10% discount for PS Plus members
Tom Clancy's Rainbow Six Vegas 2 – Game Of The Year Edition (Not available in Denmark, Finland, Norway, Poland, Russia, Sweden, Turkey, Ukraine)
Was €14.99/AU$21.95/£11.99, now €5.99/AU$8.85/£4.79
Additional 10% discount for PS Plus members
Tom Clancy's Rainbow Six Complete Pack
Was €19.99/AU$29.95/£15.99, now €7.99/AU$11.75/£6.49
Additional 10% discount for PS Plus members
Tom Clancy's End War (PSP) (Not available in Bulgaria, Hungary, Israel, Kuwait, Portugal, Qatar, Russia, Ukraine)
Was €7.99/AU$11.75/£6.49, now €2.99/AU$4.35/£2.39
Additional 10% discount for PS Plus members
Tom Clancy's End War
Was €14.99/AU$17.95/£10.99, now €5.99/AU$8.85/£4.79
Additional 10% discount for PS Plus members
Tom Clancy's HAWX
Was €14.99/AU$17.95/£10.99, now €5.99/AU$8.85/£4.79
Additional 10% discount for PS Plus members
Tom Clancy's HAWX 2
Was €14.99/AU$17.95/£10.99, now €5.99/AU$8.85/£4.79
Additional 10% discount for PS Plus members
Tom Clancy's Splinter Cell Blacklist – Homeland Pack
Was €6.99/AU$10.35/£5.49, now €3.49/AU$5.15/£2.79
Additional 10% discount for PS Plus members
Tom Clancy's Ghost Recon Future Soldier Arctic Strike
Was €9.99/AU$14.45/£7.99, now €4.99/AU$7.35/£3.99
Additional 10% discount for PS Plus members
Tom Clancy's Ghost Recon Future Soldier Khyber Strike
Was €9.99/AU$14.45/£7.99, now €4.99/AU$7.35/£3.99
Additional 10% discount for PS Plus members
Tom Clancy's Ghost Recon Future Soldier Raven Strike (Not available in Turkey)
Was €14.99/AU$21.95/£11.99, now €4.99/AU$7.35/£3.99
Additional 10% discount for PS Plus members
Tom Clancy's HAWX 2 All in one pack (Not available in Bulgaria, Hungary, Israel, Kuwait, Qatar, Ukraine)
Was €9.99/AU$14.45/£7.99, now €4.99/AU$7.35/£3.99
Additional 10% discount for PS Plus members
In addition to the above discounts on Ubisoft titles, we have three further discounts going live today, running until 7th May:
Persona 4 Golden (PS Vita)
Was £34.99/€39.99/AU$54.95, Now £14.99/€19.99/AU$24.95
Additional 10% discount for PS Plus members
Luftrausers (Cross-Buy)
Was £7.29/€8.99/AU$13.25, now £4.25/€5.19/AU$7.65
Additional 10% discount for PS Plus members
South Park: The Stick of Truth (PS3) (Not available in Israel, Kuwait, Qatar, Saudi Arabia, UAE)
Was £49.99/€59.99/AU$79.95, now £29.99/€39.99/AU$49.95
Additional 10% discount for PS Plus members