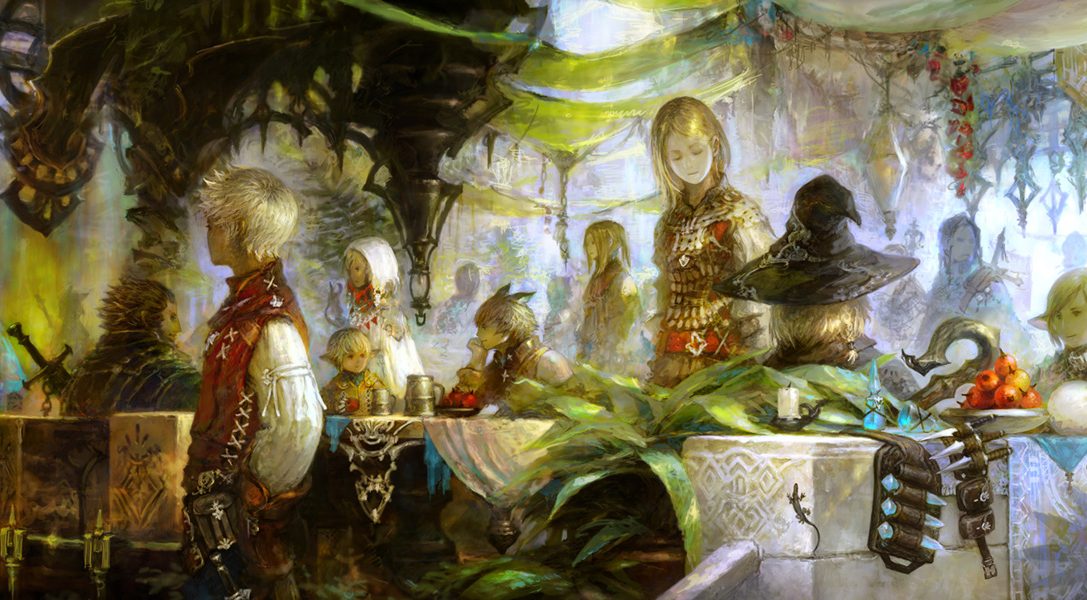 Read an exclusive interview with the game's Producer and Director Naoki Yoshida
Today's the day – Final Fantasy XIV: A Realm Reborn is out on the PlayStation 4, and judging from the masses of players that participated in our betas, a lot of you are currently on the way to becoming the most famous adventurers in all of Eorzea.


To celebrate this day, Yoshida-san (also known as Yoshi-P), the Producer and Director of FFXIV: ARR, has taken time out of his incredibly busy schedule to take part in this exclusive interview here on the PlayStation Blog!
Konnichiwa, Yoshida-san and thank you for taking the time to have a bit of a talk with us today. I'm Hergen "Kahuna" Thaens from Square Enix's European office, and I'm taking care of delivering articles to our fans all over the web, from the PlayStation Blog to Reddit. Would you like to introduce yourself to our readers?
Yoshida: Hello everyone, I am Naoki Yoshida, Producer and Director of Final Fantasy XIV: A Realm Reborn. Today marks the release of the PS4 version of FFXIV: ARR. Welcome on board to new players who start their FFXIV adventure here, and a special hello to those who have or are upgrading from PS3 to PS4 to keep enjoying the game.
Final Fantasy XIV: A Realm Reborn is out now on the PS4, worldwide. How do you feel about that? Was bringing it to the PS4 a priority for you, and are you proud of FFXIV being the first Final Fantasy representative on a next-gen system?
Yoshida: I am so excited to meet lots of new 'Warriors of Light'. Also, as I believe the launch of the PS4 version will go smoothly, I am really more excited than worried! FFXIV: ARR on PS4 I think is a AAA class title, with the high graphics quality in full HD and ability to render lots of player characters at the same time without losing any details. With further growth for PS4, I will be very happy to see so many players who can enjoy the game together.
What priority did the development of the PS4 version take for you? And are you happy that Final Fantasy XIV: A Realm Reborn will be the debut title of the Final Fantasy series on the PS4?
Yoshida: The priority for making the PS4 version has been really high. While we were working on the PS3 version, we heard about the new console from SCE and since we had the PC version ready for FFXIV: ARR, we knew the PS4 could offer a gaming experience with great quality. I believe you can see the huge evolution from PS3 to PS4 in the game. It's really great that we can release the first FF title on PS4 that quickly and the dev team is really happy about it.
For many console players, MMOs are still something relatively new. What do you think makes the MMO experience so special?
Yoshida: When you play FFXIV: ARR, I'd like you to play in a relaxed way and not worry about anything, but just to see what kind of game a MMORPG is. You'll play with a lot of players online, but tiresome communication is not really needed when progressing through the main story line, even when you gather your party. Instead I'd like you to enjoy the game like you have played other FF titles. So yes, the only difference to the usual FF games is that your PS4 needs to have an internet connection!
With the game already out on PS3 and PC, there are already 1.8 million players populating the world. What did you do to make sure that players joining now don't have too much of a disadvantage over players that have already played the game for months?
Yoshida: FFXIV: ARR currently has a level cap at 50 for classes and jobs, and you can reach level 50 by playing through the main scenario. After that, you can enhance your jobs and classes by having different equipment. To support those who started the game later than players who have already progressed, we have implemented the system called Echo buff for end contents, to enhance character performance. By collecting good equipment, you can be the same as players who started the game before you. So please do not hesitate when you start your adventure!
Coming back to the hardware real quick – did the PS4 hardware enable you to do something you always wanted to do on a console? And are there any improvements you want to bring to the game in the future, that the PS4 is playing a big part in?
Yoshida: The main advantage of PS4 is its machine specs enable us to offer gaming experiences at full HD on huge TV screens at home. Of course FFXIV: ARR has been created fully optimized for the PS4 specs. On PS3, due to 720p resolutions, the screen can look busy when displaying menus. But on the PS4, we have realised the same layout and interface as the PC version, so you can enjoy a great MMO experience without buying a PC. FFXIV: ARR will have big regular updates and new stories and content will be added on all platforms. Please look forward to those updates too!
As for you personally – what is your favourite part of the game right now, when you're playing? And what part did you enjoy the most to work on?
Yoshida: I am both a creator and a player of FFXIV: ARR, so the moment I like the most is when I see so many players having fun in the world that we created from inside the game (laughs). I like battle content, so even on busy days I login to the game and play end content every day. What I also enjoy in the creation of the PS4 version is remote play with PS Vita. The response is great, so please enjoy this remote function as a new way to play the game.
And one last question, as I know you'll probably have to go back to your work – is there anything you want to share with our readers? For Example: What's the biggest thing that players may be able to look forward to in the future?
Yoshida: We'll have an update for the PvP content, called "Wolves' Den", in late April, and we'll also start releasing new information about patch 2.3. I'd like you to keep an eye out for the content of the forthcoming update! Also, it's 2014, so it's a year for FFXIV and we have been planning lots of events as well. Please check The Lodestone for the latest information about the game.
Well, thank you for taking the time out of your busy schedule! And now excuse me while I go and and level up my Black Mage's Atma Weapon :)
Yoshida: Oh, Atmas… [Atmas are items to enhance relic weapons]… I've been completing quite a lot of FATEs (Full Active Timer Events) already to get Atmas, but even I didn't get one yet! (laughs).
And that's it! From today, you can find Final Fantasy XIV: A Realm Reborn at the retailer of your choice, and of course also on the PlayStation Store! If you're not sure about the subscription cost, feel free to check out our article from the 24th March: "What do you get with a Final Fantasy XIV: A Realm Reborn PS4 subscription?"