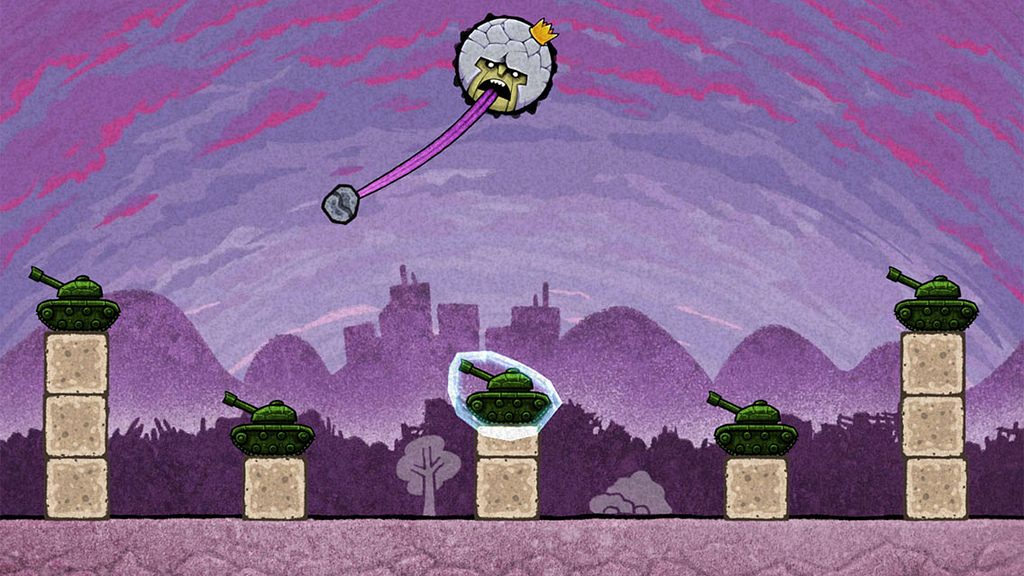 Greetings from still miraculously snowless Finland, PlayStation Blog readers! This week 10tons is back with another game to PS Vita, and what a game it is.
I'm quite frankly not sure what to say about King Oddball. Or, King Oddball Ends the World, as the full name goes in all its glory. The game is a bit peculiar, you see. You're probably better off trying the free trial.
While it's technically true that King Oddball falls in the same physics-based puzzle category as Angry Birds, the fruitfulness of the comparison doesn't last long. Sure, you lob objects at things in both games, but that's largely as far as the similarities go.

First of all, King Oddball is a bit weird. What the heck the titular main character even is? What is he a king of? Why is his tongue so absurdly long and stretchy? Why is he in such a foul mood? Your guess is as good as mine. All I know is the eccentric art style and accordion-heavy soundtrack fit the game perfectly.
Gameplay-wise, and this is probably the part everyone is the most interested in, King Oddball is equally uncommon: The main gameplay features a single push of a button.
The goal of each level is to clear the screen of tanks, soldiers and helicopters with three rocks or less. The way it works is The King automatically picks up a boulder and swings it back and forth by his tongue, like a pendulum. The rock is released by hitting a button, and from there on it's all about the physics.
The trick is to make sure each boulder takes out more than one target, and that can be ridiculously challenging. Sure, it's easy at first… But you'll just have to get to the later levels. There's more than 120 of them, by the way, and a secret moustache world to boot! The game isn't much about luck either, as the physics engine's accuracy is wound as tight as it goes, and we're really quite proud of how predictably the rocks behave.
Check out the trailer, download the free trial and have fun! The full download will set you back £3.69/€4.49. We'll be back in February with more PS Vita games.