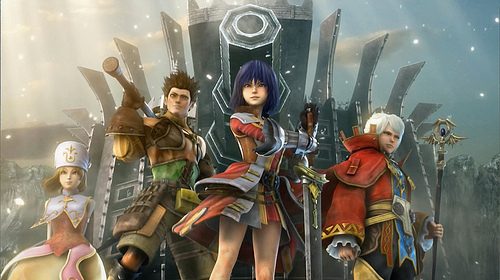 Before I begin, it's my pleasure to share a special message from the original developer of Ragnarok Odyssey:
"This is Ragnarok Odyssey's Director, Kazuhiro Irie. We are pleased to finally bring Ragnarok Odyssey to our friends in Europe, Australia and New Zealand. I'm very excited to see how the game will be received by our new players, and the team can't wait to hear their feedback on the game.

"You can play Ragnarok Odyssey by yourself, with nearby friends using ad hoc play, or with anyone you want by utilising the game's network features. Nothing would please me more than if you play your hearts out and enjoy the game to its fullest. It's my hope that as many people as possible will get the chance to experience Ragnarok Odyssey."
Ragnarok Odyssey arrived on PS Vita last week, and I'd like to chat about the kinds of missions and jobs available in the scenic Sundered Land.
Hunt and Kill (and KILL more!)
You need to defeat X number of Y and you've only got Z amount of time to do it. While these sound simple, getting ambushed by a hundred little beasties can spell doom for even the most experienced mercenaries. These quests can also take on a much shorter (and deadlier) variation where you must kill a colossal boss monster with various extremities that can be cut off and used in crafting.
Collect (and profit!)
You need to track down specific items like Rare Flowers or Rune Stones. These items can usually be obtained by killing a certain monster, but sometimes they will be hidden in various crates sprinkled throughout the zones. Watch out for the red ones—they may be packing an explosive surprise.
Defend the Fort
These missions have you defending the Fort Farthest cannon wall. While trying to stop the gigantic Grendel from destroying the gate, you may find he pays about as much attention to you as he would a mosquito trying to bite his bum (which is actually the recommended strategy for this boss).
If things get too tough, your best bet is to hop online and enlist a few stalwart mercenaries to aid in your valiant effort. It really pays to have friends when times get tough, but before you go gallivanting online, it's a good idea to know a bit about what your character can do!
Jobs
People often say, "The best defense is a good offense," but my own personal motto would have to be, "The best way to stay alive is to not die." The Cleric excels at just that. With high HP, decent defense, healing capabilities and a shield, the Cleric specializes in durability.
The Sword Warrior is a solid, balanced job. They have lots of damage to deal using their various combos, and they still have enough speed and blocking capability to keep them alive.
The Assassin is similar, but a lot faster, more critical hit dependent, and less durable. The Hammersmith, while immensely powerful, has slow movement speed and hammer swings that will have you begging for friends to distract enemies while you attack.
The Hunter and Mage are both interesting jobs in that they have ranged abilities, but they still have to get up close and personal to prepare some of their best moves. Their lack of defense can make it very challenging for beginners to use these classes in a single-player setting, but later in the game they can deal some insane damage!
And with that, I think you are ready to defend the Sundered Land and make a few Zeny on the side! Ragnarok Odyssey can be yours for €29.99/£24.99, and don't forget to pick up the free DLC available now!