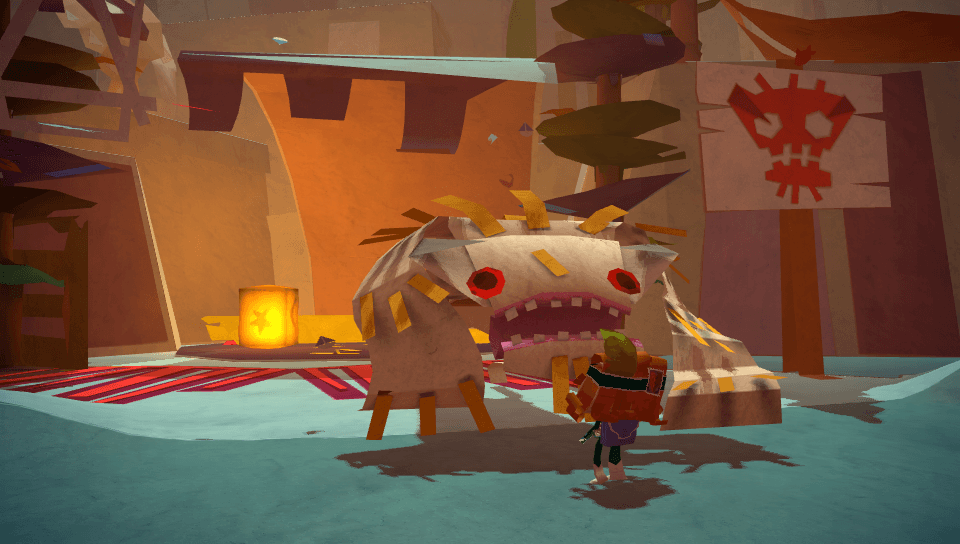 It's been a little while since we updated you on our progress making Tearaway, but that all changes today!
We recently showed some new parts of the game to members of the gaming press, and their previews and coverage of that should start appearing today across the web. We introduced them to an area of the game we've been working on for quite some time, and today we'd like you to see it too!
Just one of the stops you'll make as you go on your delivery adventure in the world of Tearaway is Sogport, a mysterious island marooned in a deep sea of glue, and inhabited by some very fishy folk with a fearful obsession with the island's monstrous local wildlife. See for yourself….

Last August we introduced you all to iota, and today we're really excited to introduce you to atoi (pronounced like the French phrase a'toi – "ah-twa").
When you start your adventure, you'll be able to customise the game to your liking, choosing which messenger will accompany you on your journey – either iota or atoi – and also on the shape, size and colour of your god-like fingers.
Look out for previews of Tearaway on the internets today – they should hold some more interesting surprises – and take a look at the new screens below, or head over to our Flickr gallery for more.
We'll leave you with one more thing – a creative challenge!
We've put together the plans for you to make your own Wendigo mask, and what's more, we're running a contest. Say whaaaaaat? Check out this blog post on the Mm Blog for info on how to make your own mask, and enter the contest. Do it now!