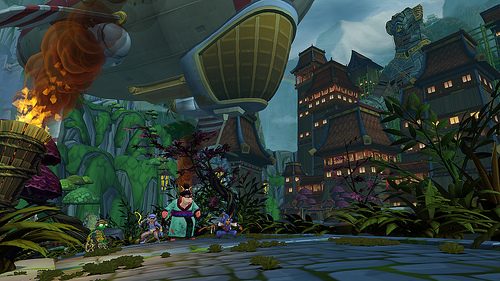 Greetings and Happy New Year from the Sly gang!
2012 was full of fantastic gaming goodness. Hopefully you've found some favourites that you're still playing, but we're sure you're already looking ahead to what's landing in 2013.
It's shaping up to be another cracking year with the upcoming release of Sly Cooper: Thieves in Time! Sly and the gang are back on the 27th March on both PS3 and PS Vita. What's more, for those of you that purchase the PS3 version of the game, you'll be able to download the PS Vita version from the PS Store at no cost! Great news for Sly fans who'll be able to play at home and continue their adventures on the go.
To whet your appetites, take a look at the brand new gameplay video below. It's a sneak peak at how Sly and the gang work together to pull a heist on El Jefe, the epic boss you'll meet during your travels to Feudal Japan.

This is just a slice of the action but there will be plenty to get your teeth into, including earning costumes, finding new collectibles and hiding treasures. For PS Vita fans, you'll even be able to use your PS Vita system as a set of X-ray goggles to collect some valuable items as you play through the PS3 version of the game. Cool, no?
We'll have plenty more updates on Sly in the coming weeks as we prepare for launch – watch this space!